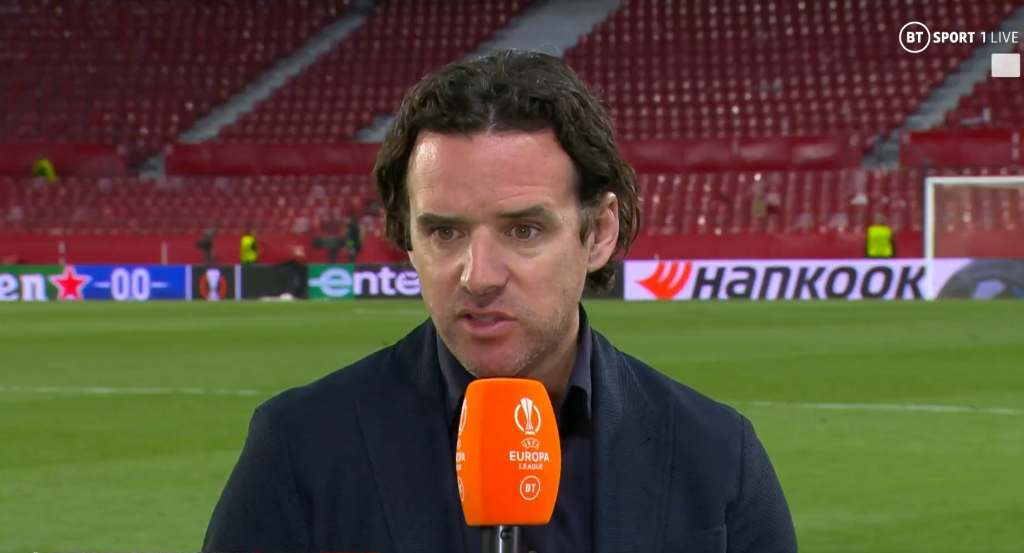 Owen Hargreaves suggested may need to replace goalkeeper David de Gea after the defeat to Sevilla.
giants United were .
The Red Devils were the better team in the first leg at Old Trafford but let a two-goal lead slip after conceding two late own goals.
Sevilla made the most of their home advantage this evening to thump Manchester United 3-0 and go through to the semi-finals 5-2 on aggregate.
Former Spain international De Gea endured a dismal evening and played a part in all three goals as United's European run came to an abrupt end.
Following the defeat, Hargreaves was asked whether Ten Hag could trust De Gea to adapt to his 'philosophy' going forward and admitted it could be an issue for both parties.
'First of all, David de Gea has been an incredible servant for this football club,' the ex-Manchester United midfielder said on BT Sport.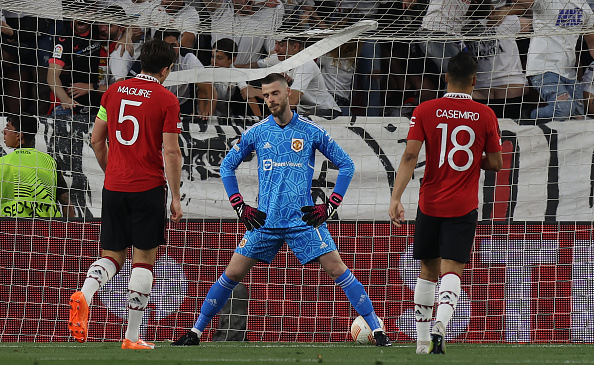 'He's been a brilliant goalkeeper and he's a brilliant shot-stopper. But he is not good with his feet and it showed tonight and it has showed on numerous occasions this season.
'We know Erik ten Hag wants to play out, he wants to get the ball down and play. The first goal came from that and so did the third to a lesser extent.
'They are huge moments that they need to fix obviously. So the question is, does he fit Erik ten Hag's philosophy? Based on today you would say no, it didn't look right.'
Manchester United were expected to advance in the Europa League having largely impressed under Ten Hag, winning the League Cup earlier in the season and climbing into the Champions League places.
But United star Christian Eriksen admitted the team did not turn up in the second leg, telling reporters: 'We didn't really give them a game from the first minute and we gave them a lot of opportunities to finish us off.
'We lost a bit of our coolness, we made more mistakes than we do usually and the whole team could not catch up with mistakes our team-mates made.
'If you give away goals like we did, you lose, it's nothing to do with the atmosphere. Our own game was not strong enough.
'It's football, sometimes you have good days, sometimes you have bad days and it was a bad day. Luckily we have a game in four days.
'Every football player makes mistakes, they punished us straight away. It's how we bounce back and today we were not strong enough to bounce back from the mistakes.
'The mentality has to change, we know it will be a completely different opponent and different style so from tomorrow we will be focusing on Brighton.'
, .
, 
 and .