has quickly won the approval of his teammate after the young striker's club debut against on Sunday.
The Denmark international joined United in a £72million deal from Atalanta this summer but a back issue has delayed his introduction into the first-team.
es, providing a good account of himself
Shortly after his introduction, Casemiro was seen grabbing Hojlund's shirt in encouragement in a moment that delighted United fans on social media.
Explaining the incident, the new United star revealed his Brazilian teammate told him he was 'pleasantly surprised' with his efforts against the Gunners.
'He just says something in Spanish: "vamos" or something like that,' Hojlund told his national press, with the Denmark squad ahead of San Marino and Finland.
'He was happy that I gave the team perhaps a slightly different dynamic than what you get from Martial.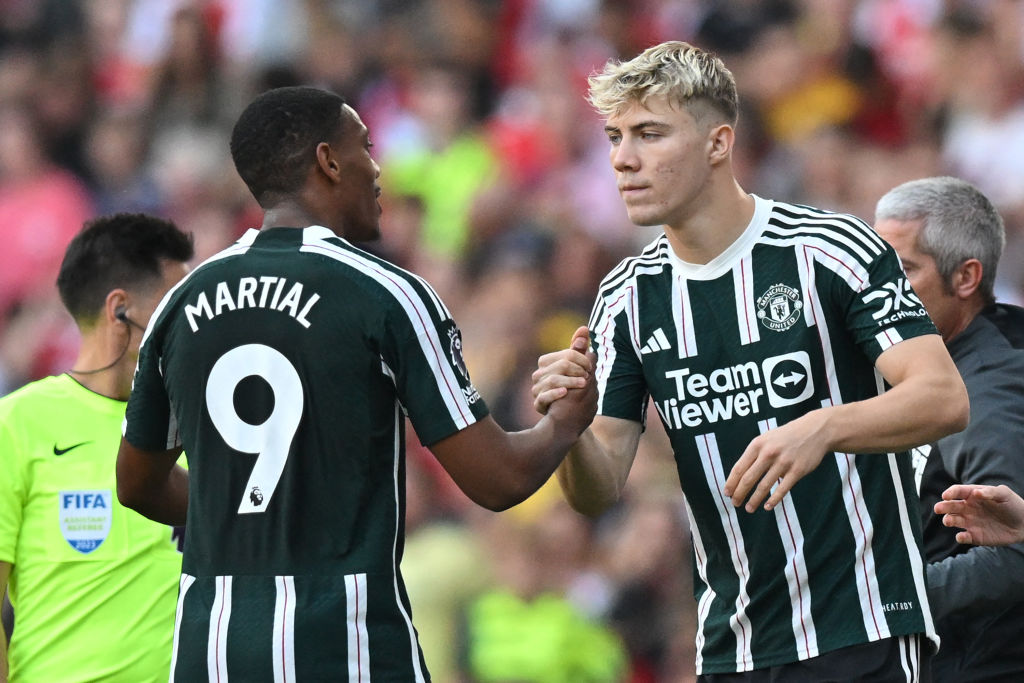 'He's maybe a little more technically strong and looks down the gaps where I like to take the fights. After all, he hasn't seen me play before, so he told me he was pleasantly surprised to see me play.'
Hojlund on Sunday, immediately throwing himself into physical battles with Arsenal defenders.
The 20-year-old was also involved in Alejandro Garnacho's goal that was ruled out for offside, combining with Casemiro to free the Argentine youngster on the counter attack.
United fell to a 3-1 defeat after injury time goals from Declan Rice and Gabriel Jesus but United legend Gary Neville was left encouraged by Hojlund's immediate impact.
'Manchester United haven't had a striker that they can hit. That's the problem,' Neville told Sky Sports. 'Cristiano Ronaldo wasn't a classic targetman, [Anthony] Martial's certainly not, [Marcus] Rashford's not. At least they've got someone who looks he'll mess people around and get his body in there. He's aggressive, and he's a runner.
'The thing for him is he's learning the game still. He's only played a couple of seasons of top level football and we're expected him to be Erling Haaland. That's the problem.
'Manchester United haven't got anyone else with experience to back him up. We've been watching Martial for 9-10 years at Manchester United and he's not what Erik ten Hag wants. This lad, lot of pressure on him, big price tag, but it was an encouraging start.'
, . ,  and .