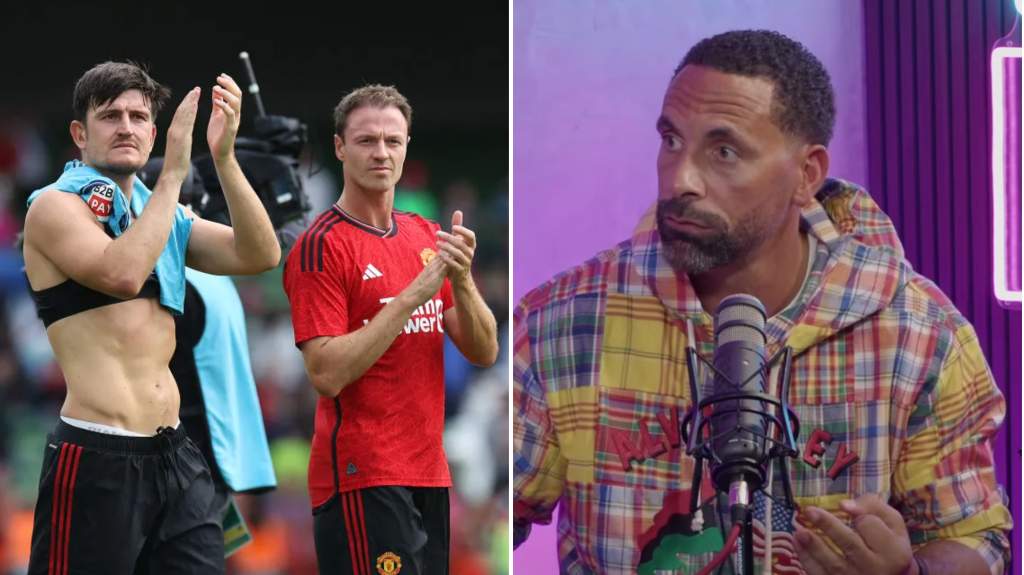 has sensationally claimed that Jonny Evans would be ahead of in the centre-back pecking order if he signs a contract with the club.
The 35-year-old has been training at Carrington since leaving at the end of last season when his contract expired and was even given a run out in several pre-season fixtures.
Manager Erik ten Hag has suggested the club and Ferdinand believes he would shunt axed skipper Maguire even further down Ten Hag's list of centre-back options.
Speaking about Maguire on the latest episode of his, Ferdinand said: 'If Jonny Evans signs he [Maguire] is behind Jonny Evans I reckon.'
Asked why Ten Hag continues to talk up the 30-year-old if that is the case, Ferdinand continued: 'You might get something different [out of him] when the transfer window closes, I think you'd get a different response then, but he can't afford that to happen.
'If you're the buying club, and the manager you're trying to buy off goes, "I just need him out of here asap, if we don't sell him we can't go and buy target one and two over there" then the buying club go, "Well now we know they're desperate to sell, let's low-ball them, if he's worth £30m we'll offer £15m and they have to take it surely".'
United were beaten 2-0 by Tottenham on Saturday and £55million summer signing Mason Mount had a difficult match, though Ferdinand is in no rush to make a judgement about the ex-Chelsea man and feels his adaptation has been affected by the team's early struggles.
'You can't judge a man after two games, you can't, because there'd be players who became legends who wouldn't have been legends if they'd been judged after two games and told to get out,' he said of Mount.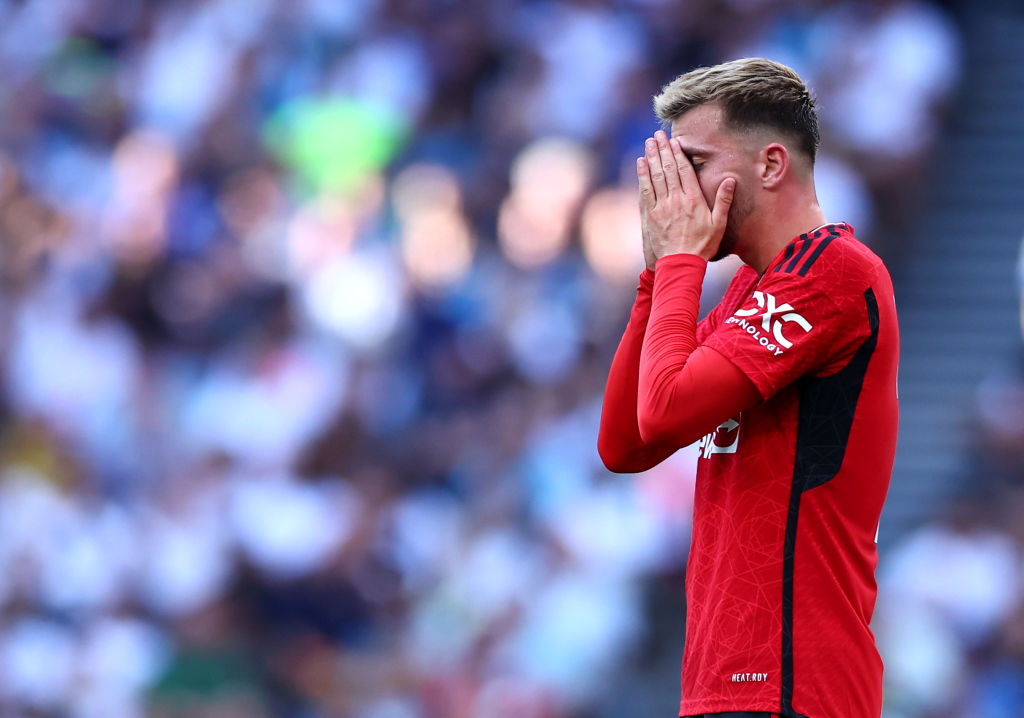 'Patrice Evra wouldn't have had a Man United career if we'd judged him on his first couple of performances. He'd have been sent back to Monaco! They'd have paid the fee back to them.
'We've been talking about the Man United team not playing well, so when you've got someone new in that it's going to be so difficult for them. They haven't got the platform to play well.
'I'm not here giving loads and loads of excuses to Mason, but that's a fact. Look at the Chelsea team in recent years, all the players coming in, it's hard to perform in that team because it's so all over the place.
'The team at the moment isn't playing well enough for individuals. The team isn't playing well enough yet, so that comes under the manager, 100%. He's got to get the team playing right. We have to see where he [Mason] fits in. I don't know where he was brought in to play yet.'
On United's struggles so far, Ferdinand added: 'We've been on the receiving end of transitional football, that's what it seems like, especially against Wolves. We were the team getting hit on the transitions.
'All jokes aside, start of the season I'm thinking we're going to be flying, [Andre] Onana has come in, all we talked about is a new style of football, playing out – that's why David de Gea is gone – and I haven't seen it yet.
'You need time, I know that. But the first two games… I'm shocked, I've got to be honest. Because you're looking at it and going, "Wow!" We beat Wolves but we didn't play well. It's more the performances and the style of football – or the lack of style!
'The style of football is the thing that's kind of throwing me a little bit because I was expecting a lot more of a cohesive unit playing and it's not happening.'
, . ,  and .