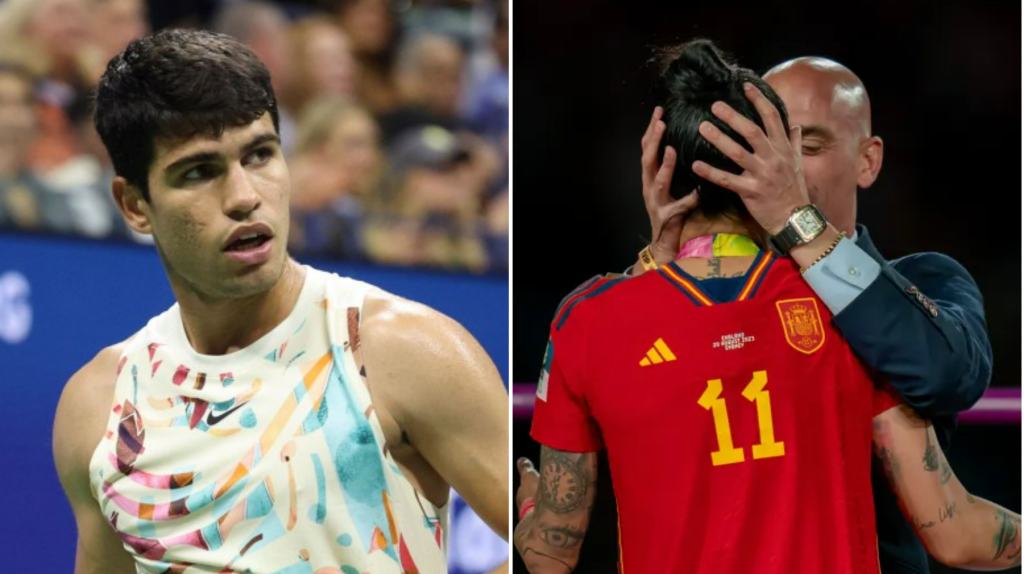 's world No.1 tennis star feels it is a 'shame' that the kiss Scan**l has overshadowed his nation's win.
Spanish FA president Rubiales was pictured grabbing player Jenni Hermoso and kissing her on the lips during the country's celebrations after beating in the final, an incident which stole the headlines and the aftermath is still ongoing.
Spanish prosecutors .
Hermoso and has confirmed that , while her international team-mates have joined her in solidarity.
Rubiales still remains in his post despite being – although it is thought that – while after he hit out at his critics and and .
Spanish tennis player Alcaraz has now offered his thoughts on the incident after being asked about Rubiales' actions following his opening win at the US Open.
Alcaraz is currently defending his Grand Slam crown in New York and is one of the tournament favourites, .
'I have followed the matter. Obviously it is something that has caused a lot of talk, I think in Spain much more,' Alcaraz said after his win over Dominik Koepfer, as he prepares to face Lloyd Harris in the second round at Flushing Meadows.
'My opinion is that it is not behaviour that should be shown by someone in a high position.
'That's the only opinion that I am going to give on the matter and we hope it is resolved soon because the women's team has achieved something historic and that they have not been given as much credit for what they've done, which is a shame.'