The FA (RFEF) have released a statement urging their own president Luis Rubiales to resign over the Jenni Hermoso kiss Scan**l.
Rubiales was pictured grabbing Hermoso and kissing the player on the lips during 's celebrations after beating in the final.
Spanish prosecutors .
Hermoso and has confirmed that , while her international team-mates have joined her in solidarity.
RFEF chief Rubiales, 46, still remains in his post despite being .
An emergency assembly was called last Friday in which Rubiales was expected to resign, but instead he gave an astonishing speech in which he hit out at his critics and .
The RFEF later revealed they would be taking legal action against Hermoso and accused her of 'lying' about her version of events, even presenting images they claimed showed she had instigated the interaction and lifted the federation president off his feet.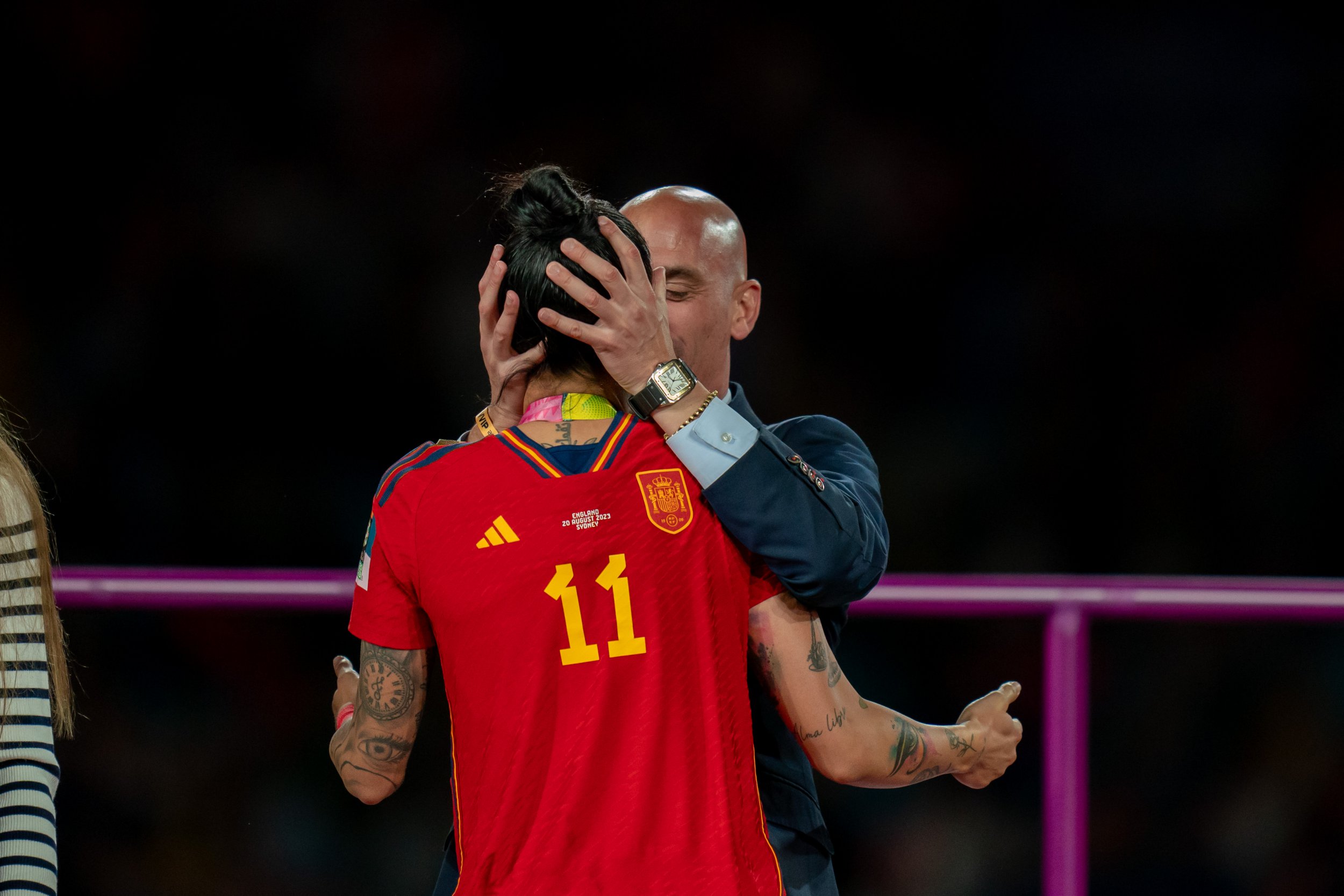 But they appear to have made a U-turn and have now urged Rubiales to resign in statement.
The statement read: 'Once the meeting of the Commission of Presidents of Regional and Territorial Federations of the RFEF has finished, the following agreements are unanimously made known to the world of football and society:
'After the latest events and the unacceptable behaviours that have seriously damaged the image of Spanish football, the presidents request that Mr. Luis Rubiales immediately present his resignation as president of the RFEF.
'We warmly congratulate the women's soccer team for their victory in the World Cup. We value the meaning and legacy of success for Spanish sport.
'We express our admiration and gratitude to an unrepeatable group of players and we extend our congratulations to all those who have built, over the years with determination, the growth of women's football.
'We will urge the corresponding bodies to carry out a deep and imminent organic restructuring in strategic positions of the Federation to give way to a new stage of management in Spanish football.
'Once FIFA has suspended Mr. Luis Rubiales, the Federation's internal protocols have been activated as a result of the suspension.
'In addition, we have urged President Pedro Rocha to immediately withdraw the last communication on behalf of the Federation with FIFA and UEFA that we have known today.
'The RFEF maintains its commitment to continue implementing its investment, as well as equality policies for the development of women's football.
'Lastly, the Presidents' Commission has given its unanimous support to Mr. Pedro Rocha so that he may lead a new stage where dialogue and reconciliation with all football institutions is the line to follow.
'We make ourselves available to the CSD and all the institutions involved to continue building together the candidacy for the 2030 World Cup.'