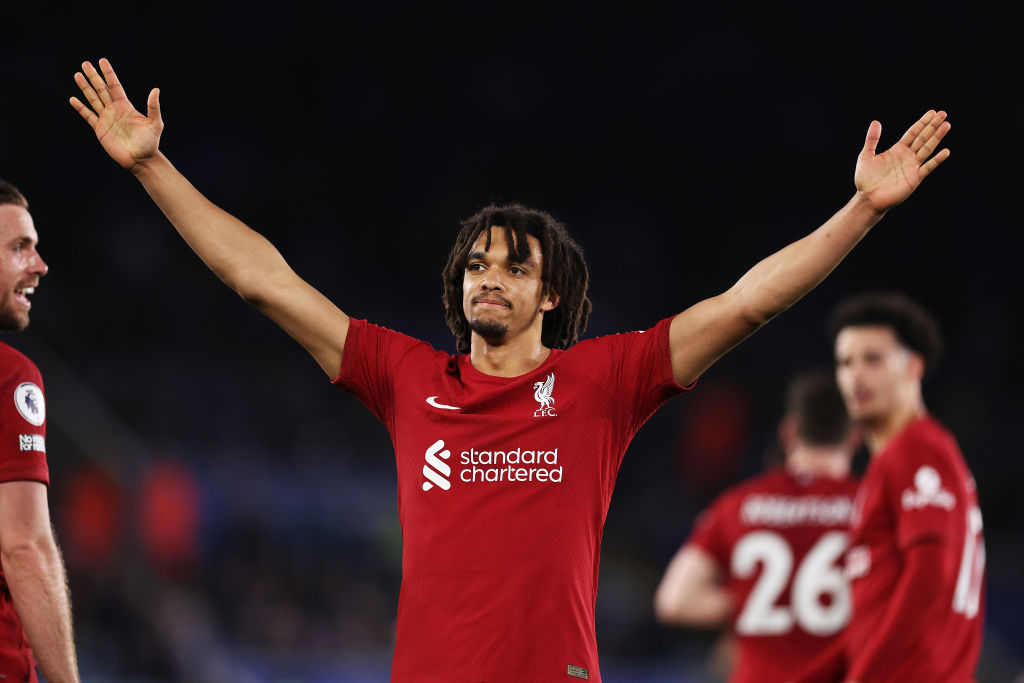 produces 'absolutely unprecedented' contributions in attack, says Gary Neville, who still thinks the Liverpool star can go down as 'one of the greatest full-backs of all-time'.
The 24-year-old was in fine form as the Reds downed 3-0 on Monday night at the King Power Stadium, scoring a stunning third goal of the game.
nudged a free-kick onto Alexander-Arnold's right foot and he whipped the ball into the top corner from distance, capping off an immense display.
Neville does not believe he has ever seen a full-back contribute so much to the attacking output of a side before, but still has major doubts about his defending, saying if he was even 'half-decent' at the back then he could be an all-time great.
'This is out of this world, absolutely out of this world,' Neville told Sky Sports of Alexander-Arnold's goal. 'His ability on the ball and what he's doing in terms of his contribution to Liverpool's attack is absolutely unprecedented.
'I've never seen a full-back have an impact on a team like he does from a point of view of attacking play.
'It's just sometimes in those games where he gets caught one-on-one, or he just looks like he doesn't do the basics well away from home or a massive match in Europe.
'The bit where you just think, if he was just half a decent defender he would be one of the greatest full-backs of all-time and he still can be.
'At the moment he's not even in the England squad, by the way. That player we've just seen tonight, spraying the ball all over the pitch, pinging one in from 30 yards, can't get in the England squad. Something's not quite right there. His ability is special.'
Alexander-Arnold has been allowed some freedom to move into midfield in recent games by Jurgen Klopp, with Liverpool now winning seven matches on the spin.
Reds legend Jamie Carragher reckons the adapted role has been a huge plus for Alexander-Arnold, as he can really unleash his technical ability to the maximum.
'He's along with Kevin De Bruyne, technically on the ball, crossing passing, free-kicks,' said Carragher. 'He looks re-energised.
'He looks absolutely over the moon that he's playing in midfield, faster, more energetic, it's given him a new lease of life.'
, .
, 
 and .