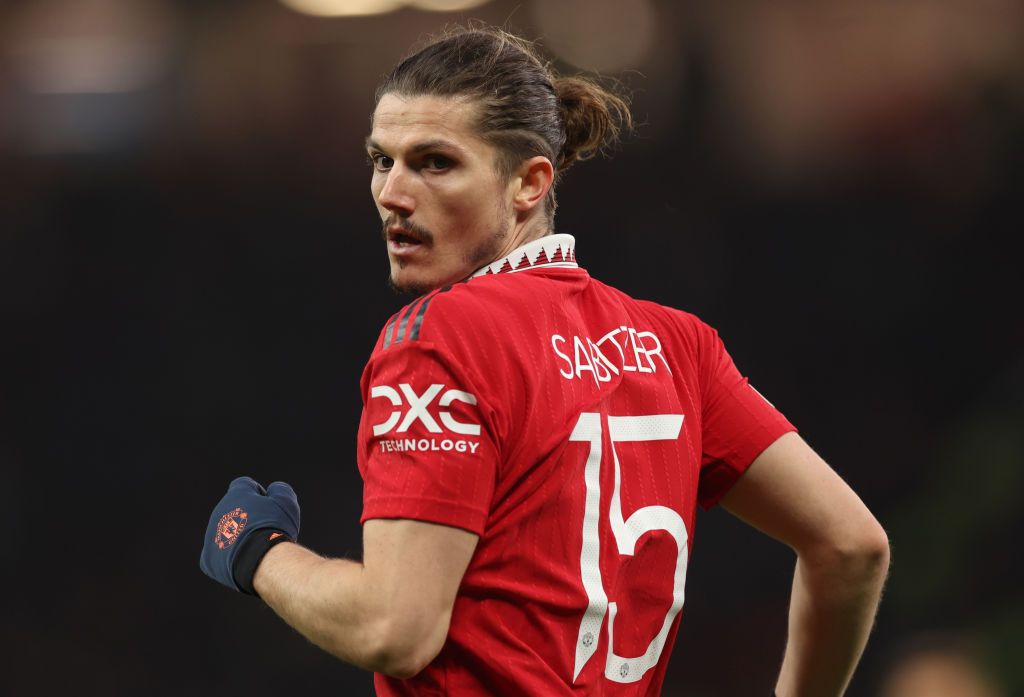 was due to start 's clash at on Sunday but was replaced at the last minute by Christian Eriksen.
The Austria international midfielder, who scored twice in the 2-2 draw against Sevilla on Thursday, picked up a groin injury in the warm-up.
With Eriksen starting in place of Sabitzer, young United goalkeeper Nathan Bishop took the Denmark star's spot on the bench.
Eriksen, making his first start in nearly three months, which saw the club bring in Sabitzer on loan in the January transfer window to bolster their midfield.
Speaking after the match, Erik ten Hag said: 'Sabitzer came off in the warm up, he felt something.
'We decided not to take the risk, we will find out tomorrow what it is. But when you have Eriksen on the bench, it is definitely not a disadvantage.'
Eriksen added: 'I didn't get a lot of notice! The players did some finishing at the end [of the warm-up], that's always the last drill before they do some sprints and go in. Before they finished, I heard Marcel [Sabitzer] was hurt.
'At the time I didn't know if I was going to be picked or not, I was told just to be ready.
'On the way in, Fletch [Darren Fletcher], said it was me, which was fine. Mentally I was ready, whether I was on the bench or playing.'
Sabitzer, on loan from Bayern Munich until the end of the season, but there is no buy option.
'I found my place here,' he told Bild this month. 'Now I know the and can say there's nothing better, more intense and tougher.
'Every game is a fight. It's the best league in the world. When you play once here you know it's incomparable.
'Of course my thoughts are on United, especially with the trust I get from – it's very positive. But I'm not the only one who decides.'
United boss Ten Hag at the end of the season.
Sabitzer, 29, has scored three times and made one assist in 13 games for United, with two of those goals coming in the first leg of their quarter-final against Sevilla.
He has urged the Red Devils to get the job done when they travel to Spain for the second leg on Thursday, but it is now unclear if he will miss out with injury.
'I have problems finding the right words, it was like a rollercoaster game,' he said about the 2-2 draw.
'[We] played a good first half, we had good chances and we had to finish the game off. At the end it's a draw and it is not what we wanted. We have to go to Seville and get it done there.'