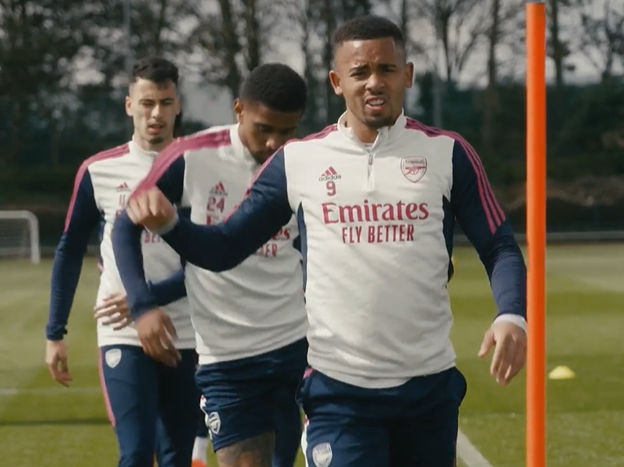 Arsenal look set to rely on a Rob Holding again against this weekend after William Saliba was again absent from training on Thursday.
The international has been a cornerstone of the Gunners success this season but he appears unlikely to play a leading role in the run-in due to a back injury that has seen him miss the last three .
and have been taking an ultra-cautious approach with his return.
The Gunners travel to east London on Sunday before facing Southampton the following Friday and will then have four days to prepare for their summit meeting against Manchester City at the Etihad Stadium.
Holding has deputised for his injured teammate over the course of the last two weeks and slotted in seamlessly against Crystal Palace and Leeds United, but struggled during last weekend's 2-2 draw at Anfield.
Mikel Arteta's side will hope to return to winning ways after seeing City cut into their lead and follow that up by dismantling Bayern in ominous fashion in their Champions League quarter-final first leg clash.
The long-time leaders are no longer considered the favourites for the title but that won't impact on the morale in the Arsenal camp, according to Bukayo Saka.
'As players, we really want to do this,' Saka said. 'We know that everything is in our hands and we just have to keep going game by game.
'If we win these last eight games and get some good results, the title can be ours, so we just have to stay focused.
'It's a long season and we have to be consistent all the way through, so that's what we'll try to do.
'I wouldn't say [the Man City game] is the final, but maybe the semi-final because it's massive, and so important as both teams are fighting at the top.
'It's really close so it'll be a massive game.'
, .
, 
 and .