'It is lonely, for sure,' says Bakar, discussing the nomadic lifestyle of a young musician, a subject that runs through his new album, Halo.
Touring, recording and promotion over the last few years, including gigs this at Lollapalooza in and the Reading and Leeds festivals, means a life spent constantly in motion.
Miraculously, the British singer didn't even pause to record his new songs.
'We were travelling a lot,' he tells me, speaking over Zoom.
'Most stuff I did before was made in studios. For this record, we wanted to record in houses, at my house, and on the road. A lot of stuff was recorded on the move.'
Surprisingly, he's not taking the opportunity for a rest or a little stillness when we talk, pacing in dizzying loops, holding his at his chest, the ceiling of his north-west flat swirling over his head.
Bakar's life is unlikely to slow down soon, with his first tour in Australia coming up, gigs across the UK and Europe, then a US tour on the cards for 2024.
It's a lifestyle that's taken its toll on several young artists, including Arlo Parks, and all of whom have taken breaks for mental health purposes.
'In terms of taking its toll? God knows, we'll find out. I'm blessed – I travel with people I love,' he admits.
'But there's no doubt it's hard.'
Songs like Hate The Sun, Invisible, and Sofa ('Why are you so far, so far from here?… I'm not coping well') hint at lost loves and relationships fading from view due to life on the move.
'There's a longing for an anchor and stability in a lot of these songs,' Bakar explains, pulling his black Mohair hoody over his head.
'I got into music to write songs. Honestly, you don't know about all the other stuff. It just happens, and then one day you're in Montreal or somewhere.'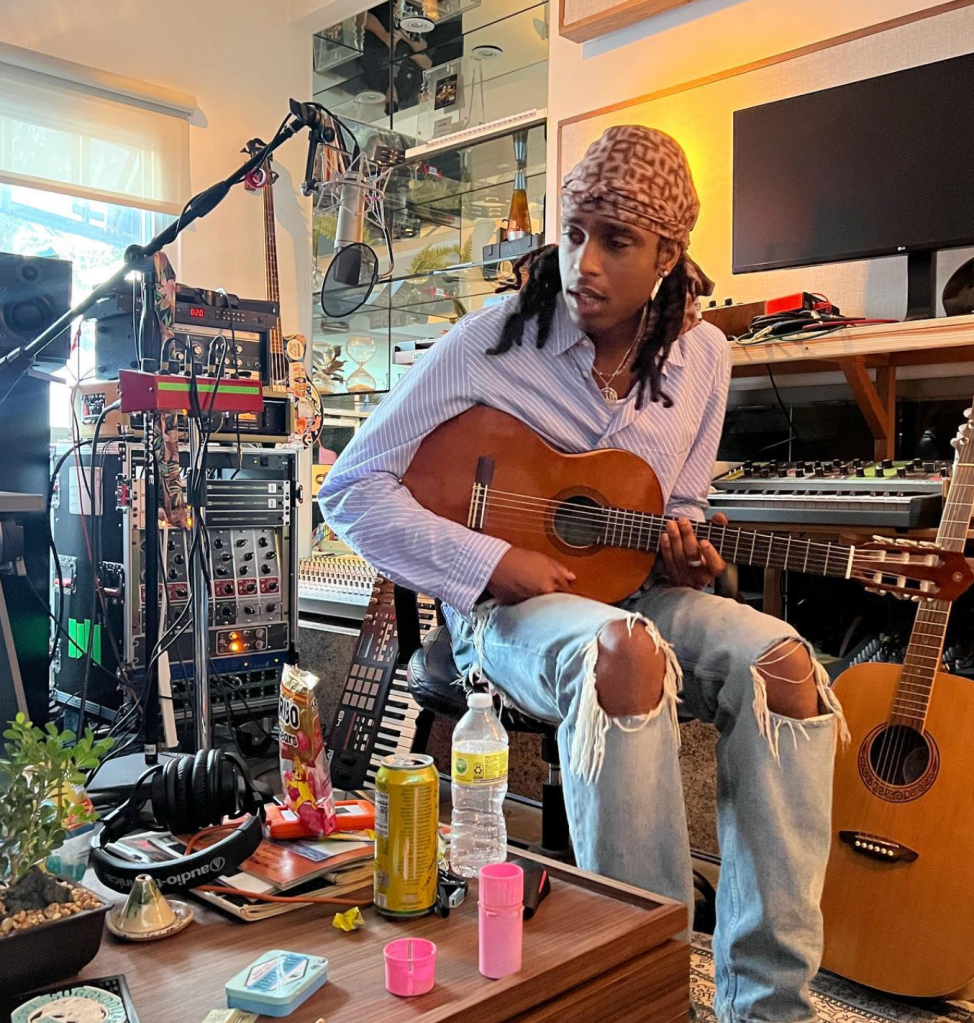 Halo is a 'lighter' album than Bakar's previous Nobody's Home, which explored identity, politics, and mental health.
It's also a world apart from his massive Amy Winehouse-esque hit Hell N Back, which has 360million streams and counting.
'On the last record, we played with synths and electronics, and with this, we wanted to get back to basics: guitars, drums, and vocals.'
Even within that back-to-basics set-up, there's a restlessness: a Motown-ish rhythm on Alive; 80s guitars and electronic beats on All Night; the wistful, stripped-back Selling Biscuits (which hints at a bit of dealing in Bakar's youth: 'Selling "biscuits" to all these rich kids. What does it matter if we're all addicted?'); the woozy, gospelly album-closer Sofa.
'It's always been like that for me,' he says of the eclectic mix. 'That was the stick they'd beat me with early on: "What label or genre do we put him in?"'
Born Abubakar Baker Shariff-Farr in Camden, North London, Bakar's the son of a Tanzanian mother who'd relocated to England and a Yemeni father who was largely absent.
'My mum has 10 sisters – I was raised by a lot of women,' he says.
Despite growing up in indie epicentre Camden, he tells me 'a lot of my friends were rappers and grime MCs early on.'
In 2017, he self-released his debut single Big Dreams, produced on Garageband on his home computer.
'Never had a dad, he's only 15. Mid-teens, big dreams,' he half-shouted, half-sang.
'That was written about my little brother but it was a mirror to me as well,' Bakar explains. 'It was a song that told so many other young black kids' stories.'
Being difficult to pigeonhole, with elements of indie, grime, RnB, and more, means Bakar's often felt out on his own. Festival bookers, he says, don't know where to place him.
'I played Wireless last year. I tweeted, "They never want me at these festivals", like rap festivals. I come from a rap place and I know the kids will understand what I'm doing. I'm Black, so why are they not putting me in front of my own people? There is that question: where do I sit?'
Between 2018's Badkid 'mixtape' and 2022's debut album Nobody's Home, there was another musical detour: Hell N Back, released as a single in 2019, which, over the course of 27 weeks, crept up to Number One on the US Billboard Alternative chart in 2020, with a whistled earworm melody and stabs of brass.
I want to be on big stages but I'll do it at my pace, my way, and taking the scenic route, which is just fine for me.
Bakar seems ambivalent about its success.
'I've had a proper tug of war with this song over the years. It's strange having something everybody likes that you don't want to lean into. I had to learn to fall back in love with it.'
Having an international hit meant there was pressure to hit 'repeat'.
'The label wanted more of that Amy Winehouse-y sound, and I was, like, "No", and wrote a whole record about identity and immigration,' he laughs. 'I felt like they were like trying to Mr Hell N Back me. But I'm so much more as an artist than that one song.'
Alongside music, Bakar's worked as a model, walking runways for Louis Vuitton and Prada. But he's refreshingly honest.
'The fashion industry's neither here nor there for me. I like clothes. But I'm a musician first and foremost.'
Bakar didn't grasp the route to success Hell N Back offered but he does still have big dreams.
'I want to get bigger and better. But it's on my terms. I want to be on big stages but I'll do it at my pace, my way, and taking the scenic route, which is just fine for me.'
Halo is out now on Black Butter Records. is touring the UK from Nov 21 to 30, including Glasgow, Manchester, Belfast and London.