A fan at a recent show has caught footage of performing a backflip that went wrong.
The 35-year-old was seen leaping backward off a ledge but didn't appear to rotate his body in time and crashed onto his back.
Aston – who was performing alongside bandmates Oritsé Williams, , and JB Gill – didn't seem injured and jumped to his feet before launching straight back into a choreographed dance routine.
The footage was shared by a TikToker with the handle @sar.ahlouise and featured the hashtag '#jlssheffield', suggesting the video was captured in the South Yorkshire city.
Aston later addressed the incident in a TikTok video in which he mimed along to a scene from Tom Hardy's 2015 film Legend, in which he plays both Kray twins.
He captioned his social media post: 'Their always here for the down FALL [sic].'
On Saturday, November 11, the band played at Sheffield's Utilita Arena.
The show and beneath a video shared by JLS of them being joined on stage by Tinchy Stryder, fans discussed the moment Aston fell.
One person wrote: 'Tinchy was amazing in the shows. Is Astons back OK?'
Another added: 'I heard he fell over. I saw on Twitter people saying that he fell while doing a backflip.'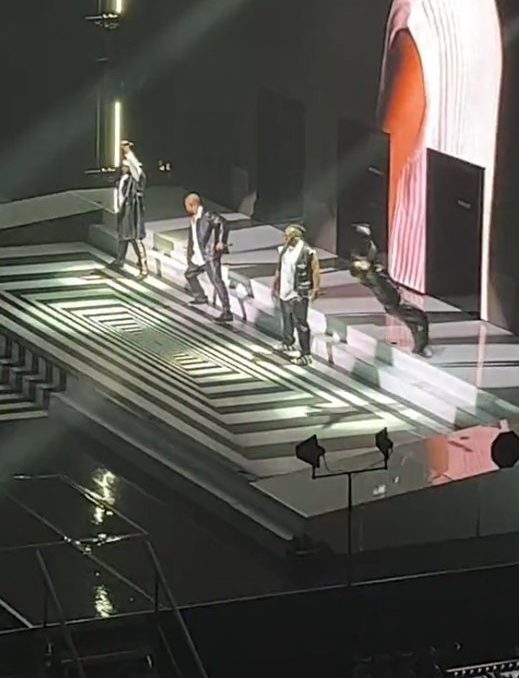 Other comments included: 'Omg that must have hurt they posted a vid three mins ago when Tinchy Stryder came out and I could see the pain in his face' and 'He went to a backflip he landed on his neck.'
Aston's rep told Metro.co.uk: 'He seems fine. He's going to get checked over but was in the gym again this morning. Of course, family, friends, fans, the team were all very worried, but he just somehow got up and carried on.'

Are you a JLS fan?Comment Now
JLS confirmed in February that they would be .
The group enjoyed their breakthrough on The in 2008, where they finished runners-up, before going on to enjoy five number one singles, a UK number one album and record sales of over 2. 3 million albums and 3.2 million singles in total.