A woman has revealed that a ghost of a prisoner followed her home from a party and is now trying to kill her family, or cause some serious danger.
Detailing her paranormal experience in Discovery+'sCandace Gardner and her husband Billy recall the mysterious activities they've witnessed in their own home, including seeing the dark figure itself, and it sounds pretty terrifying.
It all began when Candace and Billy, who share daughter Hayley, attended a Halloween party in 2015, which was being held at an abandoned prison with 'a very dark history'.
Having grown up in a religious family where paranormal activities weren't considered real, Candace tearfully recalled the moment everything changed.
'The moment I walked into that prison, I knew I was being watched,' she says in a confessional, as a recreation shows Candace walking through the 'never ending tunnels and rows of prison cells'.
And despite viewers being aware something was eerie at the prison, with strange figures appearing on walls in chalk and mysterious sounds heard from shadows, it wasn't until things started going wrong the next day, when Candace and Billy returned home.
She begins: 'Everything changed, nothing was normal again.
'This thing was from hell, I wouldn't wish it on my worst enemy.'
The first supernatural occurrence, as shown in a terrifying recreation, took place when Candace was baking treats for her daughter's school in the kitchen.
Things suddenly began to get seriously strange, from missing crockery in the sink, to objects flying around the kitchen and flour spilling onto the floor.
Candace became really spooked when the television turned itself back on numerous times after she turned it off, before then hearing footsteps in an empty house and doors closing behind her when no one was there.
It's then that we see an outline traced into the flour, of the same three figures spotted on the prison wall, but Candace has yet to learn what this could mean.
Eventually, her husband becomes aware of the mysterious happenings in their home, as he says: 'It happened so much, I was kind of used to it.'
Billy continues: 'When you start seeing lights turn off and on, and hearing the switches go, it's pretty crazy.'
As things escalated, including plates flying at her head and seeing a dark figure standing behind her in reflections, Candace was left terrified.
She says: 'I feel like I'm being watched 24 hours a day, seven days a week, there's nothing you can do and it's pure, frozen fear – your hairs stand up.'
'I really didn't think things could get any worse, but I was wrong,' she adds.
Having seen the figure for the first time with her own eyes, Candace recalls: 'When I saw this thing, you can't describe enough fear, it just glared at me, it had claws as long as my fingers and black as black, blacker than black.
'And it just latched on and was staring at me.'
But she was left feeling 'secluded' and 'an outcast' knowing she couldn't tell any of her friends, or explain mysterious circumstances when they came to see her, like plates flying through the room and smashing over their heads.
And even when Candace is trying to tell her story for the first time publicly, the 'ghost' doesn't seem to let her.
During one of the interviews for the programme, a camera cuts out with Candace brushing it off and admitting it 'happens a lot', saying: 'That doesn't surprise me.'
Eventually, Candace came to the conclusion that the ghost must have entered their home after the prison party, which lead her to discover that a lot of deaths had occurred there, and it was known as the blood prison – for apparently good reason.
'There were a lot of deaths, a lot of beatings and a lot of mistreatment,' she explains.
She goes on: 'A lot of people died there and I believe that because of that, they're trapped.
'But I know something followed me home after I left that prison.
'I made a huge mistake walking through that prison on that Halloween night – it was the dumbest mistake I ever made.'
As Candace learnt more about the ghost, it grew more sinister in their home, once haunting their daughter Hayley in the middle of the night, which she described as being a man like 'melted black wax' who 'disappeared into the dresser and came crawling back out'.
Hours after that incident, Candace saw the same figure in her own bedroom, and it grabbed her leg, causing bleeding scratches, before her husband was able to ward it off.

Have you ever witnessed paranormal activities in your home?Comment Now
One day, Candace was in the kitchen when the ghost threw a knife right at her head, which thankfully missed her by inches and pierced the wall.
'This thing wants me,' she says, after hearing a voice repeating: 'Candace is mine.'
'This thing calling me by my name is a smack in the face.'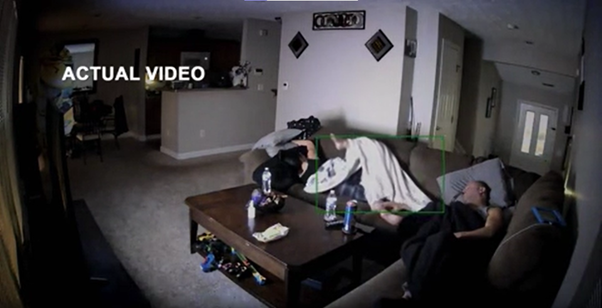 Candace and Billy eventually film proof of what is happening to them, as they show CCTV footage they caught themselves of them sleeping on the sofa.
In the clip, Candace's leg appears to be lifted up into the air and pulled by an unseen figure, causing her to wake up screaming in pain, before Billy pushes her leg back down, away from the ghost.
When Candace witnesses the figure herself during the day, after a shower in which the water transformed into blood pouring down her, she tearfully explains: 'You can't describe enough fear.'
'It's pure terror,' she tells the camera.
But the family are still determined to fight back.
Holding back sobs, Billy explains feeling 'helpless' and 'angry', unable to protect his family.
But having used a medium in the past, they're now hoping a combination of sage and holy water will fend the ghost away from their home.
'We're fighting this together,' he says.
Eli Roth Presents: A Ghost Ruined My Life is available to watch on discovery+.