Paul Wight has urged AEW star Orange Cassidy to 'enjoy the moment' in front of 80,000 fans at Wembley Stadium.
The legend, best known to fans as The Big Show, will be part of the preshow panel for and he interrupted our interview with the International Champion to give him some words of support before the biggest show of his life.
While Cassidy was speaking exclusively to Metro.co.uk before the show, Wight quickly interjected and said: 'Hey stud. Have a good time. Enjoy the moment.'
'I'm gonna try,' OC replied, while the giant told him: 'Dude, just take it in and breathe it and enjoy it. These people are gonna love you so much. I guaran-f***ing-tee, it's gonna be the best thing you've ever seen.'
After Wight left the room, the 39-year-old star smiled: 'He's the man, he's great!'
Earlier in the chat, the admitted the enormity of the occasion hadn't quite sunk in for him yet.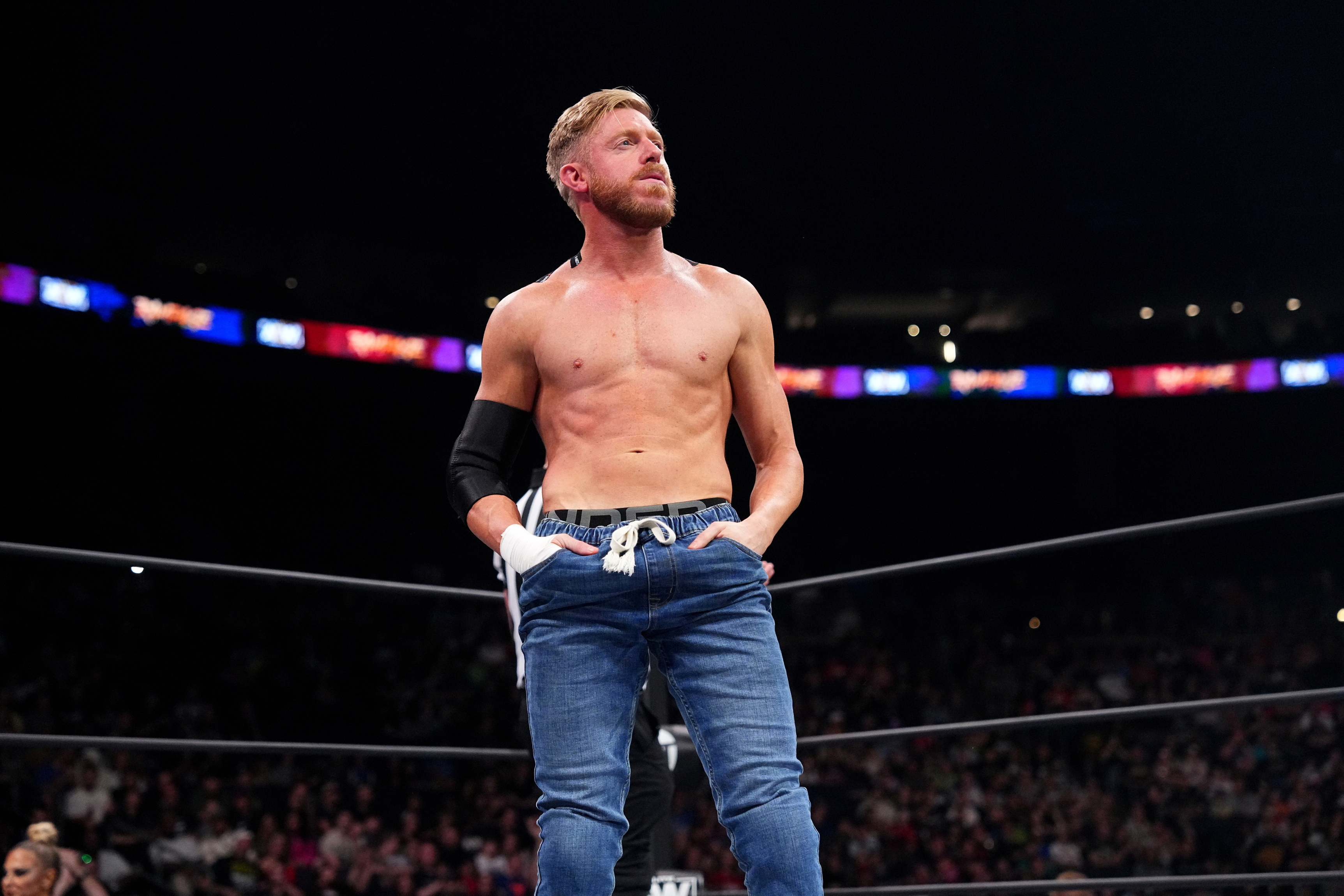 'I don't know. It hasn't set in yet, you know? I just got off the plane, my cell phone got stuck under the seat so they had to have an engineer come on the plane to get it out, and then I came right here,' he said on Friday afternoon.
'Met Chris Jericho's dad in the lobby again – really nice guy. The whole time I was coming here, doing all those things, Wembley Stadium was just there.'
Cassidy will be part of the huge Stadium Stampede match this weekend, and he insisted he doesn't quite know what to expect from the environment.
'I think that's what keeps us – when we do these Stadium Stampede Matches, for real I don't know what's going to happen. These matches are unpredictable' he explained, noting the bout will have a lot in common with Anarchy in the Arena.
He added: 'This is what this! There are no rules ! You've just gotta pin in the ring. What?! I don't know what's going to happen. We can get crazy.'
For the champ, being back in the UK will be special after companies like Fight Club Pro were some of the earliest promotions to really embrace his laid back Orange Cassidy persona.
'I absolutely love wrestling in the United Kingdom. So yeah – I don't know,' he said, pondering stepping out at Wembley Stadium. '80,000 people, what is that? What even happens?'
AEW All In London comes to Wembley Stadium on Sunday (August 27) at 6pm. for the remaining tickets, or tune in via Fite TV.