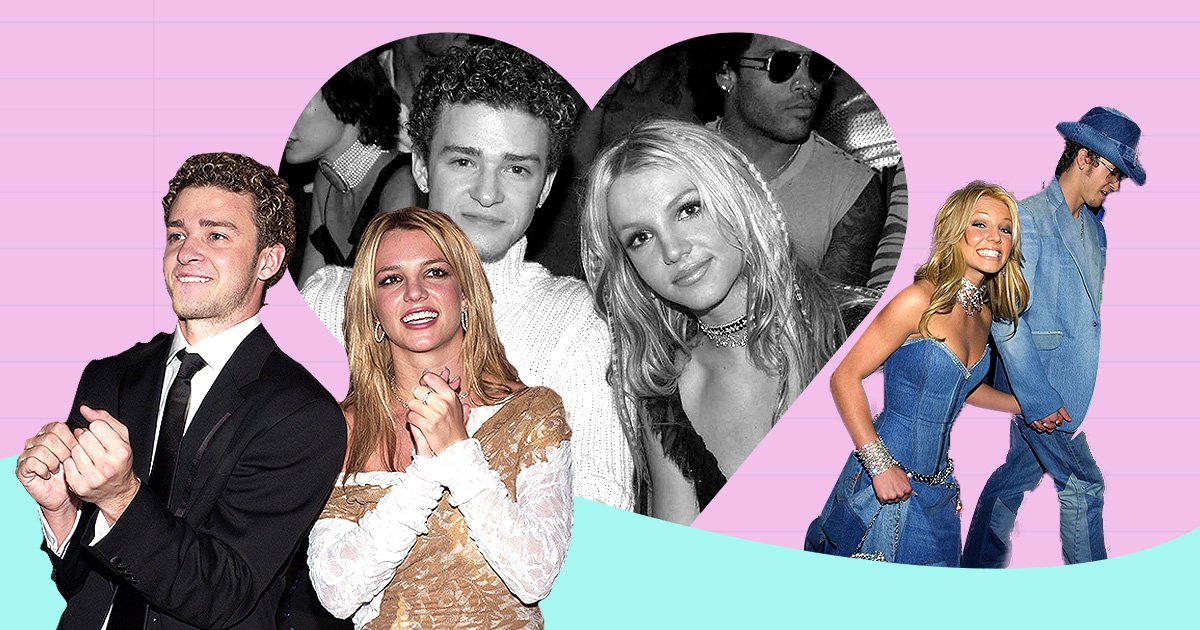 and were the ultimate, undisputed pop culture power couple.
Embodying the American dream, the picture-perfect pair first met as youngsters on 's squeaky-clean Mickey Mouse Club, where the likes of Ryan Gosling and Christina Aguilera also carved out careers as showbiz megastars.
The of Hollywood's last internet-free era, Britney and Justin were young, pure, in love, and ridiculously famous. Even the most highbrow of pop culture aficionados will get that warm fuzzy feeling when photos of Brit and JT pop up on their timelines.
Between 1999 and 2002, pop culture's prince and princess were always together: making goo-goo eyes on the world's most-papped red carpets and gushing about one another in interviews. Puppy love was real.
But then their sparkling romance came tumbling – very publicly – to a thunderous demise; a headline-making breakup that's recently been resuscitated thanks to Britney's forthcoming memoir – The Woman In Me – in which the star revealed, among many other things, that she .
While Justin, 42, has been happily married to Jessica Biel since 2012, in the wake of 41-year-old Brit's shock revelation, fans have been digging back into .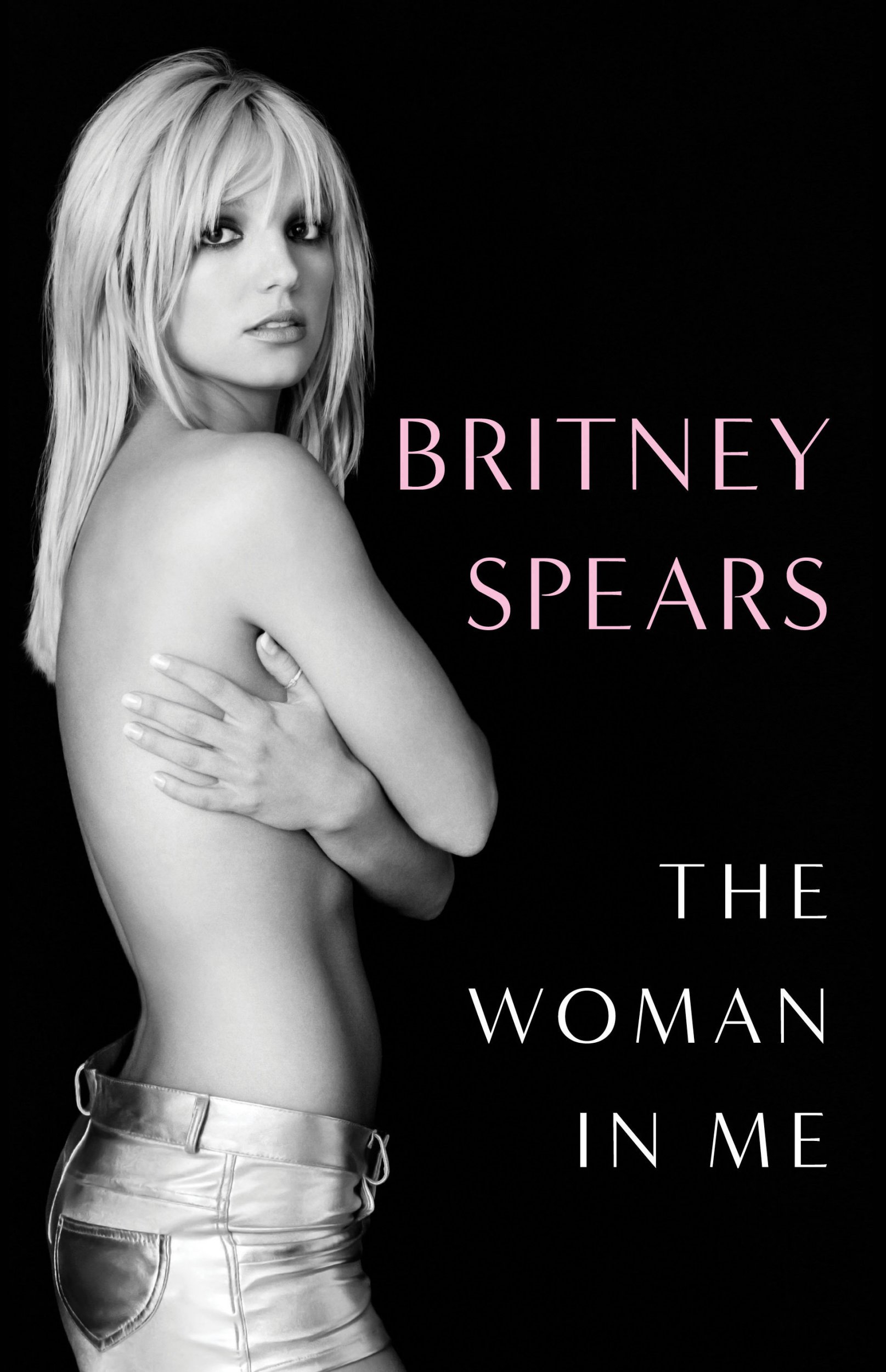 Long before they were household names and pinned up in bedrooms across the world, Britney and Justin's first taste of fame was in 1993 when they joined the Mickey Mouse Club.
The iconic Disney series saw its stars (or 'Mouseketeers') take part in a mix of skits and songs recorded in front of a live audience.
Britney, Justin, Christina, Ryan et al joined The Mickey Mouse Club when it was in its sixth season, and broke the mould by becoming the most successful bunch of young stars to ever emerge from it; several have long been household names.
It was clear from the beginning that young Britney and Justin were superstars in the making, with a producer on the show saying years later that they just oozed .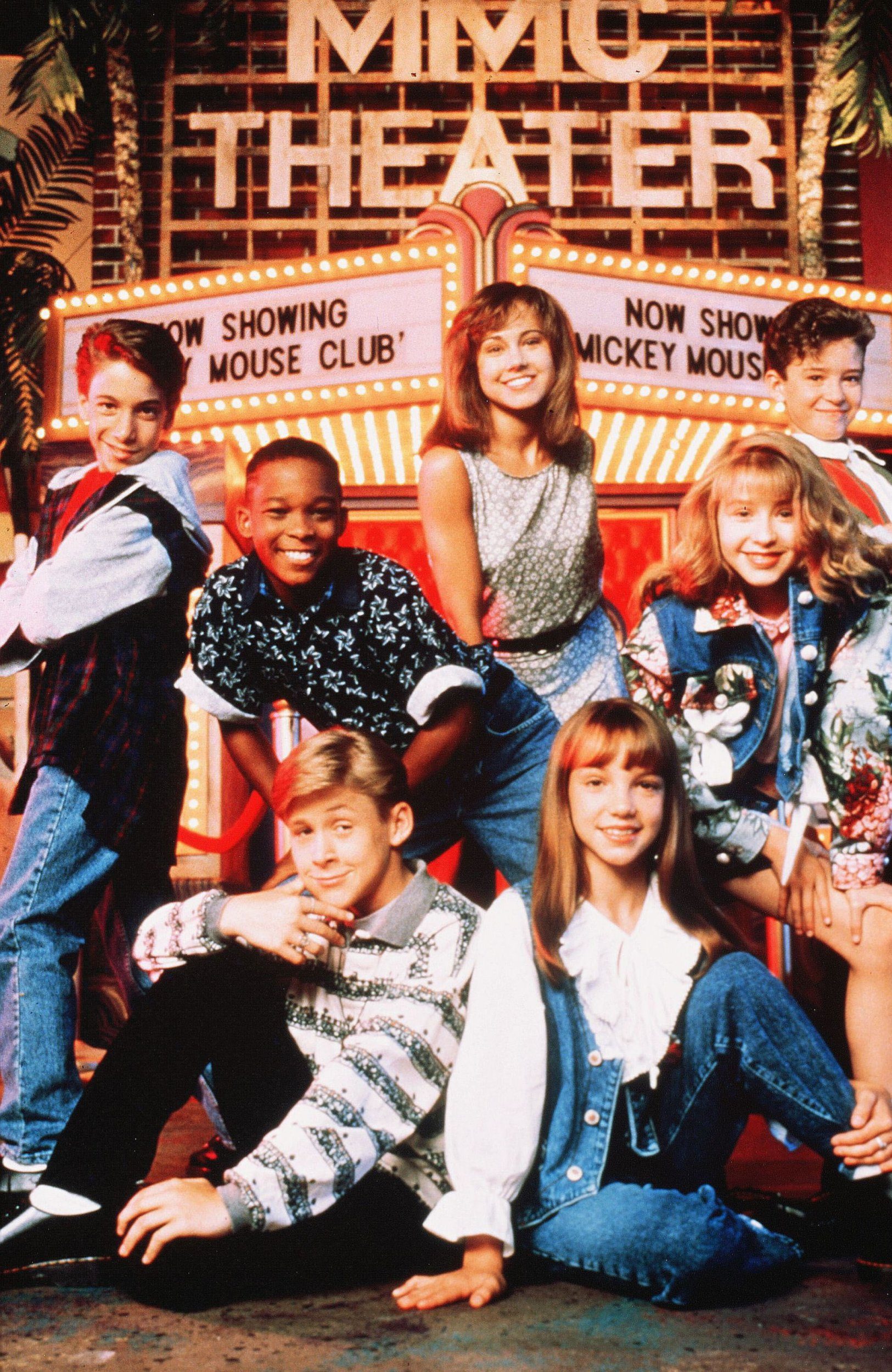 Everyone watching in the mid-1990s could see this bucketload of talent, but nobody could quite have predicted what the future would hold for these two child prodigies – both in their professional lives, and personal.
It was during these young, heady Disney days that Justin became infatuated with Britney, years before they became the most talked-about, obsessed-over celebrity couple of their generation.
'I was in love with her from the start. I was infatuated with her from the moment I saw her,' Justin admitted years after their romance to in 2006.
It was during their time as Mouseketeers that Brit and JT had their first taste of romance, with the former recently confirming that they shared a kiss during a game of truth or dare.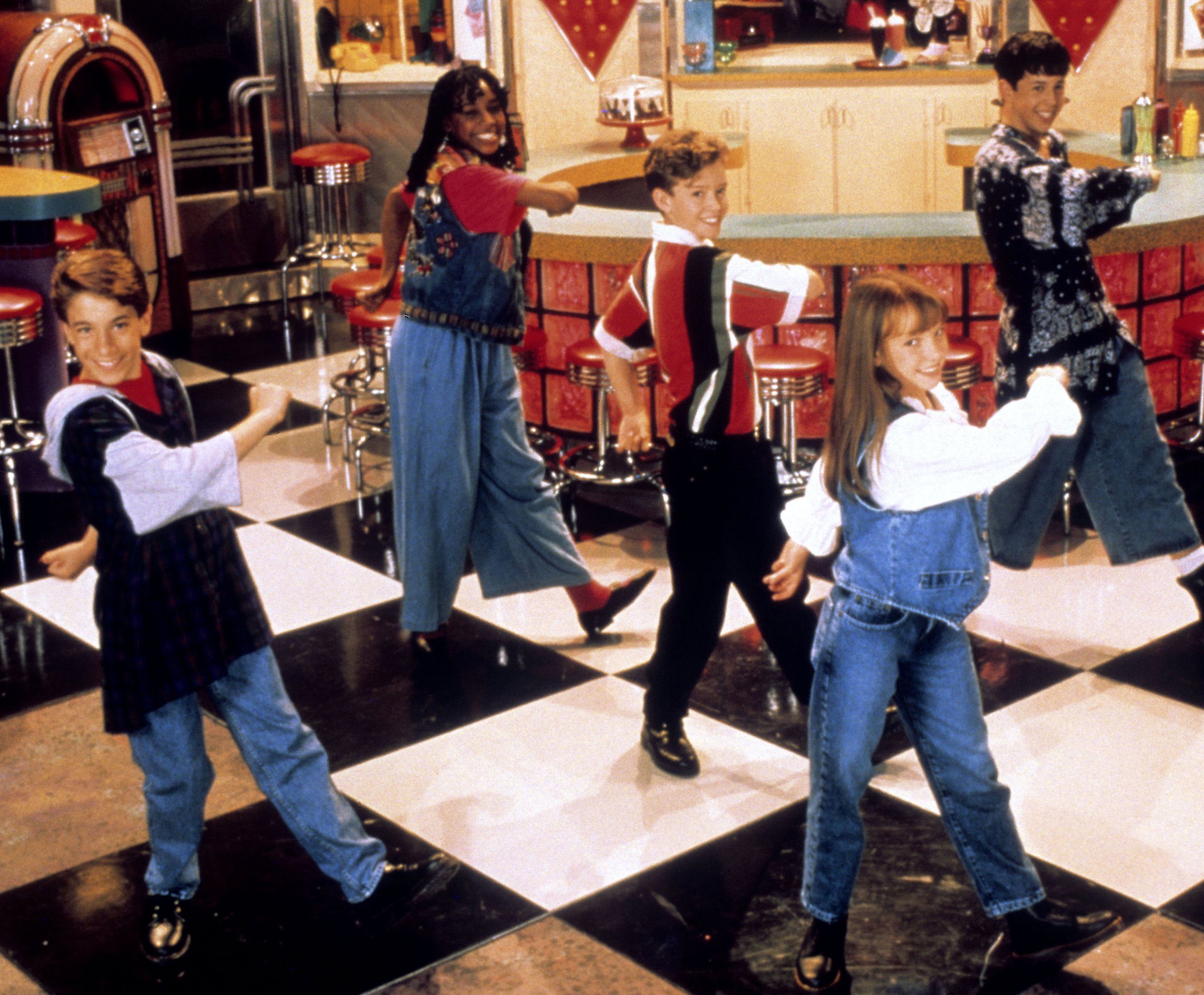 Fast-forward more than two decades, and Britney has spilled the tea in her new memoir, explaining that they were just 17 at the time, sharing: 'At a sleepover, we played truth or dare, and someone dared Justin to kiss me.'
In an extract of The Woman in Me seen , the superstar hitmaker added: 'A Janet Jackson song was playing in the background as he leaned in and kissed me.'
By the time the new millennium rolled around, Britney and Justin Timberlake were officially an item.
The hot young couple hard-launched their romance at the 2000 MTV VMAs and although they walked the red carpet separately, Brit and JT sat next to each other during the show and packed on the PDA. It was a moment.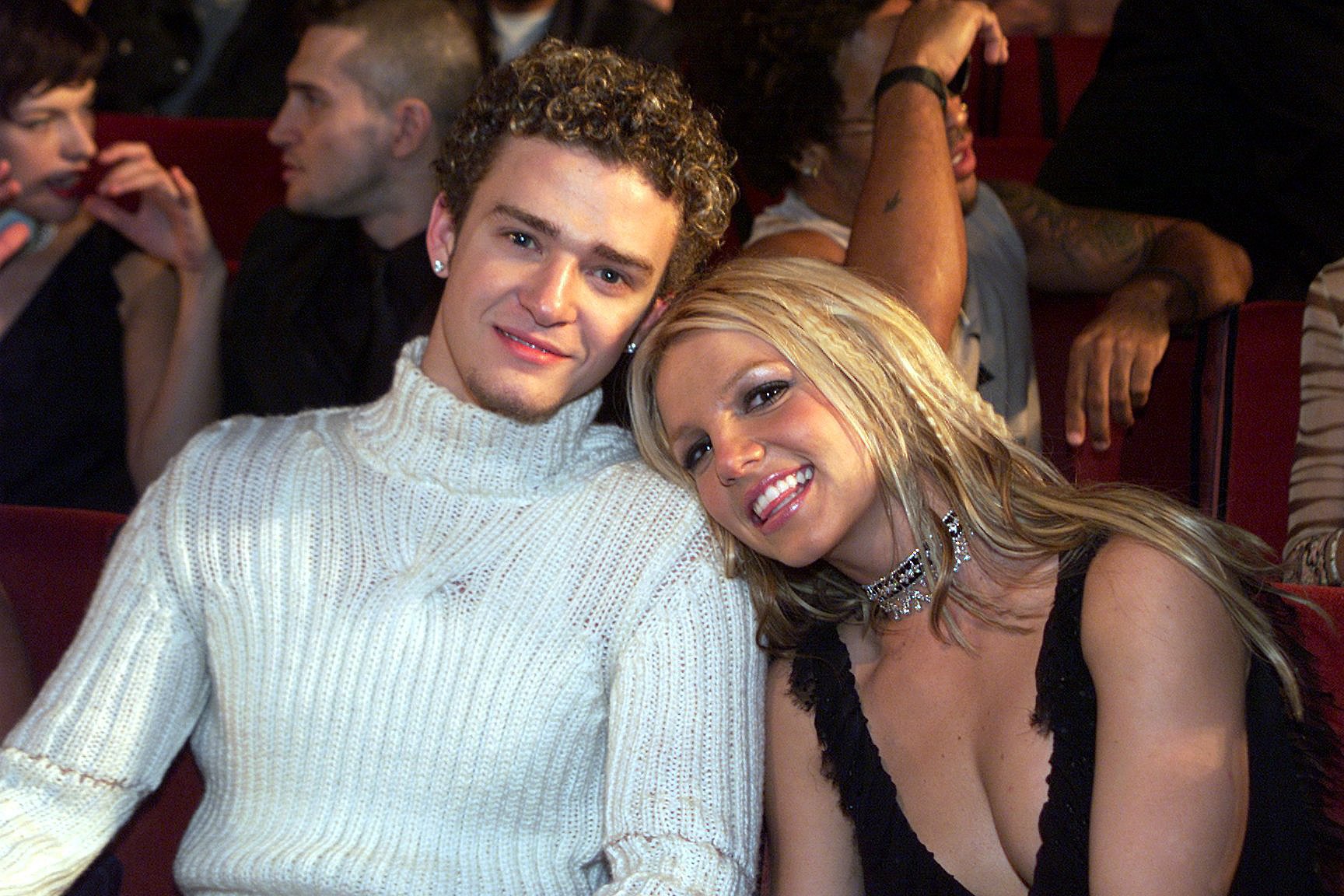 But the superstar couple's most iconic moment was yet to come, a moment that would forever go down in pop culture history – their American Music Awards appearance in January 2001.
It was very much your regular showbiz event, with stars trickling in wearing fancy little numbers on the red carpet, but it was Britney and Justin's double (triple, quadruple?) denim-clad looks that changed everything, and pop culture was never the same again.
Britney was our denim princess in a floor-length gown with a sweetheart neckline, a matching bag and some dainty jewels, while Justin went for a full denim suit with fedora in varying shades of blue.
However, for all the hundreds of headlines and column inches the pair scored the following day and for years after, Justin actually threw shade on their outfits years later.
'I confess that there was maybe a period in the 90s where I could skip over some of the outfits that were public, but the internet will never,' he quipped to a few years ago.
However, for all of his embarrassment years down the line, the look was very much the idea of Justin himself, along with Britney, as designer Steven Gerstein in 2020: 'Justin and Britney were dating at the time. We were in New Orleans when Britney and Justin were like, "We're doing matching denim".'
A fashion moment for the ages, Katy Perry actually tried to recreate the look at 2014's VMAs when she walked the carpet with Riff Raff in matching denim looks.
What's more, in 2017, fashion brand Filles a Papa even based a (*very* expensive) T-shirt on Britney and Justin's outfits.
Boasting a photo of the pop culture power couple on the red carpet, the t-shirt was stamped with the words: 'Never forget.' We never will.
The same month that Britney and Justin nailed denim on denim on denim, they performed together at 2001's Super Bowl, even more firmly cementing their status as THE celebrity couple of the year, if not the decade.
Britney joined Nsync on stage and after the blockbuster performance even spoke about what it was like performing with her boyfriend.
Speaking backstage, she told : 'It's a little hard, but you know what, it's all about trust. He loves me and I love him and we just try to work it out.'
But, believe it or not, singing to a thousands-strong crowd at the world's biggest sporting event wasn't Britney's most nerve-wracking performance of 2001.
In September of that year, she famously performed at the VMAs with a 7ft albino Burmese python around her shoulders, something the mum-of-two might not have plucked up the courage to do if it weren't for Justin.
Sharing a throwback of her performance on Instagram, Britney revealed Justin 'gave her a pep talk' and 'held her hand'.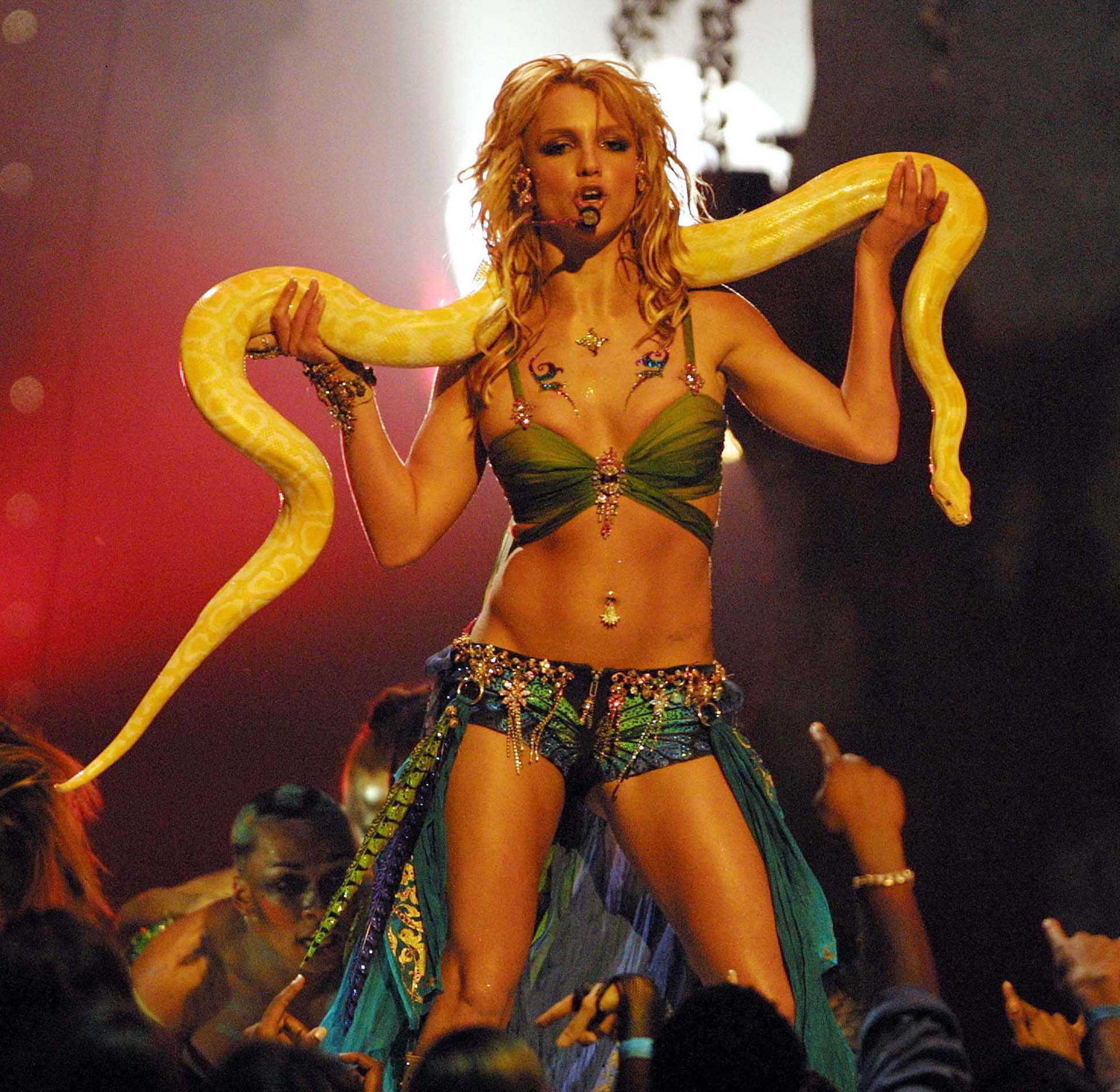 She previously wrote: 'I will tell you this… before I went on that night I was feeling kinda out of body with nerves.
'Justin saw I could hardly talk so he held my hand and gave me a 5 minute pep talk which obviously worked.'
It goes without saying that 2001 really was Britney and Justin's year, with the power couple even moving into their own home in LA.
Invited into Britney's new casa to interview the star in September that year, confirmed she shared her Hollywood abode with Justin – whenever he was actually in LA.
Britney was quick to gush about JT in the interview, telling them: 'I'm not ashamed at all to say that I love him from the bottom of my heart. As far as love is concerned, with him, too much is not enough. He's everything.'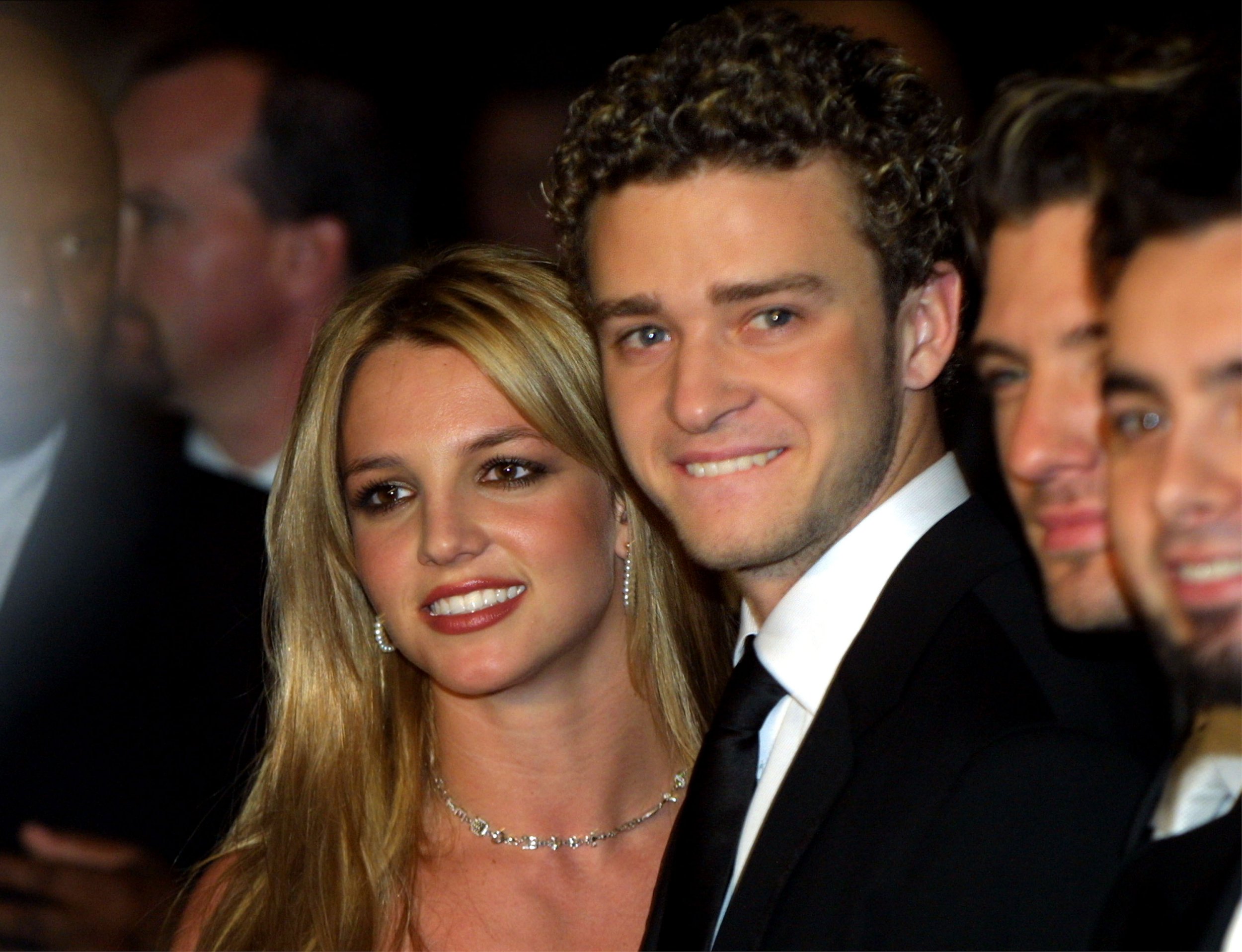 Brit added: 'With him, it's still the same as I felt two years ago. But it is a deeper love now than when I was younger. Like, we've gone through so much together and we've known each other since we were 12 years old. We know each other inside and out.'
The outlet claimed Britney's new home was bought for $3million (£2.5million), recently constructed and that it sat at the top of a 'steep driveway'.
As for the interiors of the home she and Justin shared at the time, they were said to be 'hotel-like'.
The property reportedly didn't feel as though it had been lived in and in the kitchen sat sets of plates and rolled-up napkins.
As for the colour scheme, Britney's home boasted neutral shades alongside swipes of maroon (*ahem*) and wasn't said to be decorated in a 'flashy or fashionable' manner.
In her and Justin's living room were 'two overstuffed beige couches' and best of all, the Everytime singer had a single photo on her bookshelf – a picture of herself and Susan Sarandon.
Elsewhere, framed pictures of birds dotted the walls of Britney's home and there were candles in each room.
The living space sounds as though it felt pretty empty, which is no surprise given Britney and Justin were so often touring the world at the time so rarely at home.
Right. Roll on February 2002, when Britney hosted Saturday Night Live for the second time and was joined by Justin during her opening monologue, having first hosted the hit comedy show on her own two years earlier.
At the time, she was the youngest person to have ever hosted SNL at just 18 and was also the show's musical guest, and won over the audience with her brilliant performance despite only being just old enough to vote.
Chatting to journalist Katie Couric after returning to SNL for the second time with Justin, Britney admitted that she she found round two less nerve-wracking.
According , Katie also asked Britney if there was 'any news on the Justin front' in response to rumours the pair were engaged.
Britney replied simply 'No,' but did add that 'he's doin' wonderful'.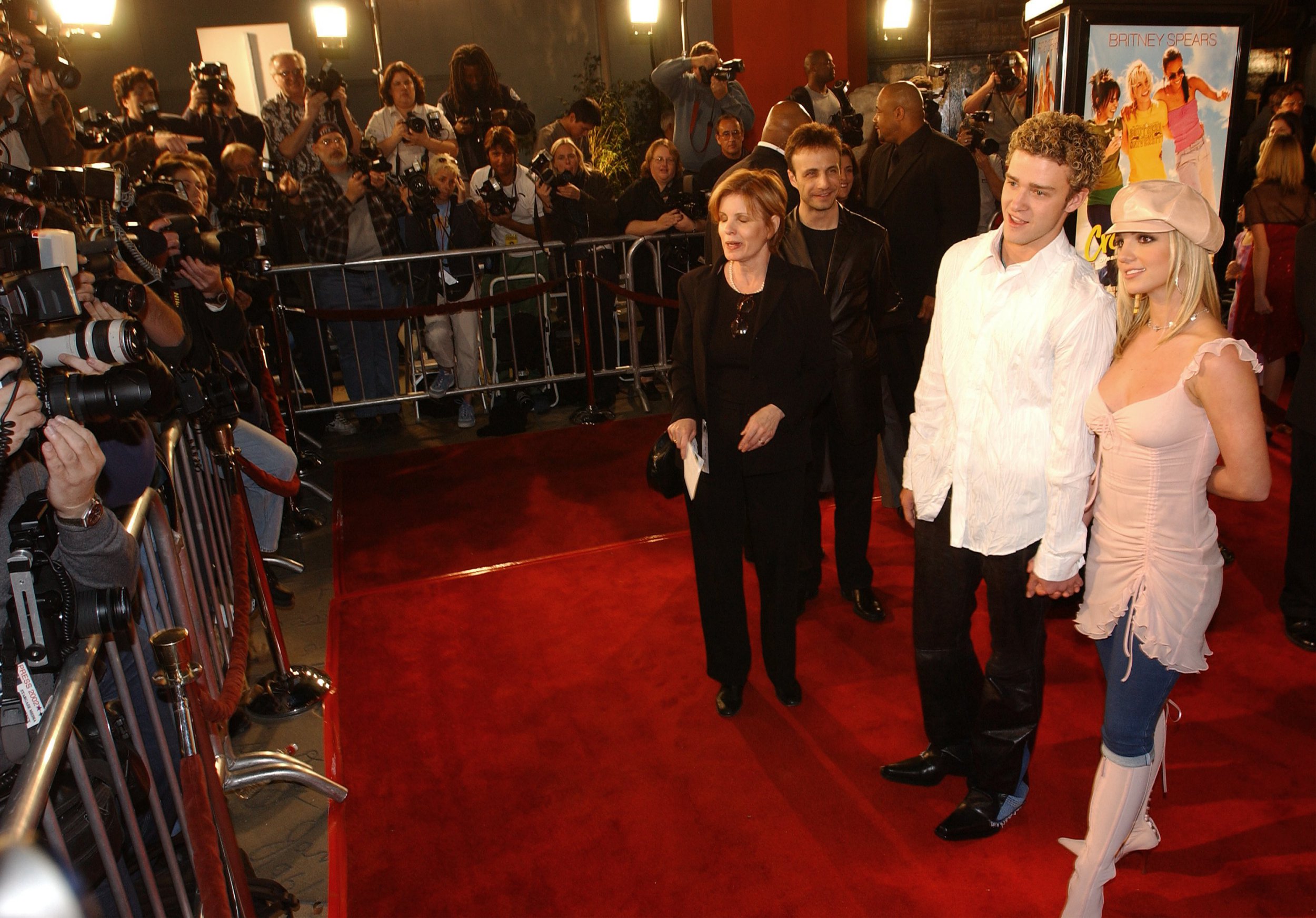 Proving that the world was truly her oyster, Britney hopped from SNL to the red carpet of Crossroads, the Tamra Davis-directed film that saw Britney make her feature film debut.
Of course, Justin was on hand to support his girlfriend at the movie's premiere and years later, in 2016, Tamra reflected on how in love Britney and Justin were when the movie was filmed.
She that year: 'It was just the most beautiful relationship, seeing the two of them together and how lovey they were.'
'They were just so close, and she was such a supporter of his. He worked just as hard as her. It was like, she would be doing rehearsals and he would be doing rehearsals. They really knew that life together,' the filmmaker added.
But alas, unbeknownst to the rest of the world, trouble was brewing in Justin and Britney's relationship, with the pair making their final red carpet appearance as a couple the very same month Justin escorted Britney to the Crossroads premiere.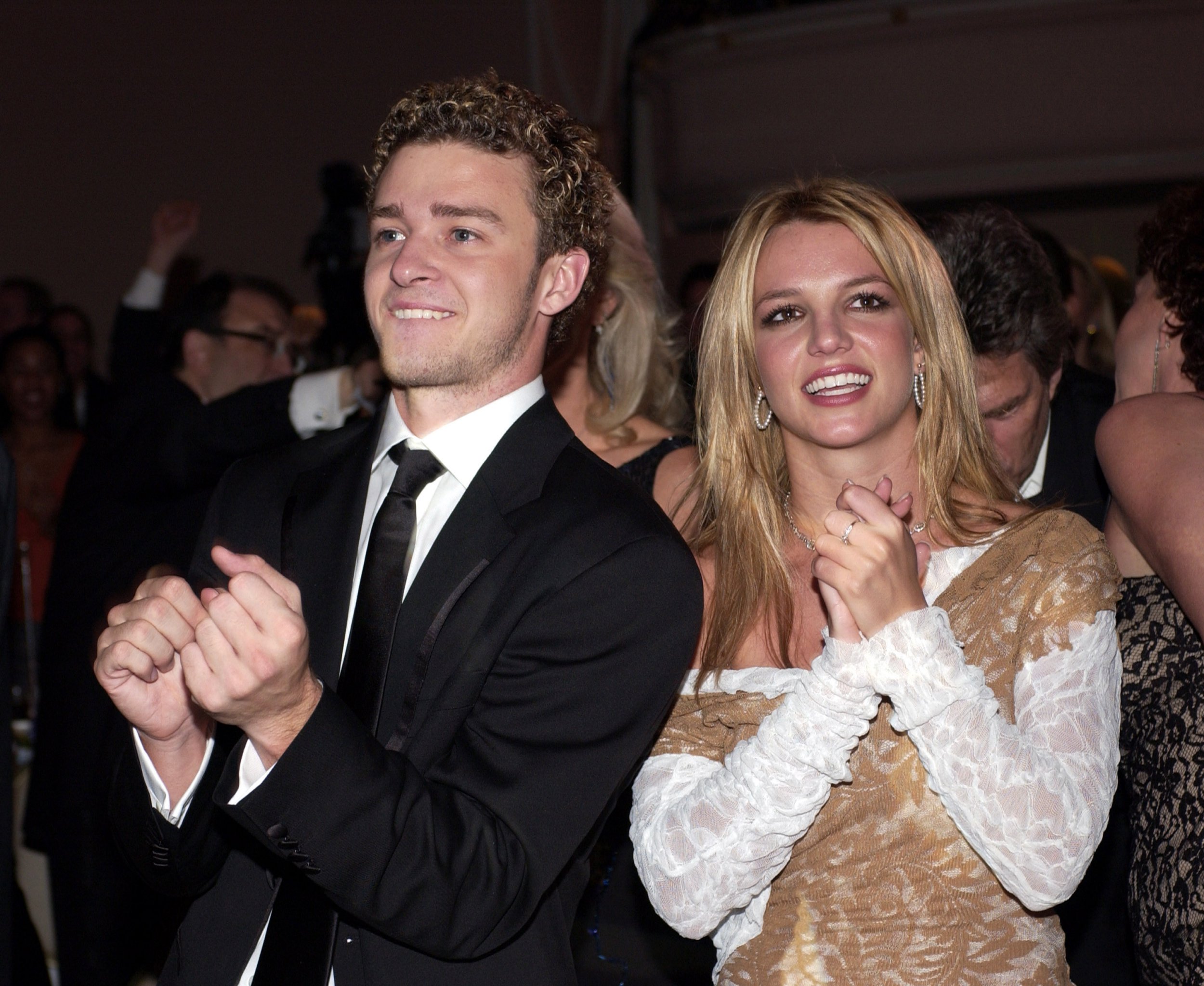 That appearance was at 2002's Grammys, where they looked as loved-up as ever to onlookers.
Britney even presented the award for best pop performance, in which Justin and his *NSYNC bandmates were nominated, but the gong ended up going to U2, denying fans the opportunity to watch Britney hand her world-famous boyfriend one of the coveted trophies.
It wasn't until Britney took her Crossroads press tour across the pond that she finally confirmed she was Justin were no longer together, breaking the hearts of teenagers across the globe.
Speaking from London in March 2002, Britney elaborated on the shock bombshell, telling the press she was 'not in an intense relationship with anyone at the moment.'
Three months later Justin confirmed their split, saying he was utterly crushed.
Taking part in an interview in June 2002, he emotionally told the outlet of his and Britney's breakup: 'It hurts too bad. You get to a point when you're crying yourself to sleep every night. I feel like I'm in the middle of a soap opera. I honestly know what it's like to have a broken heart.'
Justin added: 'I love Britney, and I'll always love her.'
And then came the years of public squabbling, the fairytale well and truly over.
Despite Britney at first taking the high road and insisting in July 2002 that she and Justin parted ways in amicable terms (she said to that month that they were simply 'climbing two different mountains') it didn't take long for things to go south, no thanks to the release of Justin's hit Cry Me A River later that year.
Yep, you know how this one goes. Justin released the video for Cry Me A River on November 25, 2002, and it featured an actress who looked a hell of a lot like Britney.
The lyrics also pointed to drama between Justin and Britney, with the former singing: 'Told me you loved me, why did you leave me all alone? Now you tell me you need me, when you call me on the phone.'
However, according to , Justin denied that the track had anything to do with his world-famous ex, saying: 'A lot of people have asked if the video is about her. It's not about her, it's about me.'
Interestingly, Justin readdressed the song in his 2018 memoir, saying: 'I've been scorned. I've been p****d off.

Will you be reading Britney's memoir? Comment Now
'I wrote Cry Me A River in two hours. I didn't plan on writing it. The feelings I had were so strong that I had to write it, and I translated my feelings into a form where people could listen and, hopefully, relate to it.'
To coincide with Cry Me A River's release, Justin infamously sat down for a chat with Barbara Walters, which is when things took a nasty turn.
Not only did Justin laugh when asked whether he had sex with Britney but proceeded to play a song called Horrible Woman.
In previous interviews, Britney had always insisted she planned to abstain from sex until marriage.
According , she said on a radio station when aged 18: 'Yes, I am a virgin. I definitely want to try not to have had sex until I'm married. I just want to wait for this special someone.'
But despite telling Barbara he'd 'promised Britney he wouldn't say why they broke up,' Justin didn't shy away from speaking about their relationship.
When Barbara asked Justin if Britney really did avoid having sex until they were married, Justin laughed and flippantly said: 'Sure.'
It's no wonder, then, that Britney took issue with Justin's interview, something she publicly made very clear.
According , she said in August 2003: 'It was hard for me that he was so exploitative.
'Every interview that he did, he was just talking about us in such an open way and I just felt, "Is nothing sacred anymore?" It was weird. It was… disappointing.'
Later in 2003, Britney specifically addressed the question of whether or not she'd slept with Justin.
Speaking to , Britney accused Justin of 'selling her out' in his interview with Barbara, adding: 'I've only slept with one person my whole life.
'It was two years into my relationship with Justin, and I thought he was the one.
'But I was wrong! I didn't think he was gonna go on Barbara Walters and sell me out.'
Then came Britney's first enormous release since her and Justin's breakup, and much like they'd done with Cry Me A River, fans were certain her track was about her ex.
Britney dropped her moving ballad Everytime in 2004 and with lyrics including: 'Every time I see you in my dreams, I see your face, you're haunting me, I guess I need you, baby,' it's easy to see why fans were quick to speculate the song was about Justin.
Britney achieved huge success with In The Zone, her fourth studio album and the same one Everytime was on, and all was relatively quiet on the Justin front.
But when the topic of his ex was brought up in a 2006 interview with , Justin said he felt Britney wasn't supportive when they first broke up and added that he 'fought back' in response.
He told the outlet: 'When we initially parted ways, I felt like she had a couple of opportunities to just sort of stick up for me, and she didn't, which is fine.
'But at that time, you know, I fought back.'
Around the time Justin sat down with GQ, he was dating actress Cameron Diaz, who he eventually split from in 2007.
Britney, meanwhile, married Kevin Federline in 2004 and went on two welcome sons Sean and Jayden with the dancer.
Britney and Kevin eventually reached a divorce settlement in March 2007 and a year later she was placed under a conservatorship.
Three years later, in 2011, Justin sat down for a chat with and said it had been 'nine or ten years' since he'd spoken to Britney.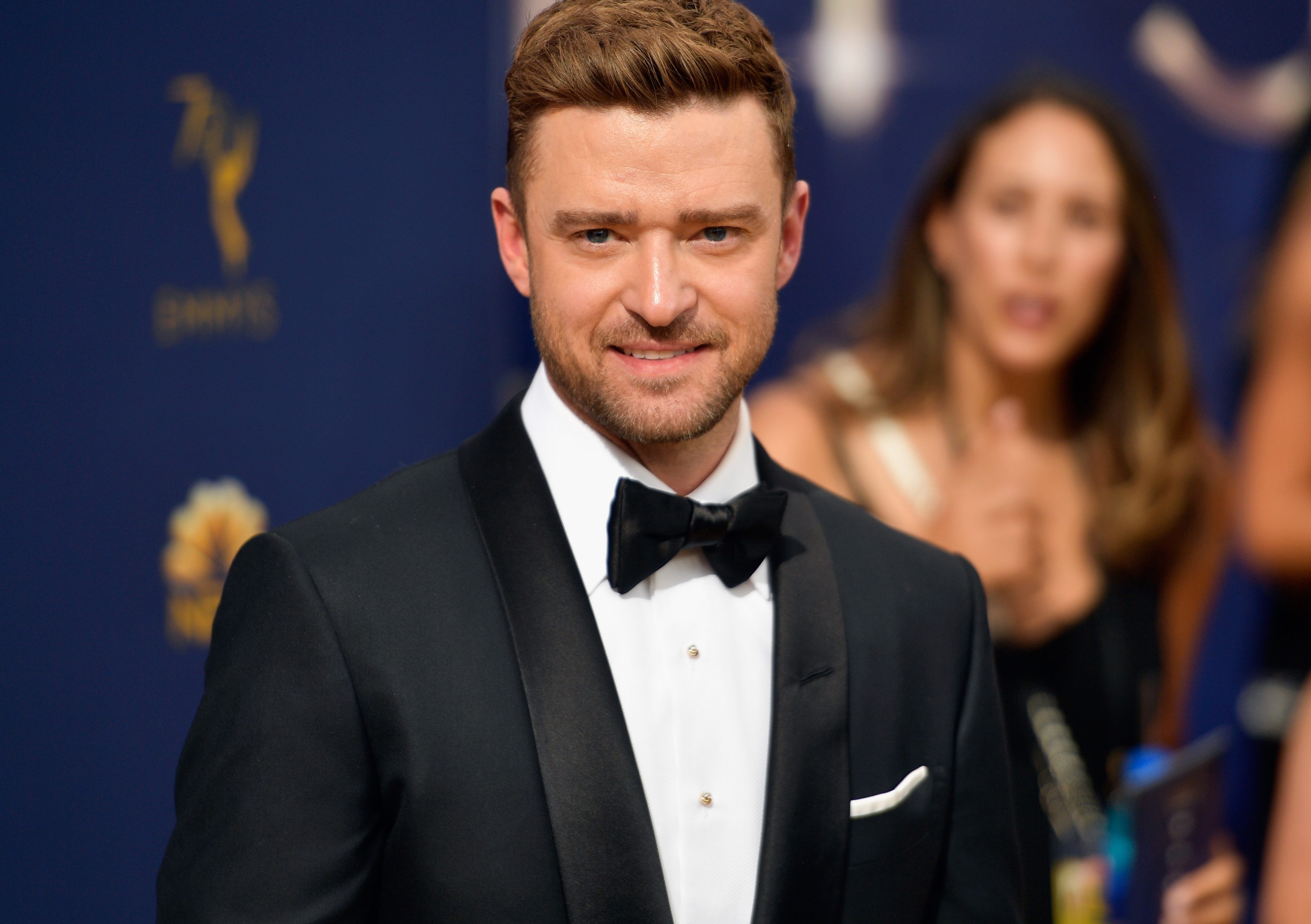 Reflecting on their relationship, the star suggested while things worked perfectly between them as kids, they drifted apart when they entered adulthood.
Justin said: 'We were two birds of the feather — small-town kids, doing the same thing.
'But then you become adults and the way you were as kids doesn't make any sense.
'I won't speak on her, but at least for me, I was a totally different person.
'I just don't think we were normal; there was nothing normal about our existence.'
Then, just as the world figured Justin and Britney's relationship had offiically been confined to the pop culture history books, Brit stuns the world in 2020 when she posts an Instagram video of herself busting moves to Justin's track Filthy.
'I know we had one of the world's biggest breakups 20 years ago… but hey the man is a genius!!!!' Britney said of her ex, who even responded, sharing a string of emojis.
And that wasn't the last we'd hear of Britney and Justin.
In 2021,
In February 2021, the New York Times' documentary Framing Britney Spears aired and threw the spotlight on Justin.
Depicting Britney's turbulent time in the industry, Justin came under fire for the ways in which he spoke about Britney after their breakup, prompting him to issue an apology that also addressed Janet Jackson.
At the time, footage had also recently resurfaced of Justin and Janet's 2004 Super Bowl performance, in which the former appeared to expose the latter's breast.
Justin's social media post read in full: 'I am deeply sorry for the times in my life where my actions contributed to the problem, where I spoke out of turn or did not speak up for what was right. I understand that I fell short in these moments and in many others.'
He went on: 'I specifically want to apologize to Britney Spears and Janet Jackson both individually, because I care for and respect these women and I know I failed.'
Justin added: 'I care deeply about the well-being of the people I love and have loved.'
Not long after Justin apologised, the controversial conservatorship Britney had been under for 13 years was terminated by a US judge.
Britney spent years fighting to change , which was put in place in 2008 following her mental health breakdown.
Justin was again publicly reached out to Britney, taking to X, formerly known as Twitter, to express support for his ex.
He wrote: 'After what we saw today, we should all be supporting Britney at this time.
'Regardless of our past, good and bad, and no matter how long ago it was… what's happening to her is just not right. No woman should ever be restricted from making decisions about her own body.'
He signed off his post with a message of love from both himself and his wife Jessica, adding: 'Jess and I send our love, and our absolute support to Britney during this time.'
That brings us to October 17, 2023, the latest installment in the 23-year saga that is Britney Spears and Justin Timberlake's relationship.
Britney shared this week that she became pregnant with Justin's baby, before they made the difficult decision to have an abortion.
In the pages of her new memoir, the pop icon opened up about becoming pregnant during the height of their romance.
In an extract obtained by , the former couple had a 'conflicted' discussion about whether to terminate the pregnancy.
'It was a surprise, but for me, it wasn't a tragedy. I loved Justin so much. I always expected us to have a family together one day. This would just be much earlier than I'd anticipated,' she is said to have penned.
'But Justin definitely wasn't happy about the pregnancy. He said we weren't ready to have a baby in our lives, that we were way too young.
'If it had been left up to me alone, I never would have done it. And yet Justin was so sure that he didn't want to be a father.
'To this day, it's one of the most agonizing things I have ever experienced in my life.'
Metro.co.uk has reached out to Justin's reps for comment.