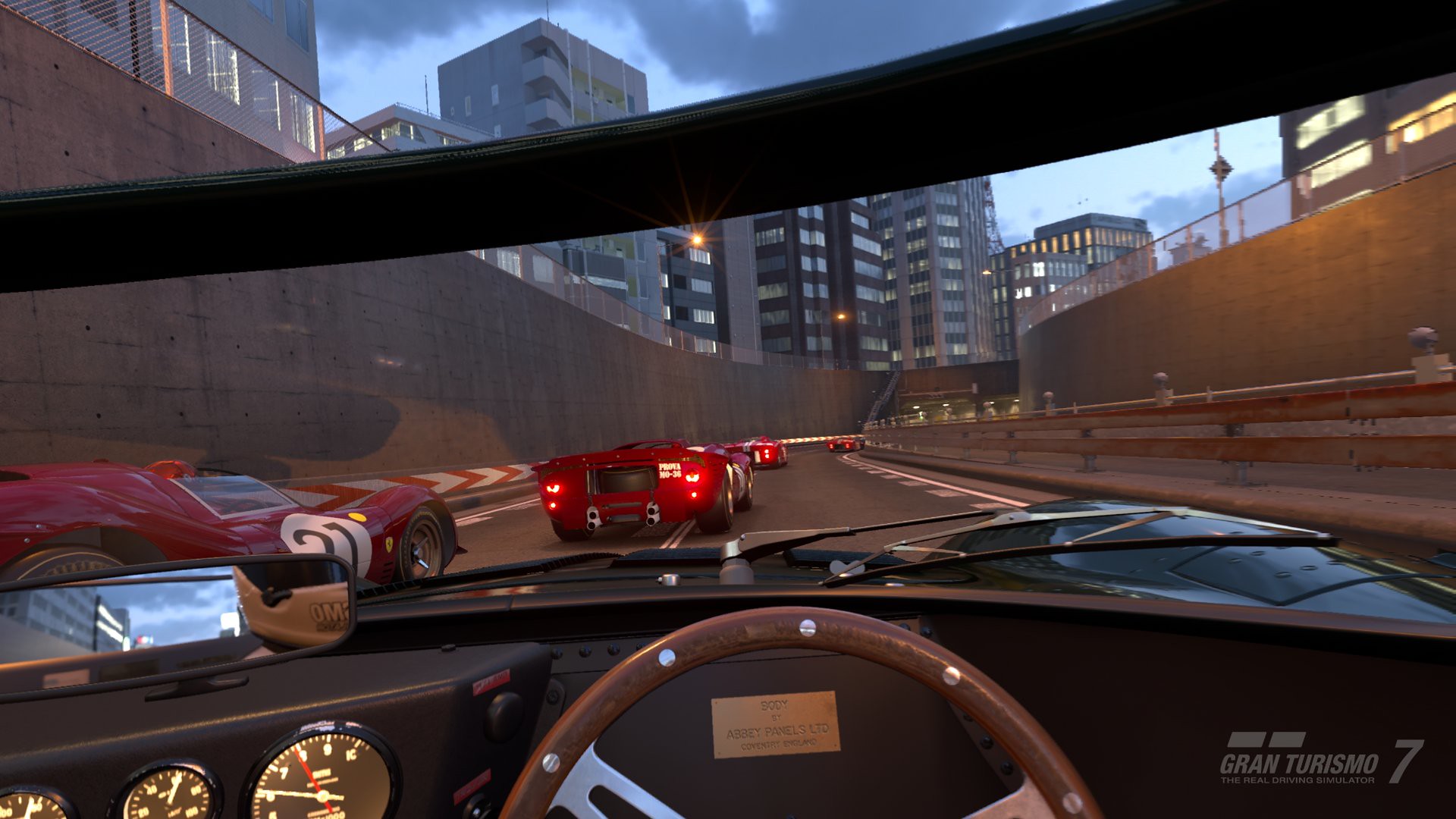 GameCentral attempts to find the ideal controller set-up for playing Gran Turismo 7 on PSVR2, without it costing the Earth.
Since its first instalment in 1997, Gran Turismo has billed itself as 'the real driving simulator', trumpeting its dedication to authenticity over arcade frippery. But that was in an era where realism meant playing races on TV. With the arrival of , it's now possible to fool your brain into thinking you're in one of Gran Turismo 7's 400+ cars for real. But what happens when you take the quest for realism even further?
Using PlayStation VR2, lets you play everything other than multiplayer in virtual reality, and it's an entirely different experience. For a start, the sensation of driving at high speed around Tokyo's motorway system, under blue skies on a beautifully sunny afternoon, lifts the spirits in a way that hammering around a rainy Brands Hatch does not.
In both cases, though, the impression of driving is intense. During night races, seeing competitors' headlights playing over the interior of your car as you take a corner, or seeing the dashboard reflected in the windscreen, delivers an uncanny sense of being there. But the most important improvement brought on by VR is the ability to feel the position of your car, making braking for corners and steering through sets of bends more intuitive.
The biggest difference, however, between actual driving and a video game is the input method: you don't steer real cars using a 1cm wide thumbstick and accelerate with a small plastic trigger (although you do get the feeling Elon Musk is building up to that). To get that true-to-life racing experience, you'll need a force feedback steering wheel and pedals, creating a physical environment to match the one in-game.
A racing wheel takes the simulation experience to a new level, letting you calibrate turns with much greater subtlety. That's particularly noticeable on fast tracks with long straights, where tiny inputs to the steering make a massive difference to your car's trajectory, the extremes of momentum forcing you to pay fanatically close attention to the racing line.
You'll also be able to feel the steering load up as you brake hard for a hairpin or go slack as your rally car's wheel leave the mud briefly, while going over a crest. A force feedback racing wheel does an excellent job of conveying a sense of the road surface, each car's ride making for a different feel through the wheel's vibration, as well as its ability to hold the road in corners.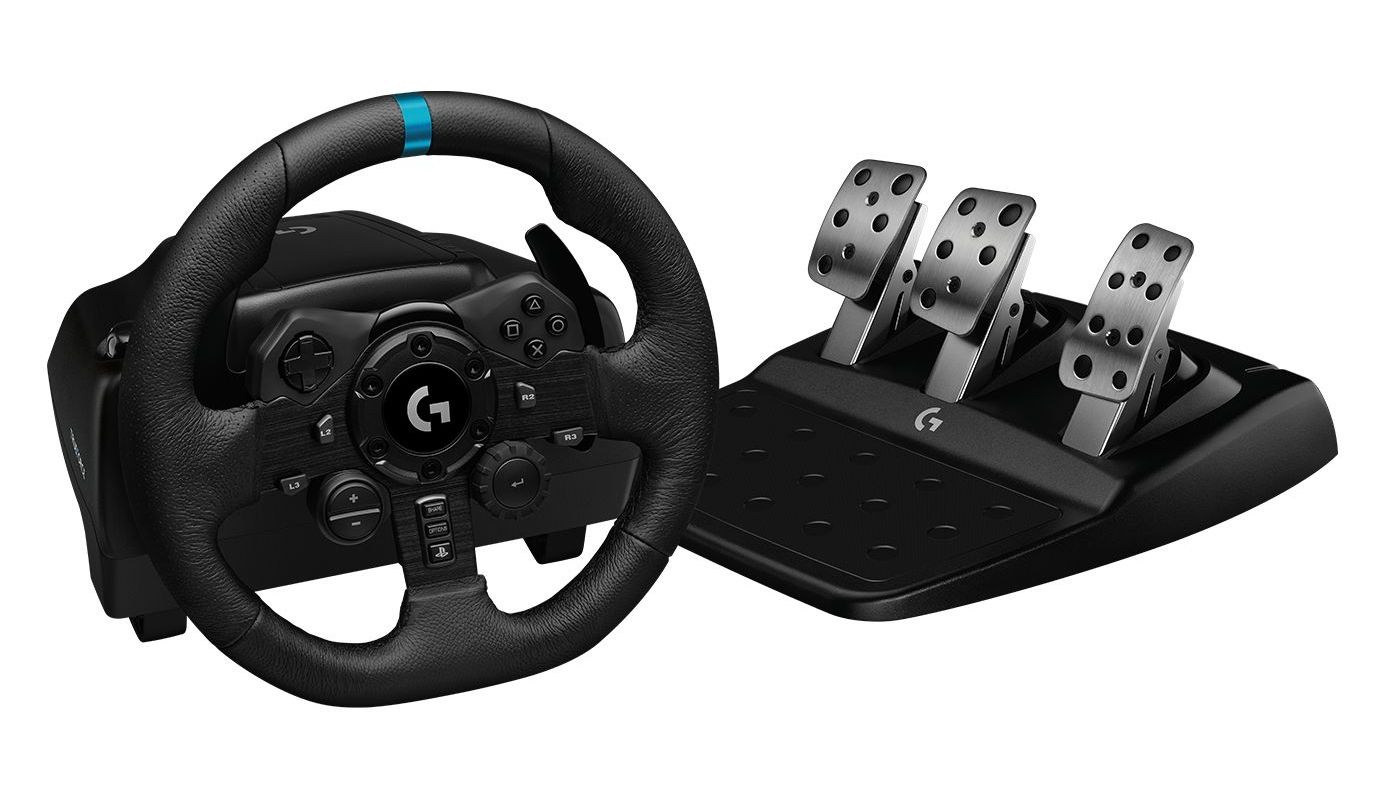 For our experiment we used the Logitech G923 Trueforce wheel, with its leather covering and built-in rev counter (one element PlayStation VR2 owners will be missing out on). Despite not being the most expensive racing wheel out there, this does an excellent job – moving in perfect tandem with your driver's suited and gloved hands in VR. The wheel comes with built-in gear change paddles, so while you can buy a separate shifter, it's more than comfortable to drive in manual mode without spending another penny.
While not important to racing, the buttons you need to select tracks and adjust settings on the PlayStation 5 are essential, so it's useful having them sensibly positioned on the wheel. Initially you'll need to use PlayStation VR2's transparency cameras to check where everything is, but within an hour or two it becomes second nature.
What you'll also find, is that the force feedback wheel needs to be clipped onto something. In a race, there's never a good time to have the steering come adrift. We started out attaching it to the dining table, which while functional, means you'll be racing in a kitchen chair. You may also find it negatively affects your popularity around meal times.
At this point you could go all in and buy a full cockpit with built-in car seat, a solution that tends to be both extremely expensive and take up large amounts of space. That's fine if you live in America or have a six-bedroom house, but for most of us it's a bridge too far. A better option may be a steering wheel stand, enabling you to race from your sofa.
We used the Wheel Stand Pro, which is made of what looks like shiny chrome scaffolding poles, giving a reassuring solidity and weight to the set-up. It comes pre-assembled, so all you have to do is bolt on the wheel and pedals and use quick release handles to adjust its height and angle to suit your sofa or armchair, and then it's off to the races. Plus, once you're finished it folds up neatly until next time.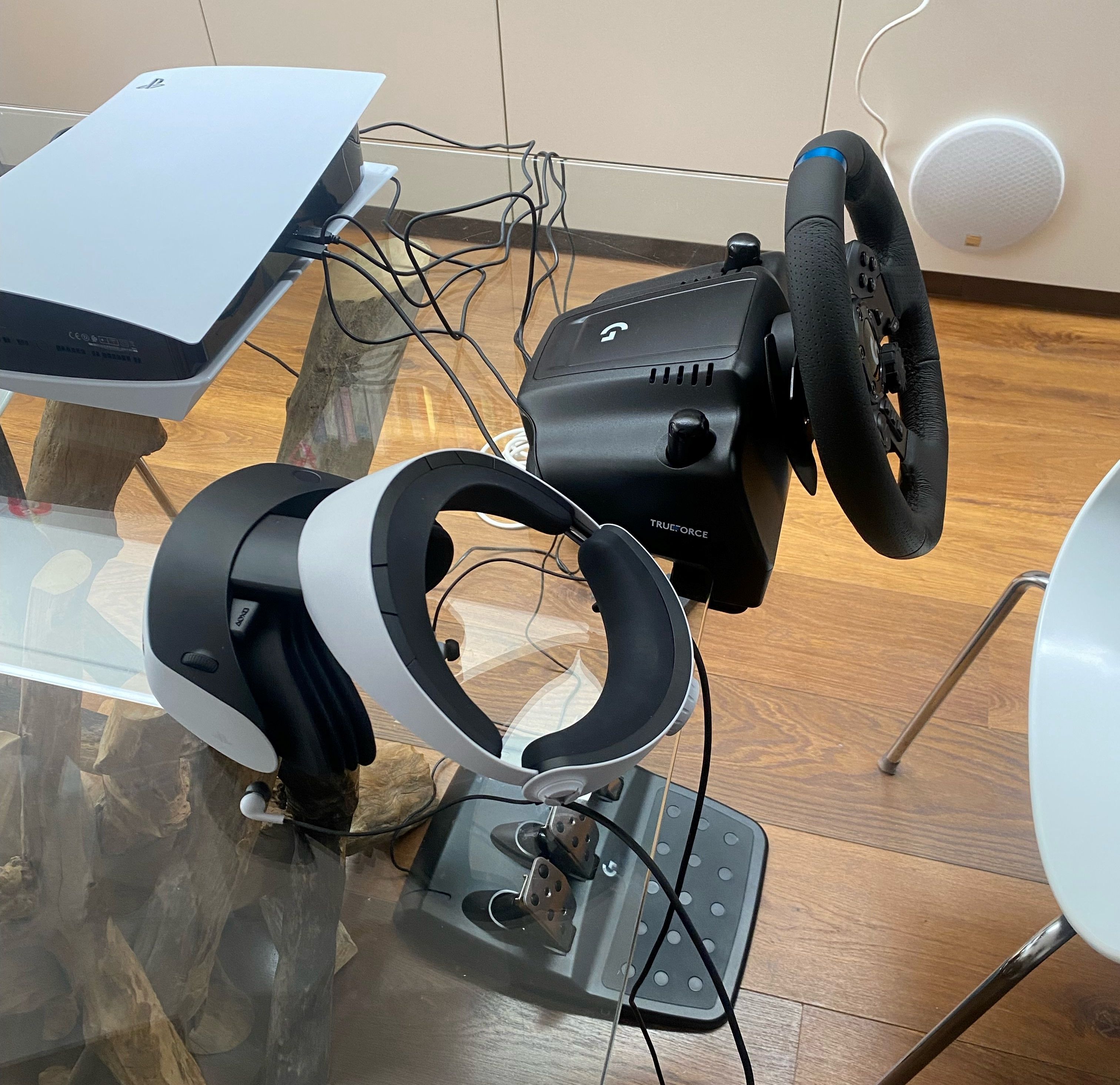 Not only does this supply a better and more realistic driving position, it's also significantly more comfortable than contorting your leg to stamp on pedals slipping about on the floor under a kitchen table. It completes what is already a superbly realised and surprisingly accessible home driving simulator, and at relatively little additional cost.
The overall effect is wonderfully visceral, offering racing that feels far more like driving. Your first time in a Formula 1 car, probably while taking GT7's S-licence tests, is a sobering experience. The absolutely outrageous speed, the tenacity with which the car holds the road, and the neck snapping acceleration are startling even after driving extremely fast road cars.
Like some of the flashier, more mechanical, arcade cabinets of old, the thrill leaves you slightly breathless. You do eventually get used it, but it remains significantly more exhilarating than anything possible with a TV and controller, and the additional refinement in the way you handle your car over the game's more intricate courses is something that would be impossible without the extra hardware.
Cranking up the authenticity to these levels may not be for everyone, but sim-petrolheads suddenly have a completely new experience available, and one that while not cheap, is at least approachable, and doesn't require you to live in a mansion. Having the ability to transport yourself to Laguna Seca behind the wheel of a Pagani Huayra or Ford GT40, without having to move from the comfort of your own sofa, feels like an astonishing privilege every single time you do it.
Logitech G923 Trueforce Sim Race Wheel: £349.99
Wheel Stand Pro Deluxe V2: £75
PlayStation VR 2: £529.99
Gran Turismo 7 for PlayStation 5: £59.99
PlayStation 5 console: £479.99
Total: £1,494.96
Email [email protected], leave a comment below, and .
Follow Metro Gaming on and email us at [email protected]
To submit Inbox letters and Reader's Features more easily, without the need to send an email, just use our .
For more stories like this, .