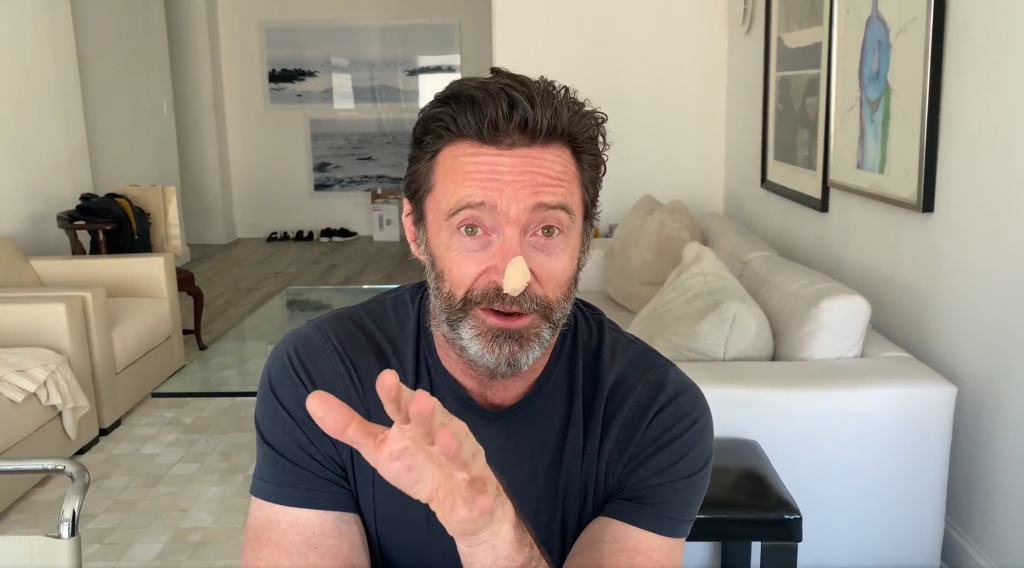 has shared the happy news that he is-free after some irregular markings spurred him to get tested.
In a , the Wolverine actor explained how his doctor noticed some 'little things' on his skin and recommended he get biopsies on his nose.
The 54-year-old actor has for basal cell carcinoma; the most common form of skin cancer, which, when detected, has a post-surgery cure rate of over 95% in most body areas.
But thankfully the Logan actor has now received the all-clear after the scare, as he took to social media to share the news.
'My biopsies came back,' the star wrote in capital letters, followed by 'NEGATIVE!!!'.
'Thank you ALL for the love. I feel it! And to the media for helping get this very important message out.'
He added: '*PLEASE REMEMBER TO WEAR SUNSCREEN WITH A HIGH LEVEL OF SPF (NO MATTER THE SEASON)'.
This comes after Hugh shared a video updating his followers on his health scare just in case 'someone sees [him] on the street' wearing a plaster on his nose.
'I've just had two biopsies done, I just went to my doctor, Dr Iron, who's awesome, and she just saw little things,' he began.
'Could be or could not be basal cell in her opinion, she doesn't know. I'll find out in two or three days and as soon as I know, I'll let you know.'
He added: 'Just to remind you, basal cell in the world of skin cancers is the least dangerous of them all. However, if I can just take this opportunity to remind you, summer is coming.
'For those of us here in the Northern Hemisphere, please wear sunscreen, it is just not worth it. No matter how much you want a tan, trust me, trust me, trust me.'
This comes after the actor divulged details of the he's undergoing to get back his ripped Wolverine bod for Deadpool 3.
Hugh previously admitted getting in shape for Wolverine would be his. 
It was also recently revealed the actor is consuming a staggering for his bulking targets. 
How to look for signs of skin cancer
stresses that symptoms for skin cancer can 'vary', as well as being similar to other conditions.
The charity states: 'Common symptoms of skin cancer include a sore or area of skin that: doesn't heal within 4 weeks, looks unusual, hurts, is itchy, bleeds, crusts or scabs for more than 4 weeks.'
The organisation adds: 'Non melanoma skin cancer tends to develop most often on skin exposed to the sun.
'To spot skin cancer early it helps to know how your skin normally looks. That way, you'll notice any changes more easily.'
For more information, .
If a mole or a freckle on your skin looks different than normal, this could be a sign of another form of skin cancer called melanoma.
Cancer Research UK urges people to speak to a doctor if they spot a change to a mole, freckle or a normal patch of skin.
Doctors use a checklist called ABCDE to check moles for signs of melanoma, which stands for: asymmetrical, border, colour, diameter, and evolving.
For more information, .