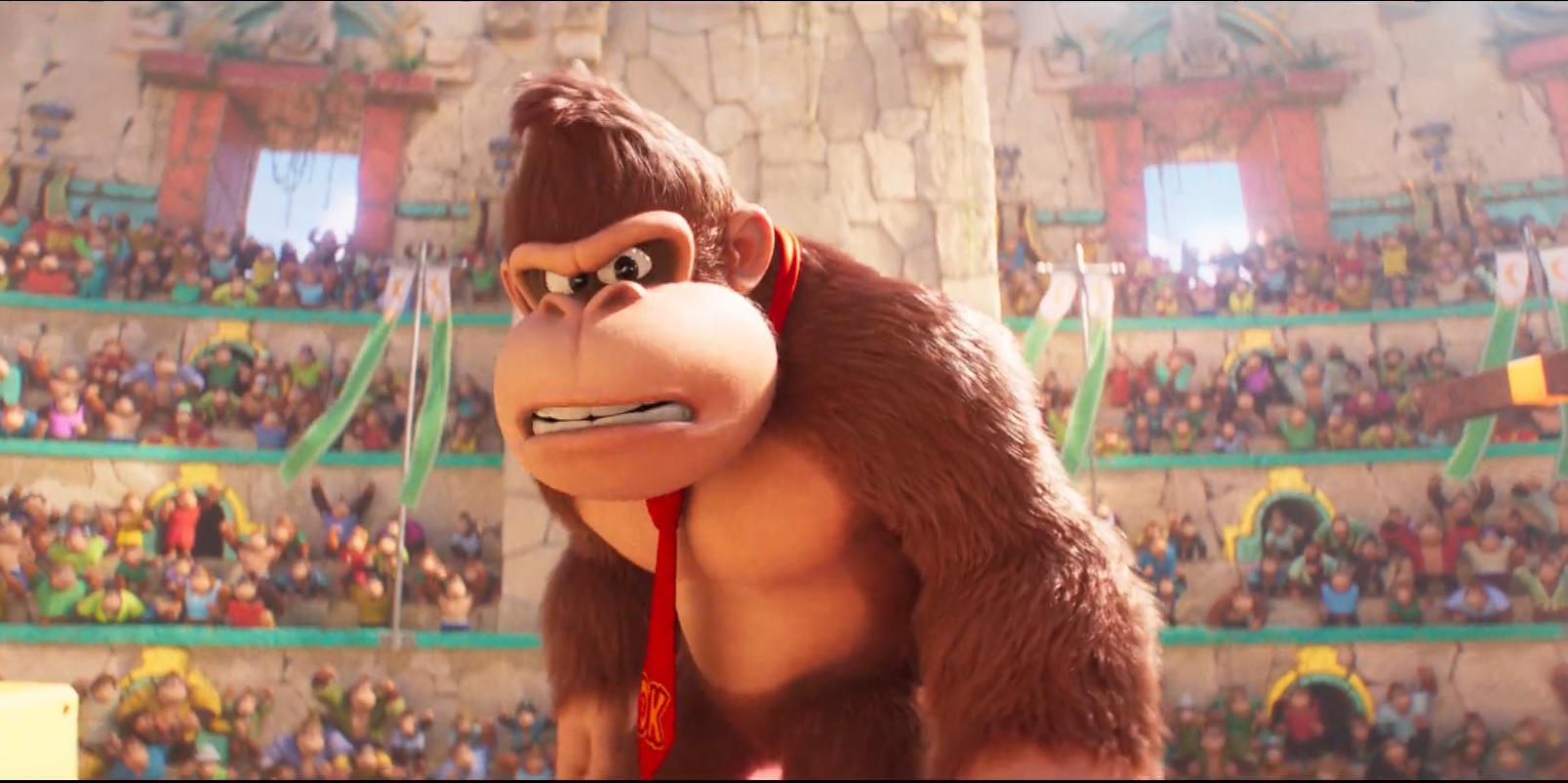 The newest Mario movie clip has stopped fans arguing about Mario's voice, but only because they're now arguing about Donkey Kong instead.
Chris Pratt must be breathing a sigh of relief. After months and months of fan criticism over , in the upcoming Bros. Movie, that ire seems to have shifted towards his co-star Seth Rogen.
Rogen was announced as the voice of Donkey Kong (a character who traditionally talks even less than Mario in the games) back in 2021, but wasn't seen talking in any of the previous trailers, even though he featured prominently in .
Recently, a new but incredibly short trailer was shared, showing off more of Mario's clash with DK, confirming the inclusion of the cat power-up from and showcasing DK's voice… and it's just Seth Rogen.
Whereas it seems Pratt is at least trying to put on something of a Brooklyn accent (it's honestly hard to tell with how little dialogue he's had in these trailers), Rogen is just using his regular speaking voice for DK.
This is already jarring considering, in the games, DK is depicted as a dumb gorilla who mostly grunts and makes typical gorilla noises, but it's even more so for the movie because of his goofier redesign.
The trailer also shows off a little of DK's personality, where he laughs at Mario's cat transformation before coldly threatening to murder him. Again, a tad jarring given his appearance.
Unsurprisingly, the fan response is mixed. While some have little issue with Rogen's performance, or even really like it, others are making the same criticisms they have with Pratt as Mario: that it doesn't fit the character.
A lot of people are complaining that he just sounds like Seth Rogen, but honestly, if I had to put a voice to Donkey Kong it would probably be Seth Rogen's! I thought it was perfect casting for this exact reason.

— Andy Gladman (@WordologistAndy)
Some fans have been quick to point out that the character has spoken normally before, in the old Donkey Kong Country cartoon from the late 90s. You can decide whether Rogen's take is an improvement for yourself.
One thing everyone seems to agree on, though, is that the clip makes for great meme fodder. Many have already taken DK's punch at the camera and edited it to make it look like he's hitting someone or something else, such as and the .
What do you think of Seth Rogen as Donkey Kong?
Comment Now
Regardless, Rogen's dissenters will likely have to get used to him. Not because he'll take over for the games as well but because it's possible he's getting his own spin-off movie.
In 2021, claimed to have heard from its sources that a Donkey Kong solo movie was already in the works at Illumination, with Rogen returning to the role.
The Super Mario Bros. Movie releases in cinemas on April 7.
Email [email protected], leave a comment below, and .
Follow Metro Gaming on and email us at [email protected]
To submit Inbox letters and Reader's Features more easily, without the need to send an email, just use our .
For more stories like this, .