left little to the imagination when she shared a video of herself wearing a bikini on a boat on her account.
The 35-year-old singer twerked up a with friends during an exotic trip and filmed herself and other females dancing on the back of a speedboat.
From the middle of the ocean, the star showed off her moves to the camera and treated her 13million followers to a glimpse of her getaway.
The hitmaker wore a tiny blue thong bikini and matching top that featured an Aztec-inspired colourful print for the video.
Filming herself and her friends at different angles, Lizzo turned her back to her phone and wiggled her derriere to some music.
She shared the footage from the boat with a caption that read: 'THOOTHIE THAH THAH', followed by an explosion and peach emoji.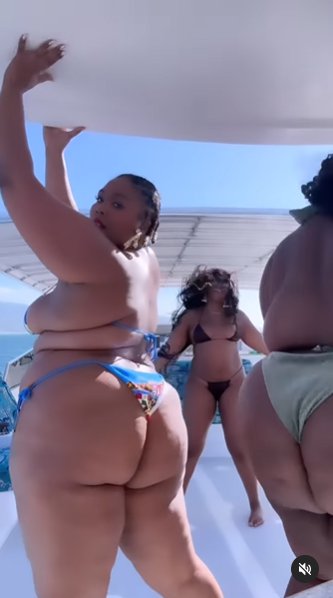 Followers and fans flocked to the comments to defend the star after she received some negative words underneath her post. 
One said: 'THE THIC WE DESERVEEE [sic]', while another noted: 'Y'all hating in the comments she look good af'.
'Let em know Lizzo', a separate account wrote alongside a comment that said: 'Yes to being BODY POSITIVE'.
The star's risque video came after she shared a snap of herself on her holidays in a vibrant outfit.
Posing on the back of the same boat, she modelled a brightly coloured cover-up with a matching head scarf that she wore over her bikini.
The star wrapped herself in the yellow, red, green and blue material and lounged on the luxurious boat anchored in the middle of a very blue ocean.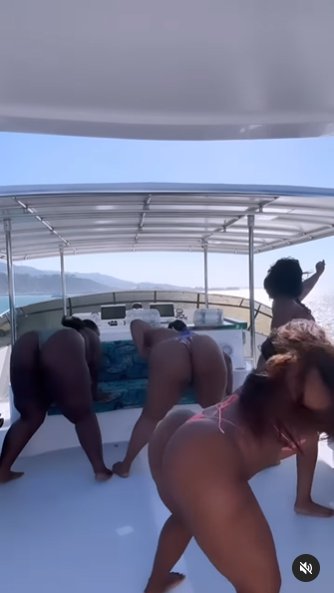 Covering her head with a matching scarf, she appeared glamorous as ever and added a pair of dramatic embellished gold sunglasses to complete the ensemble. 
Adding red lipstick to her look, she posed from different angles also sharing a video of herself in her eye-catching outfit.
She let the material float away in the wind and offered followers a look at her tiny bikini that she wore underneath in slow motion.
Lizzo captioned her post with a sentence that read: 'Happy Labor Day'.