UK star April Banbury has revealed the severe pain that she's in after suffering a debilitating injury to her spine.
In a post shared on Instagram, April – who – explained that three weeks ago, she discovered that she had a prolapsed disc in her spine, describing the pain that she was in as 'unmatched'.
Sharing a compilation of photos and videos of herself in recent days resting at home and receiving medical treatment, she wrote in her caption: 'So explained in my non professional simple terms ?discs have jam inside and mines L***ed out and splattered all over my nerves ?and it hurts A LOT!'
April, who was a former Miss Great Britain, outlined how her symptoms hit her 'like a friggin tornado', as she went from 'living a normal life to being housebound'.
The reality star revealed that she is suffering pain and numbness down both of her legs, through her back and her right arm, claiming that she now 'also looks wonky'.
'I did make myself giggle a bit too when I didn't realise I had a 1cm shard of glass in the sole of my foot for 6 weeks until a blood blister appeared that I could sort of feel ?,' she added.
Speaking openly with her followers, April shared that sitting down is 'pretty much almost impossible', and so she flits between standing 'for short periods of time, taking a few steps around the house and laying down'.
While considering her options, April said that she didn't want to undergo spinal surgery, as the 'risks are far too high for my liking'.
Instead, she's having IDD (Intervertebral Differential Dynamics) therapy, where a machine is used to stretch her spine on a daily basis 'to relieve pressure off of my disc'.
Other forms of treatment that she'll have will include acupuncture, shockwave therapy, k-laser, osteopathy and physical therapy.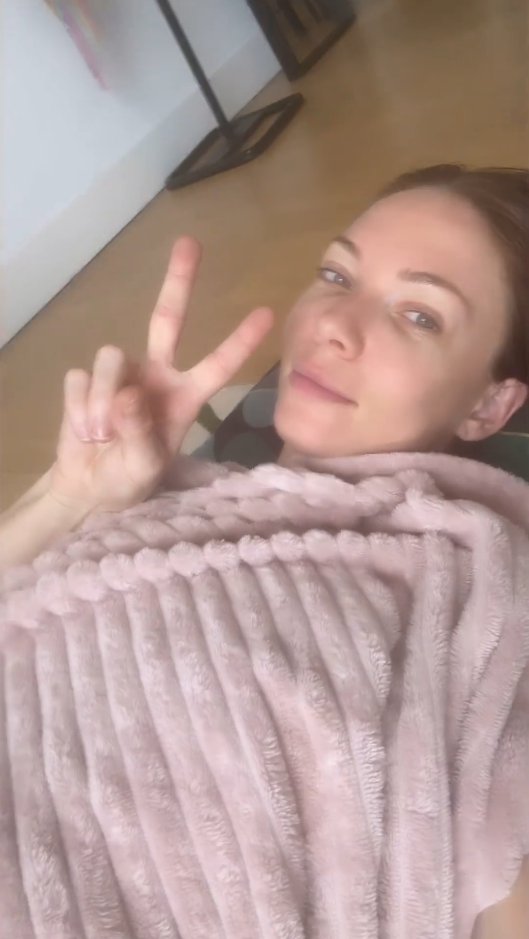 'It's going to be one hell of a journey and sadly there's no quick fix. It's been both physically and mentally challenging, but I have hope and feel positive about recovery,' she continued.
'My friends and family have honestly been beyond incredible (I'm going to end up looking like a sausage by the time I'm recovered because they keep feeding me ?).
'I'm so grateful to be surrounded by so much support and love.'
Several people shared messages of support for April in the comments of her post, with one writing: 'Omg! Sending you love and light for a full recovery! ??✨.'
Another shared: 'Get well my darling!! Sending you lots of love! ❤️.'