Less than a year after opening, Voyage has welcomed one million visitors!
Earlier this evening (April 17), the lucky one-millionth fan was welcomed into the Abba Arena in following its grand unveiling on May 25, 2022, to widespread critical acclaim.
from one of the biggest pop acts of all time, featuring a setlist of Abba's biggest, most popular hits – each handpicked with great care by the band.
Next month will mark the concert's first anniversary in London.
To celebrate the milestone, one audience member won the chance to have an exclusive, surprise meet and greet with Björn Ulvaeus, 77.
Ticket holders for this evening's concert were invited to nominate themselves, or someone they know, to be the official millionth visitor by submitting a short video explaining what it would mean to them.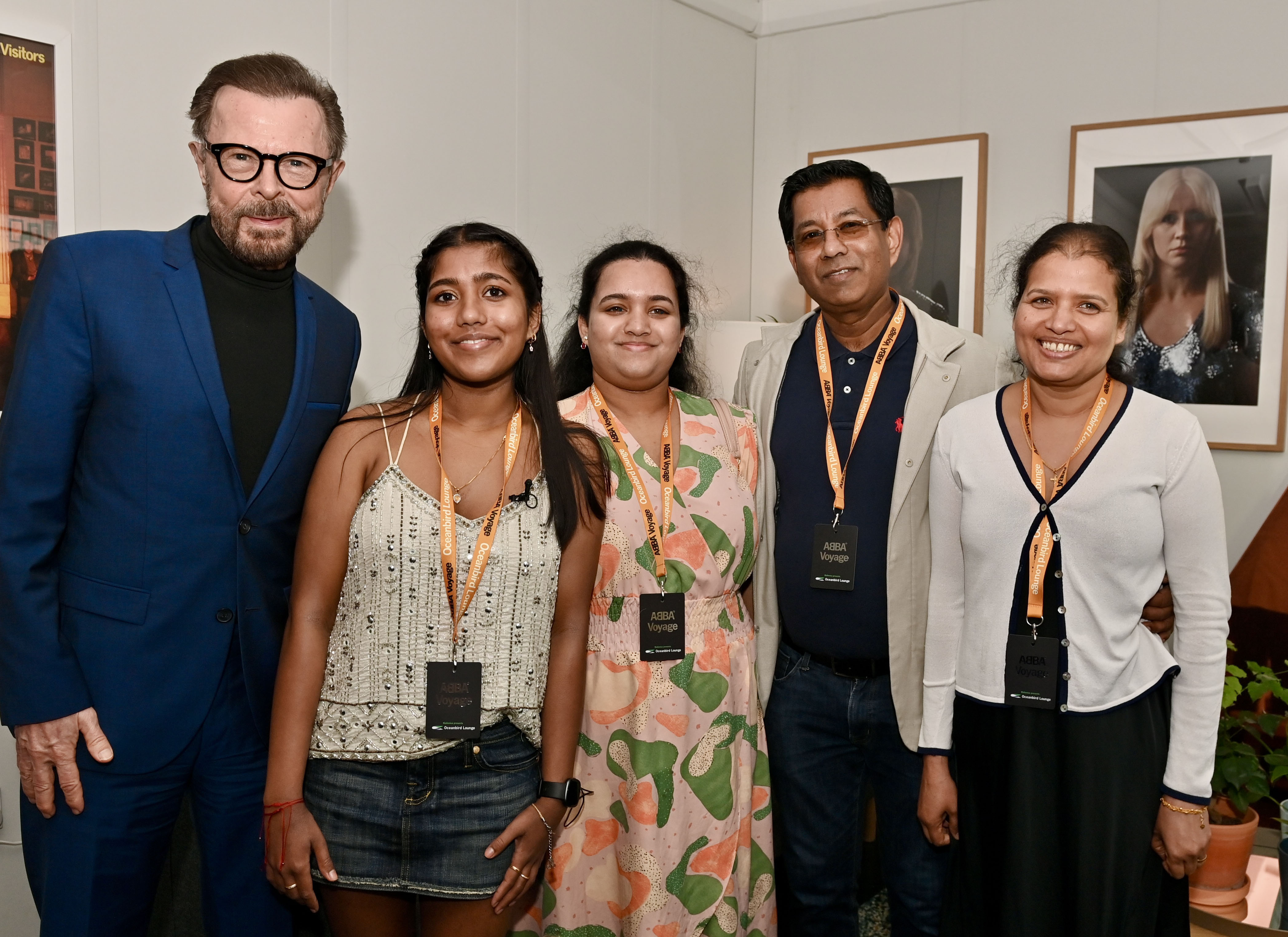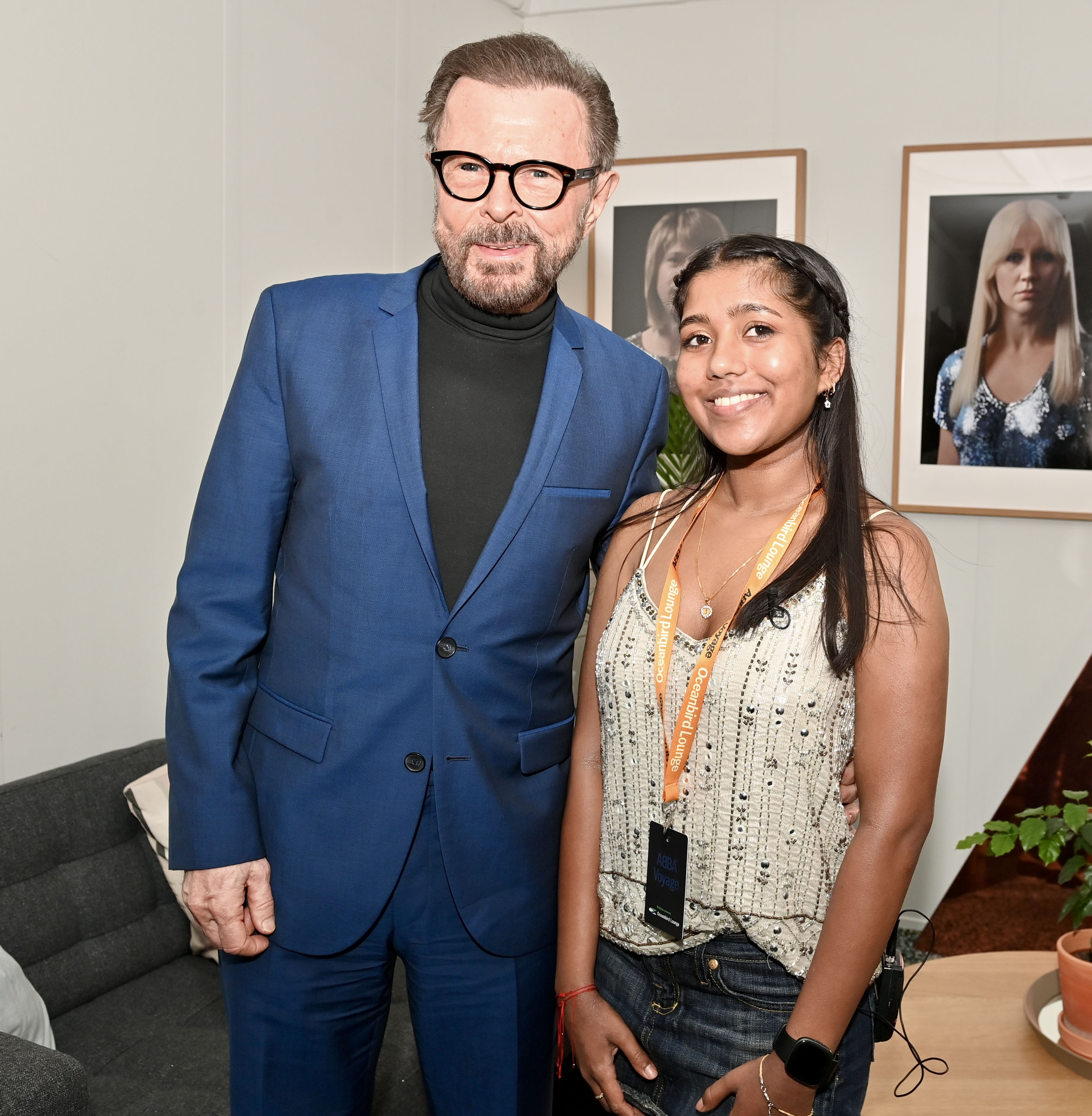 Josie Felix, 20, was chosen as the winner and surprised her family after writing her own song about how her dad would play Abba on the run when she was a child. 
Adorable snaps from the once-in-a-lifetime moment saw the Waterloo hitmaker beam as he greeted the adoring fans with handshakes and hugs.
Josie described the surprise as 'quite extraordinary', while Björn said that, while he was initially nervous about the show, he 'knew it was working' once he saw it with an audience.
'I could never have dreamt it would be a million before the end of one year,' he said.
'That means it's been almost choc-a-block full every night which is fabulous.
'It's been a long project, I was nervous up until the first preview with an audience. But then when I saw it with an audience I knew it was working.'
Josie added: 'It feels amazing, didn't think it would happen but it did.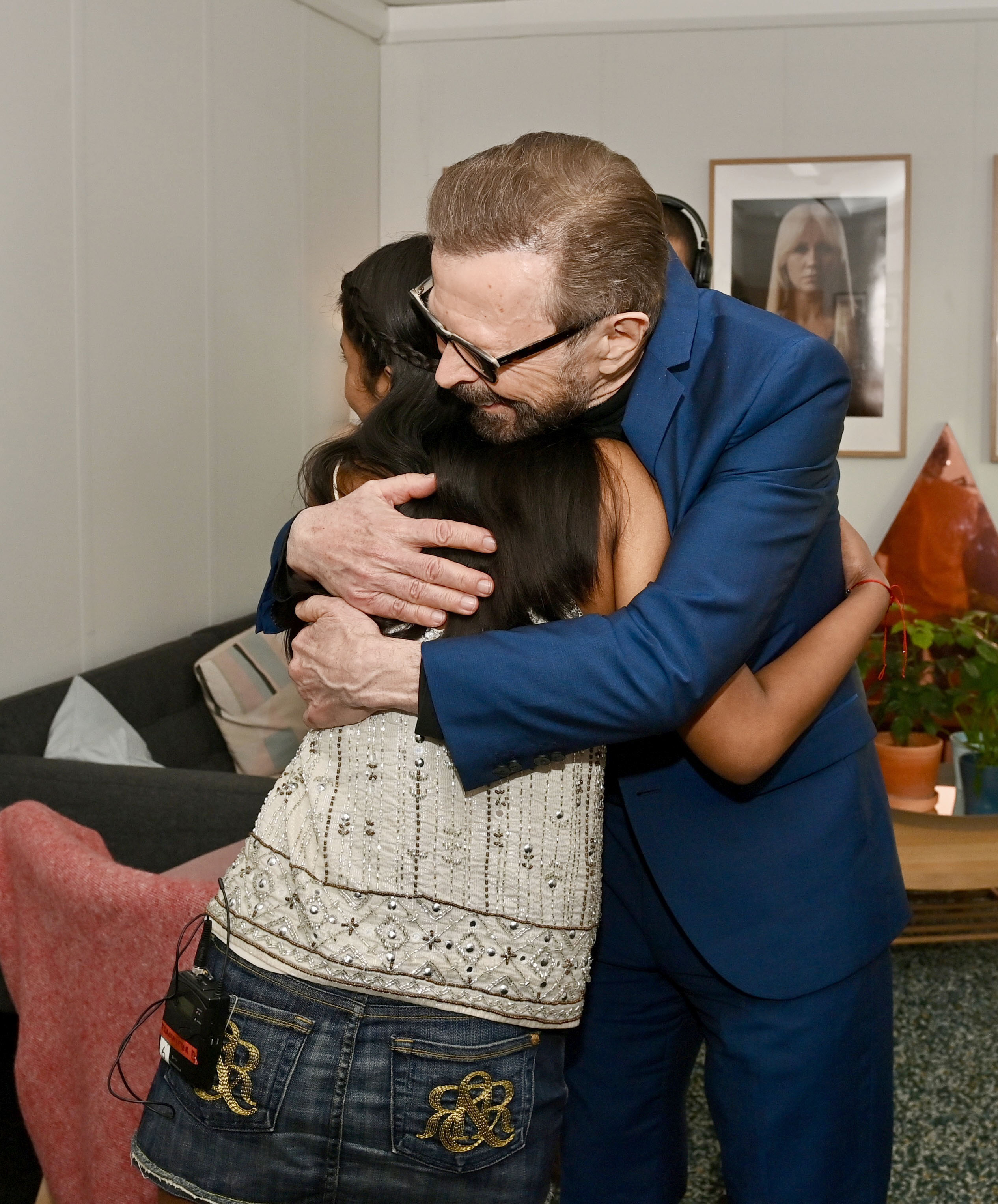 'They said there'd be a surprise but I didn't think it'd be this big, this is quite extraordinary.'
Abba Voyage since doors first opened, with 'jaw-dropping', 'ground-breaking', and 'phenomenal' just a few quotes from fans describing the experience.
An incredible 40 years in the making, Björn, Agnetha Fältskog, Anni-Frid Lyngstad, and Benny Andersson have created the kind of concert they always wanted, performing for their fans at their very best: as digital versions of themselves backed by today's finest musicians.
Blurring the lines between the physical and digital, the magic of Abba is brought to life using the latest technology. 
The show has been so successful, in fact, – to 2026!
A source recently told: 'Everyone knows Abba has a seriously loyal fan base but the show was always a bit of a gamble.
'No one really knew how the Abba-tars were going to be received, as similar hologram-style concerts were a mixed bag. But for Abba the reaction was amazing. Even those most sceptical about the tech have walked away impressed.
'The plan is to refresh the show with new songs that have already been shot by the group.'
It's even said that talks are still in place for the show to transfer to the Las Vegas strip due to its overwhelming popularity.
Björn has also said he believes the technology that makes the show possible offers a glimpse into the future.
'Having lived with the technology and with the project for over five years it has kind of become like, well yes, that's how the future looks, that's what's going to happen,' he shared.
'Copies of ourselves, avatars, will go on living after we are dead, and that's the way of the future.'
Have you been to Abba Voyage?
Comment Now
Celebrating the launch together earlier this year, the band reunited in the capital together for the first time in four decades, reminding everyone just how much we missed them.
The Mamma Mia! pop superstars were last together in London for an appearance on The Late Late Breakfast show, hosted by Noel Edmonds in 1982, so it had been a hot minute!
Speaking on the red carpet outside a purpose-built stadium at the Olympic Park in east London, Agnetha enthused: 'It's amazing to see all the English fans.'
Benny admitted he expected himself to cry during the concert, saying: 'Oh definitely, all the time.'
ABBA Voyage is now booking until January 29, 2024 at the Abba Arena, London. For information and best availability of go to .