has left many fans furious with a 'gross' joke about current champion Bianca Belair.
The so-called EST of WWE appeared on this week's episode of Wild 'N Out as her had a verbal spar with Nick while Montez's wife stood by his side with his Street Profits tag team partner Angelo Dawkins.
Things took a very personal turn when made a joke about getting Bianca pregnant in a spoof of the Fresh Prince of Bel-Air theme song.
'There's a couple of guys who were up to no good, they starting making trouble in my neighbourhood. I get in one little fight, my mom got scared,' he rapped, before standing very close to the Raw Women's Champion.
He added: 'Because I wanted to impregnate Bianca Belair.'
In a clip shared on social media, the star herself looked disgusted by the joke, while Montez and Angelo appeared to try and laugh it off, while it's unclear if Bianca was actually offended or just playing along.
Fans weren't happy, with many people calling out Nick for making the crude remark in the first place – let alone in front of her real life husband.
'Nick Cannon is pure garbage,' tweeted one user, while a second added: 'Call me crazy, but if I was Montez, the show would've been over after that line.'
Others seemed to agree with the sentiment, with a third person saying: 'Montez showed unbelievable restraint because ho-ly.'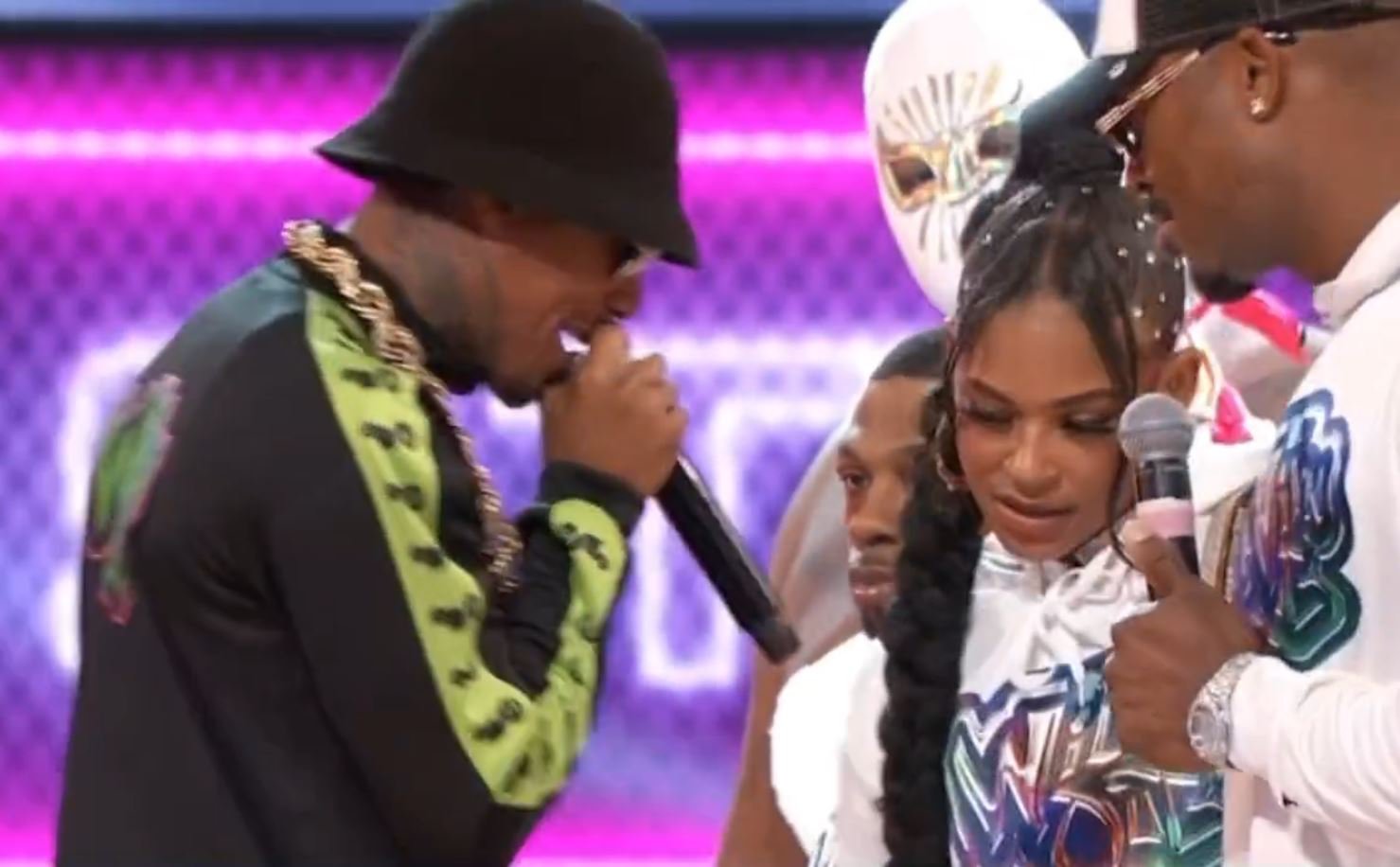 Another person branded the line 'disgusting' with a different user describing it as a 'horrible bar', and former AEW star Swole weighed in, tweeting: 'Her body language says it all for me. Gross.'
added: 'I don't know about you, but where I come from, WE FIGHTING! FORD VS CANNON #BOOKIT Wrestlemania 40.'
However, plenty of people defended Nick over the clip, insisting the line was in keeping with the vibe of the show and wondering why wrestling fans were getting so up in arms.
One viewer asked: 'Huh have y'all not watched this show before?!?'
Another argued: 'Man I agree that there should be a line in comedy but Cmon…you should know what you're getting yourself into if you go on WildNout, they've gone way further than this before…'