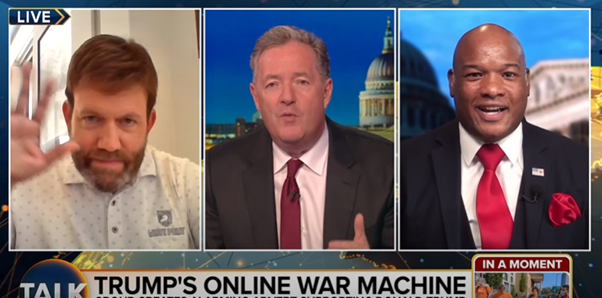 A Uncensored guest apologised during their final comment on the TalkTV programme, saying they were 'sorry' for taking part in the interview after an explosive row over .
The former presenter hosted a debate about support for the former President of the , and 'conspiracy theories' circulating on social media, but it soon descended into chaos.
Morgan was joined by Trump's Pastor Mark Burns and political commentator Frank Luntz – who was soon left regretting his decision to appear on the programme.
'There's a reason why President Donald Trump is leading in the polls,' Burns began.
He continued: 'He is the modern day Julius Caesar.'
He went on to highlight that Trump 'wouldn't allow grown men to participate in female sports', and, that instead of questioning 'biology' people should be questioning 'Covid vaccines that have literally done harm – that's not conspiracy'.
As Morgan interrupted over the vaccines statement, Burns continued talking over him saying: 'The American people want truth and fact.'
Morgan began to reply 'I don't think a Pastor should be saying the only thing the Covid vaccines did was…,' but was unable to finish his sentence with Burns' interruptions.
'This is my church not yours,' Morgan fumed.
'Pastor, stop talking. What you said about Covid vaccines was not the truth.
'Yes, it had some adverse side-effects but yes, actually it saved a lot of people from going under the ground.'
Meanwhile, Luntz simply waved at the camera and was seen shaking his head – clearly unable to get a word in.
When he finally did get a chance to speak, Luntz finished his points with: 'I'm sorry for this conversation, because frankly, it's an embarrassment.'
As the interview finished and Morgan asked him for a final comment, he added: 'I'm sorry that I did this interview, and I appreciate the Pastor likes me – this is so inappropriate for British audiences, for American audiences, and if this is the direction we're headed in, Piers we're going to have a really bad 18 months.'
'I think I agree with you, there has to be a more civil way to debate,' Morgan replied.
Piers Morgan Uncensored airs on TalkTV on weekdays at 8pm.