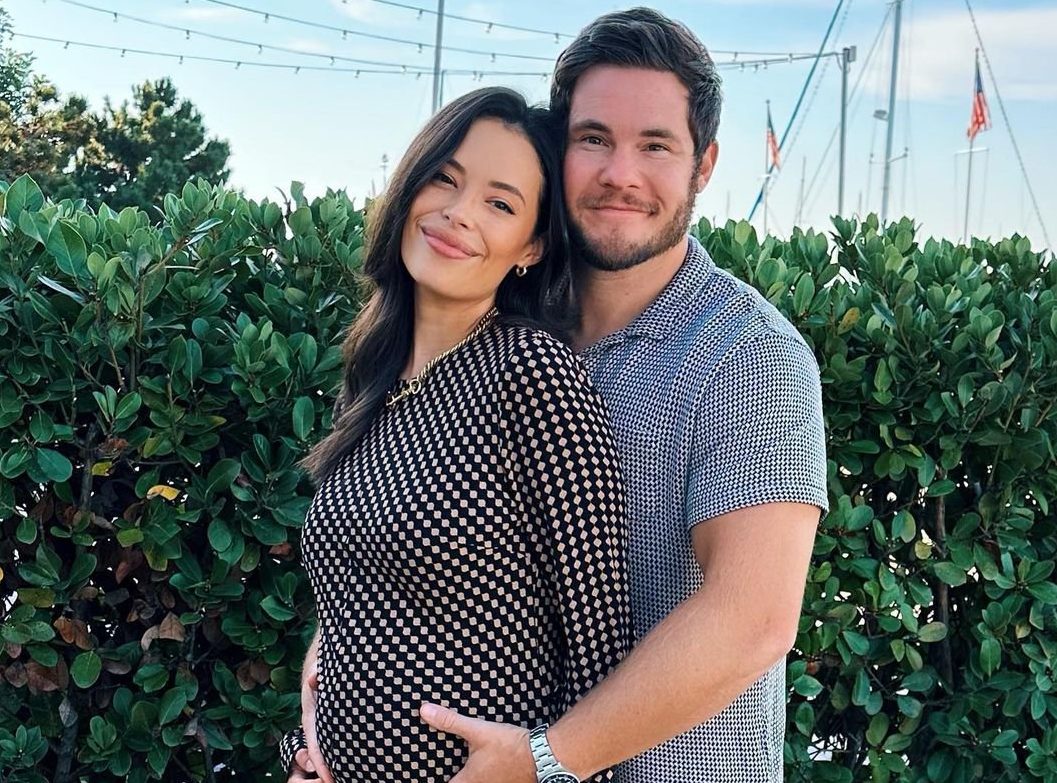 Adam Devine and wife Chloe Bridges are set to welcome their first child together.
The Pitch Perfect actor, 39, confirmed their happy news on Instagram, sharing the first snaps of the Camp Rock 2 star's growing bump.
In true form, he couldn't resist a hilarious post, and was seen cradling his own stomach in one photo, with a second picture showing the couple posing together.
He captioned the post: 'Look we're pregnant! Well, I'm just fat now but Chloe is all preggo with a human baby! Obviously, very exciting stuff!
'This will mostly be a baby page now, as I will be dedicating my life to my child in hopes he doesn't use my decades of recorded dirty jokes against me.'
Fans and famous friends were among those cheering the news in the comments section, with Rebel Wilson penning: 'Such amazing news, Congrats A & Chloe!'
A follower replied: 'Yay!!!! Congrats Chloe and Adam!!!! Soo happy for u two!! [sic].'
One said: 'Congratulations!! That is so exciting and I'm happy for you both!!'
'Congratulations!!! So excited for you two!! Sending so much love xo,' another agreed.
As an Instagram user enthused: 'Congratulations to you guys! You're about to be the funniest dad ever – that kid's gonna have a blast!!'
Chloe also confirmed the news on her own page, with a selection of glowing pictures.
'We have news!! Can't wait to get this lil family started [sic],' she added.
The happy couple first met on the set of their comedy horror flick, The Final Girls, in 2014, and began dating the following year.
In October, 2019, the Workaholics favorite confirmed that he had popped the question, announcing their engagement on Instagram.
'She said yes! Well actually she said "ahh Adam" and then kissed me but I'm pretty sure that means YES! I love Chloe more than anything and I'm so excited to spend the rest of my life with her amazing self,' he said at the time.
'You are my best friend and I'm thrilled you want to get old and wrinkly with me! You'll be less wrinkly. I'm gonna look like a Saint Bernard.
'Love you @chloebridges! Have fun planning the wedding. I'll be there for the cake tasting.'
They went on to tie the knot in an intimate ceremony in October, 2021.