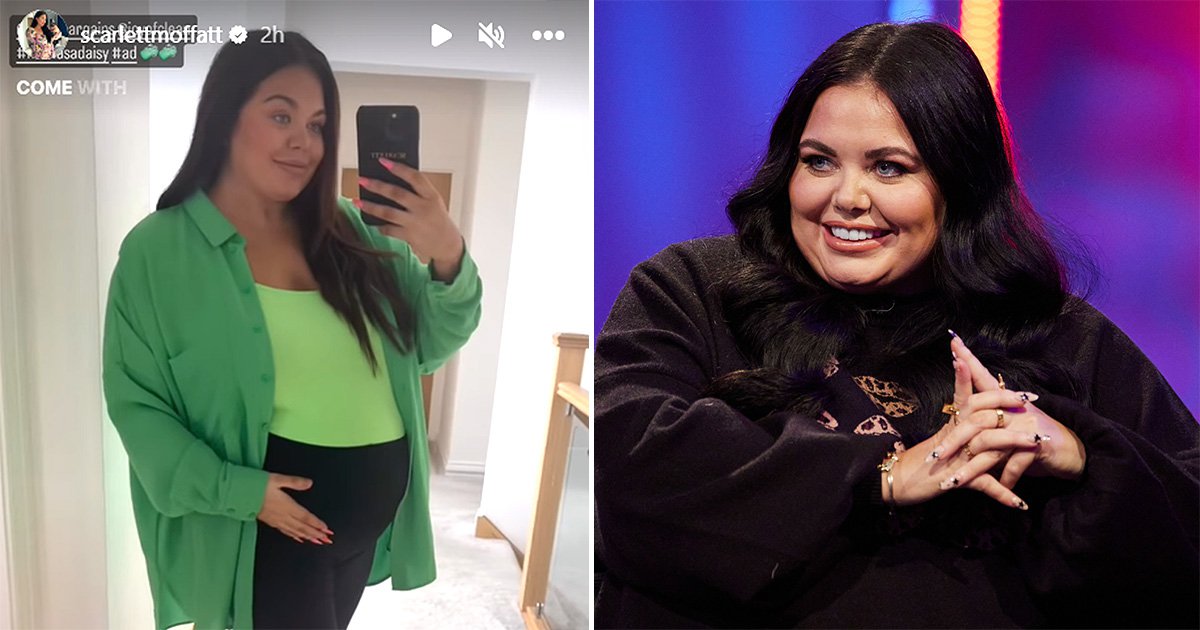 is absolutely glowing as she shows off her growing baby bump to fans.
The star, 32, is preparing to with boyfriend Scott Dobinson.
Having revealed in February that they are expecting, the parents-to-be admitted they after learning they would be having a baby boy.
Scarlett and Scott have been making the most of their downtime before being fluent into the chaos of a newborn,, as there's not long to go before they meet their new arrival.
The pair are now back from their holiday and back to reality, with Scarlett sharing a video of her trip to Home Bargains to pick up cleaning supplies, joking that 'nesting has well and truly kicked in.'
In the video, Scarlett – looking gorgeous in a smart, all-green outfit – poses in the mirror before heading off to the shop, grinning as she places a hand protectively over her bump.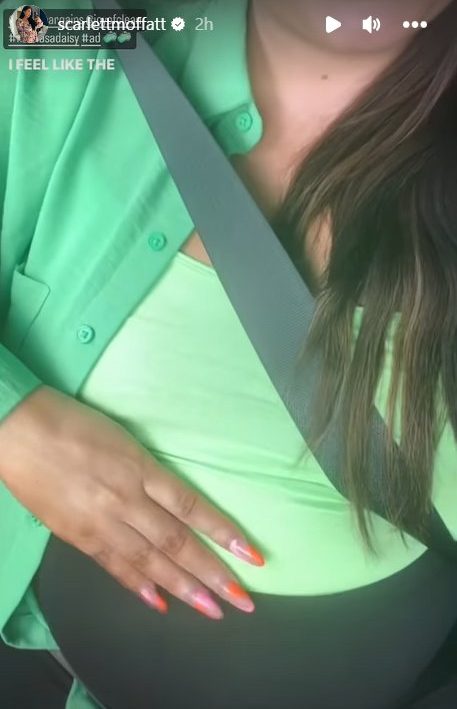 Scarlett revealed to her 2.3 million Instagram followers in March that she was expecting a boy, with a sweet black-and-white video of herself holding a bunch of flowers.
As The Beatles' Here Comes The Sun played in the background, the flowers suddenly turned blue, with Scarlett writing: 'In the great words of the Beatles… "Here comes the SON" 💙.'
She went on to admit that she and Scott had planned to open the envelope learning what they would be having when they were at home together, but only made it to the first set of traffic lights on the way out of the hospital before they couldn't wait any longer and ripped the letter open.
'Lots of happy tears and excitement and then we rushed to tell both our sets of parents and my nanny and auntie Kirsty,' she shared.
Scarlett and Scott were childhood friends, having known each other since they were 17, but didn't get together until their late 20s, with Scarlett admitting she was wary to date again after having her heart broken multiple times.
However Scott won her over, and four years later – despite a brief split in 2021 – they remain a strong unit and clearly cannot wait to become a family of three.
On Valentine's Day, Scott hailed his girlfriend his 'favourite person'.
Alongside a cute selfie, he wrote: 'Happy Valentine's Day to my favourite person in the world ❤️ she is my jester, my best friend, my partner, my rock, my sunshine on a rainy day, my soulmate and most importantly my 🌎'.