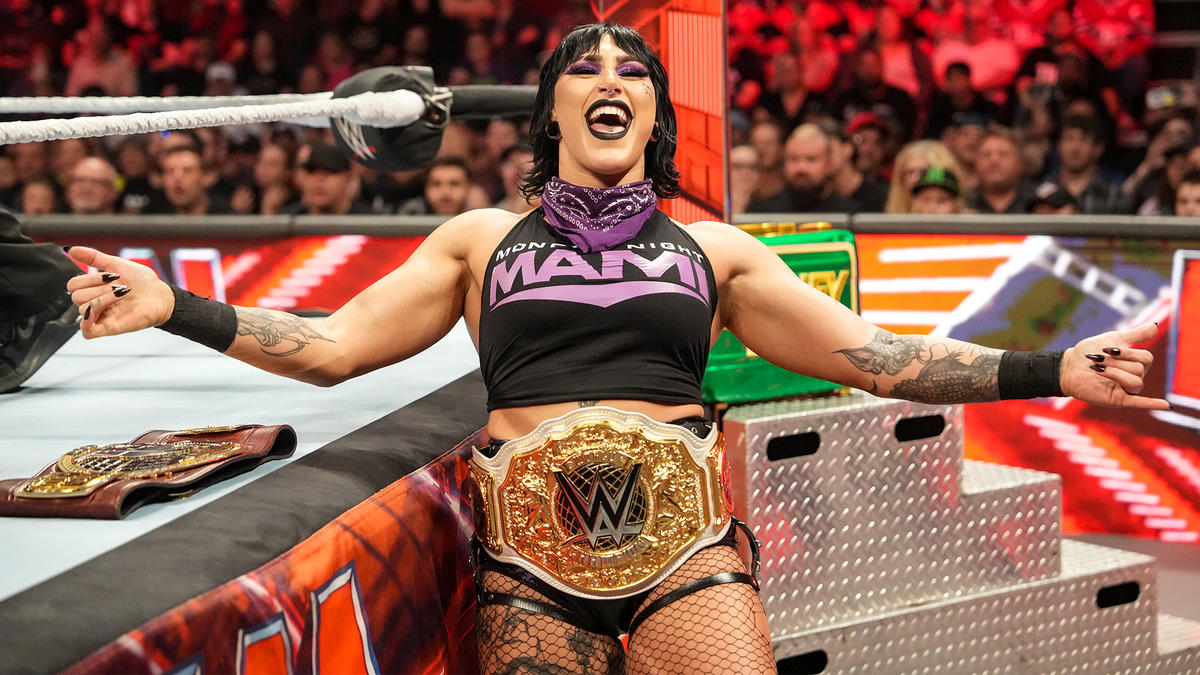 Rhea Ripley loves getting a reaction from fans and she did just that before Payback got underway.
The Women's World Champion is set to defend her title against rival Raquel Rodriguez , while her Judgment Day teammates Finn Balor and Damian Priest are challenging Sami Zayn and Kevin Owens for tag team gold.
It means the group is leaving its mark all over the event, and with that comes being heavily featured on promotional material, including having their likeness on the souvenir chairs at the arena.
Never one to miss an opportunity for a cheeky joke, Rhea posed for a photo with the seats before the show went on air and left fans shocked with a wild remark.
She quipped: 'Congrats to the lucky ones that get to sit on my face tonight 😈'
Fans couldn't believe what they were reading, with plenty of people left howling at the remark.
'I wasn't ready 🤣,' laughed her fellow Raw superstar Piper Niven, while USA Network – one of WWE's broadcast partner's in the United States – simply replied: 'RHEA 😳'
'Don't mind me, I'm just here for the comments,' one fan responded, with a second person writing: 'I CHOKED ON AIR AND COUGHED FOR A SOLID MINUTE (sic)'
Someone else insisted Rhea 'can't keep getting away with this', while others urged her to 'never change' and another fan called her a 'menace'.
The Judgment Day elicit a strong response from fans every time they step out on television, and Rhea previously admitted she.
Speaking exclusively to Metro.co.uk about her antics and the reaction online, she laughed: 'Oh I've seen! Being a menace is the one thing I really enjoy doing, so I'm loving every second of it picking on everyone.'
She added: 'I relish in it, I really do. I enjoy every second – especially knowing how worked up everyone's gonna be about it. That just drives me to being more of a menace in a way! But yeah, I love what I do, I am enjoying it!'
WWE Payback is available to stream live on the WWE Network.