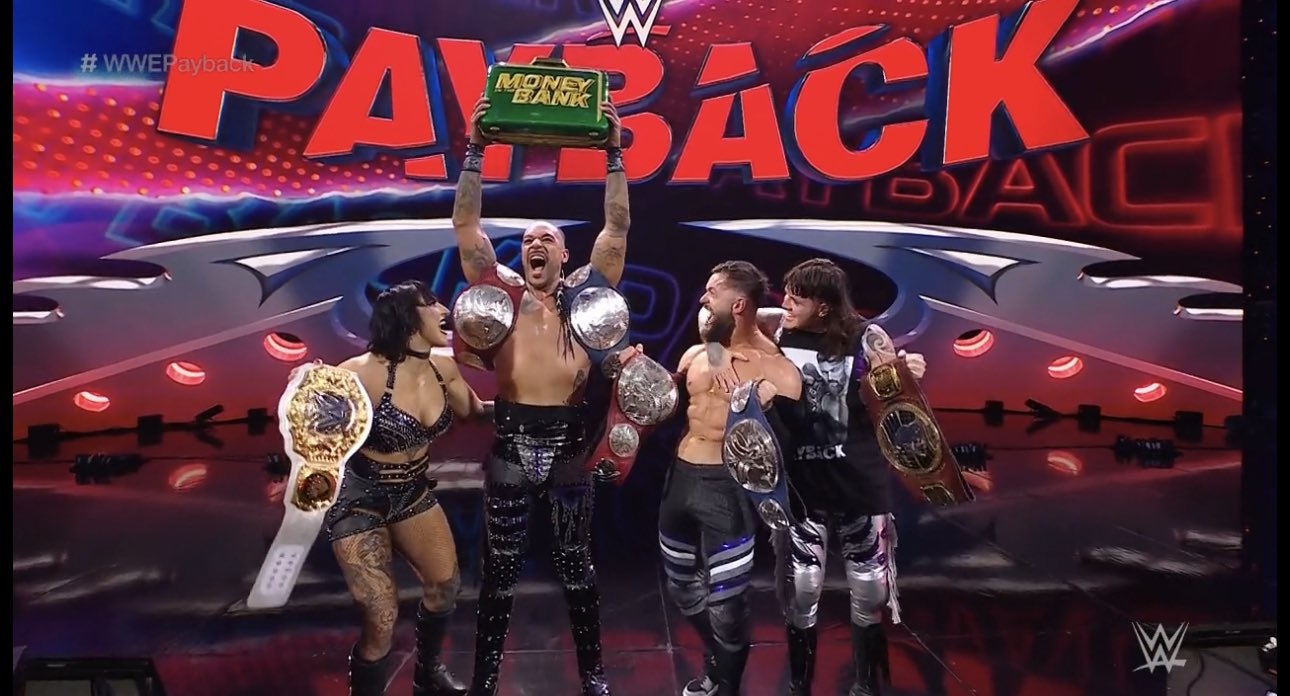 The Judgment Day used every trick in the book to secure a monumental win at Payback.
The group is now dripping in gold after Damian Priest and Finn Balor toppled Kevin Owens and Sami Zayn to become new Undisputed WWE Tag Team Champions .
The Steel City Street Fight delivered on its promise with all four men laying it all on the line in a match that really sold that enormity of what was at stake.
Owens was sporting a Terry Funk t-shirt and paid tribute to the late Hall of Famer with this performance, as he emerged earlier in the match covered in blood before he starting swinging fists.
Elsewhere, he took a high dive off a balcony in the arena, sending Dominik Mysterio crashing through a table with a terrifying Senton Bomb, risking injury as he slightly overshot and seemed to bang his tailbone on the concrete.
From hockey sticks to steel chairs, all the were out as KO and Sami did everything they could in an attempt to cling onto their championships, and several times it looked like they'd done enough.
However, Priest and Balor had the help of Judgment Day teammate's Rhea Ripley and Dom – as well as JD McDonagh – to make sure they left with the titles.
It now means every member of the dominating group has a championship round their waist, with Rhea and Dom already in possession of the Women's World and North American Titles respectively.
Priest has added tag gold to his Money In The Bank briefcase, while this marks WWE veteran Balor's first ever run with the tag titles.
The involvement of his pal McDonagh continues to provide a tense backdrop to Judgment Day's drama, and while the group are united for now, his involvement could be a point of contention by Monday Night Raw.
As for KO and Sami, it would be a crying shame if they didn't get a rematch and a chance to make more magic with the new champs.