and paid tribute to each other after they joined forces on stage for the first time in over a decade.
The 49-year-old singer was performing a headline gig at Sandringham Estate's Heritage Live festival when he shocked crowds by bringing out his former band mate.
Take That's Mark, 51, at the King's Norfolk residence when he reconnected with Robbie who left the band to go solo 25 years ago.
Following , both singers took to Instagram to share their love for one another in adorable messages.
Robbie shared a collection of images from the show and penned a caption that read: 'Thanks for an amazing weekend Sandringham. You rocked it @markowenofficial,' followed by a kiss and a red love heart emoji.
In the comments section below the star's former band member reciprocated the appreciation post and said: 'Had the best time… so good to be able to hang with you all. Thank you Sandringham and huge congrats Rob on such an amazing show, hope to see you soon xxx.'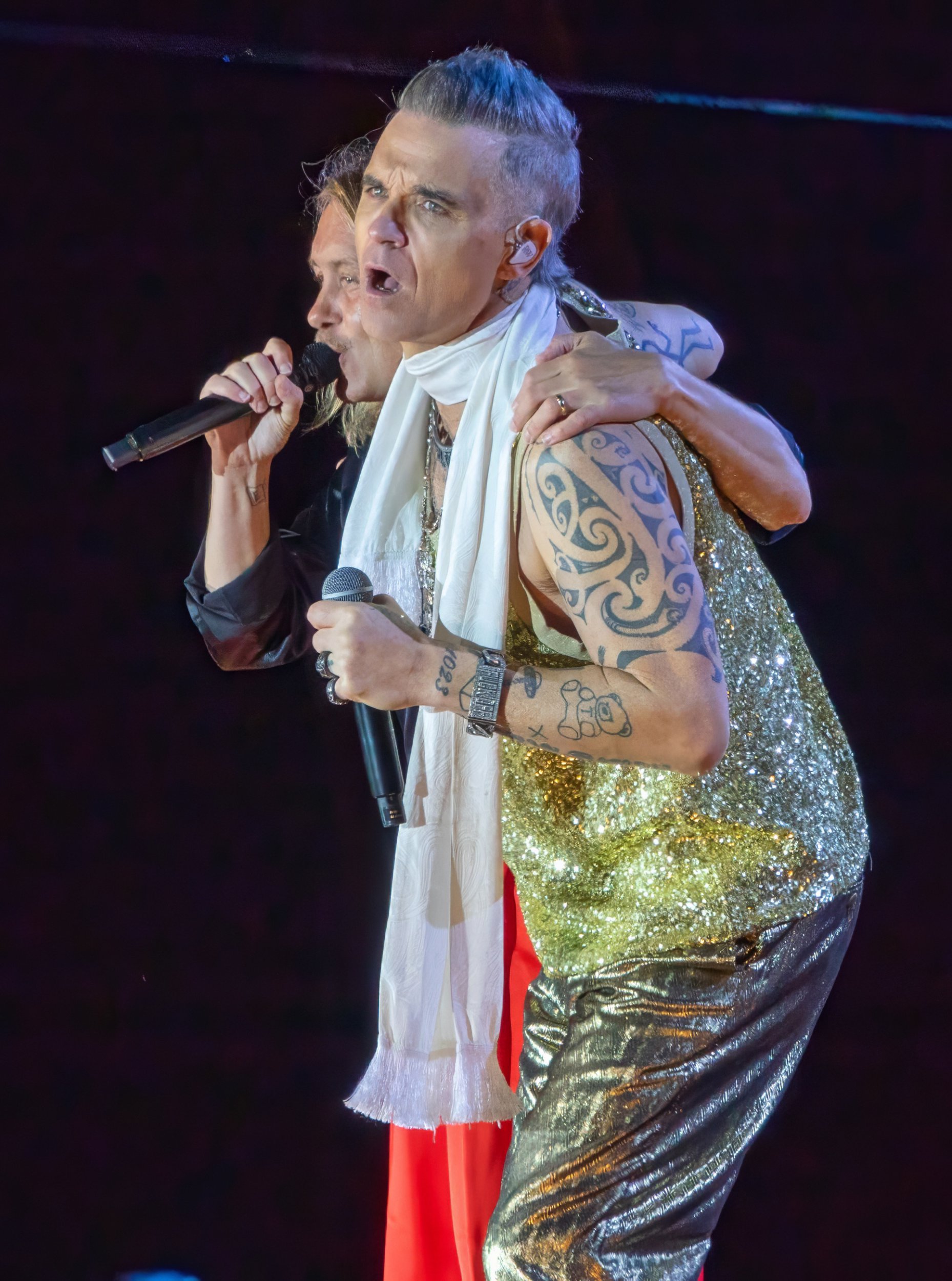 During the guest appearance, the pair nodded to their time spent singing together in the pop band – that also featured Gary Barlow, 52, Howard Donald, 55, and Jason Orange, 53 – and bashed out their former hit Greatest Day for delighted audience members.
The show was the Let Me Entertain You singer's final stop on his world XXV tour and he went all out wearing an entirely gold outfit consisting of a sequined vest and metallic style trousers.
Mark opted for a more low key look some tailored rouge suit trousers that featured a black button and tucked in a silky black shirt to cover his upper half.
The weekend's series of shows was the first time Heritage Live has staged outdoor concerts at the Sandringham Estate and other performances included sets from Sir Van Morrison and The Who.
During his show, Robbie planted a tree as one part of the environmentally-friendly initiatives the event was looking to employ at its summer concerts.
Speaking on the new initiative, Robbie exclaimed: 'I'm really honoured to have been asked to plant the first tree during a Heritage Live concert here at Sandringham.'