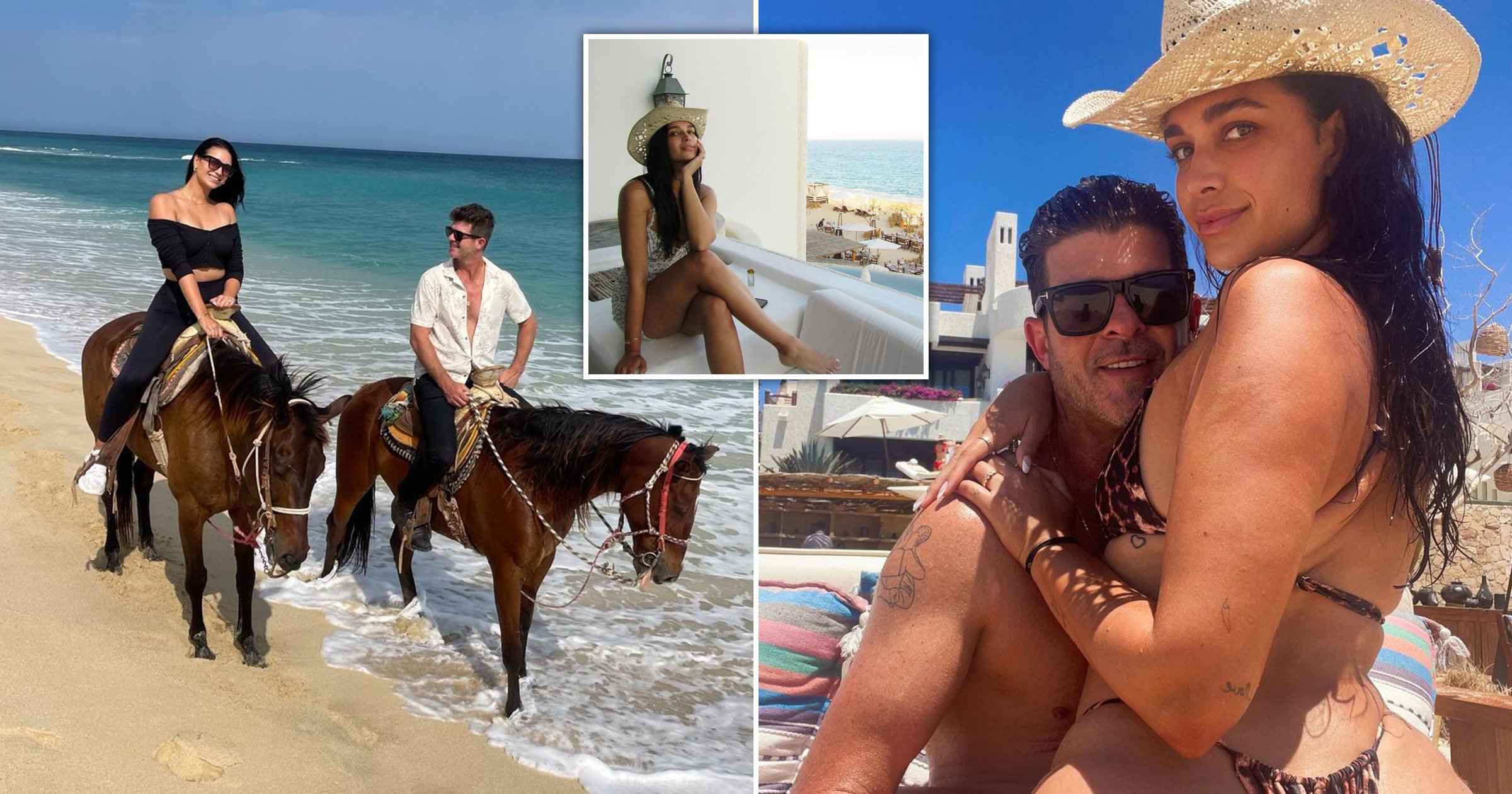 and his fiancée April Love Geary appear to be having the best time on holiday in Mexico.
The couple have been enjoying a getaway to Los Cabos, Mexico, and the evidence is all over their Instagram accounts as the long-term lovebirds shared plenty of gorgeous pictures.
, 46, and model April, 28, have been engaged since 2018, also share three children together: Mia, five, Lola, four, and two-year-old Luca.
However, the pair are currently enjoying some alone time while they soak up the sunshine and the sandy beaches.
April started posting pictures over the weekend, sharing a sizzling series of photos of herself in a leopard print bikini and straw hat, sitting on Robin's lap as she smiled sultrily for the camera.
'Baecation' she wrote in the simple caption as her partner jokingly replied: 'We just met! 😂'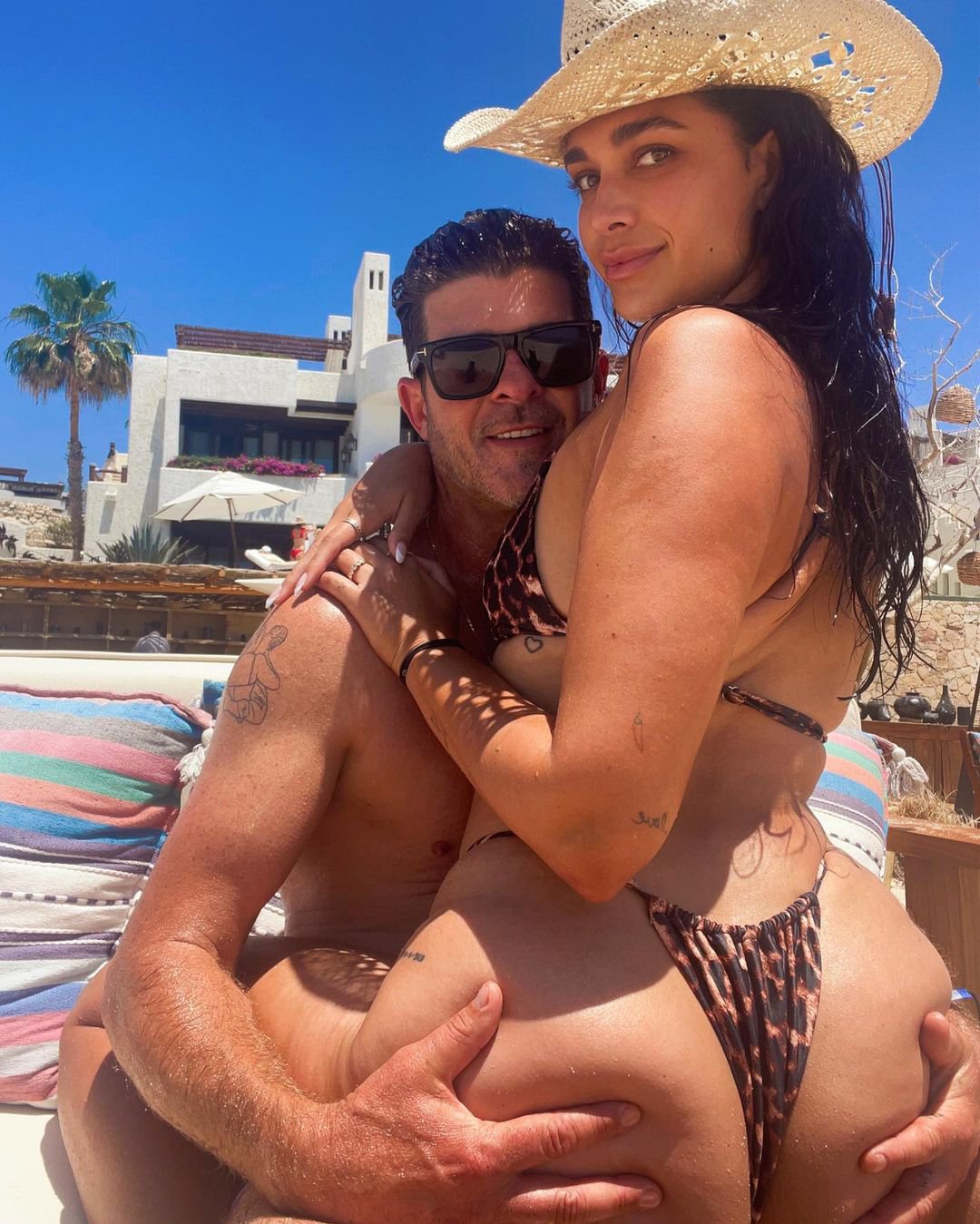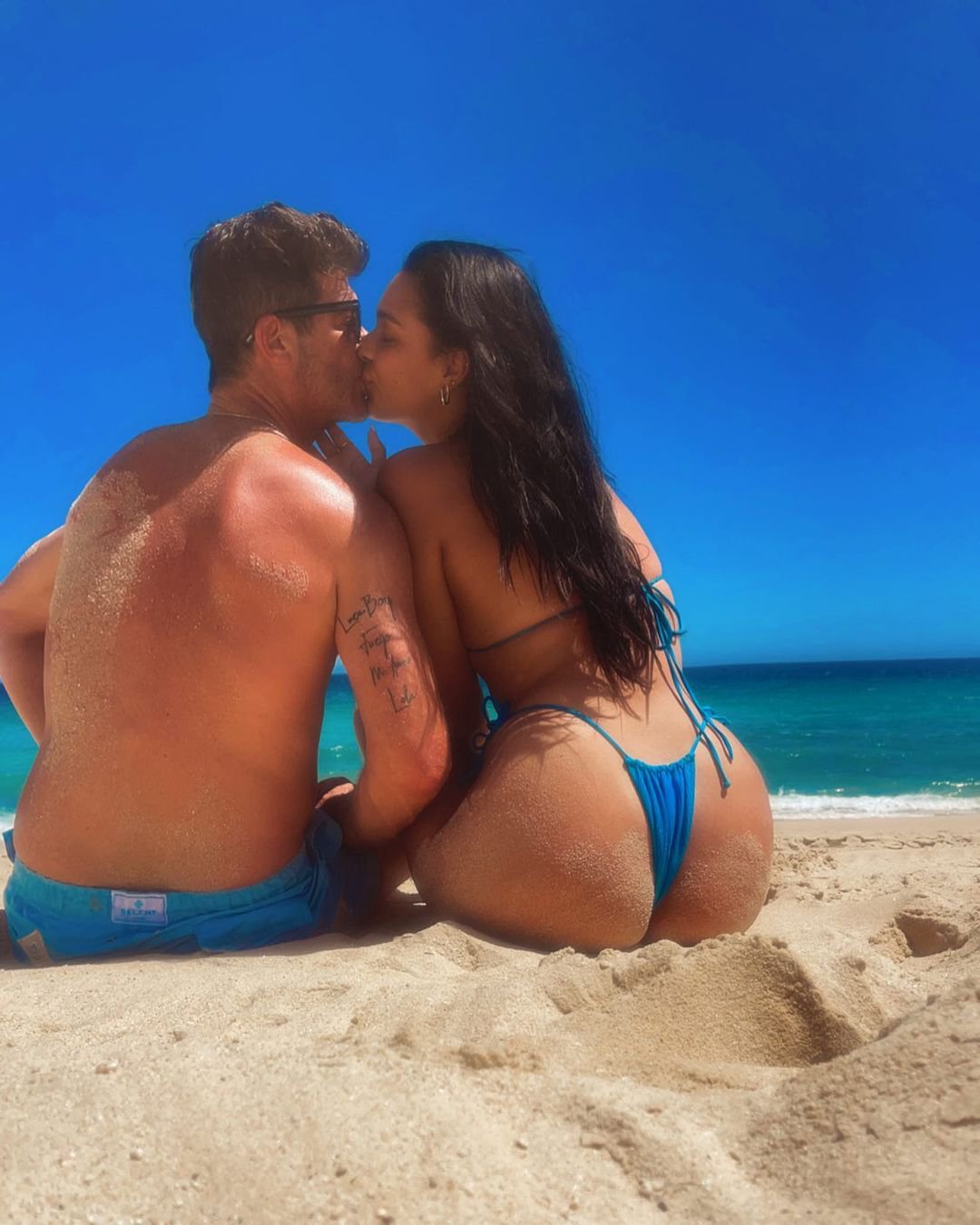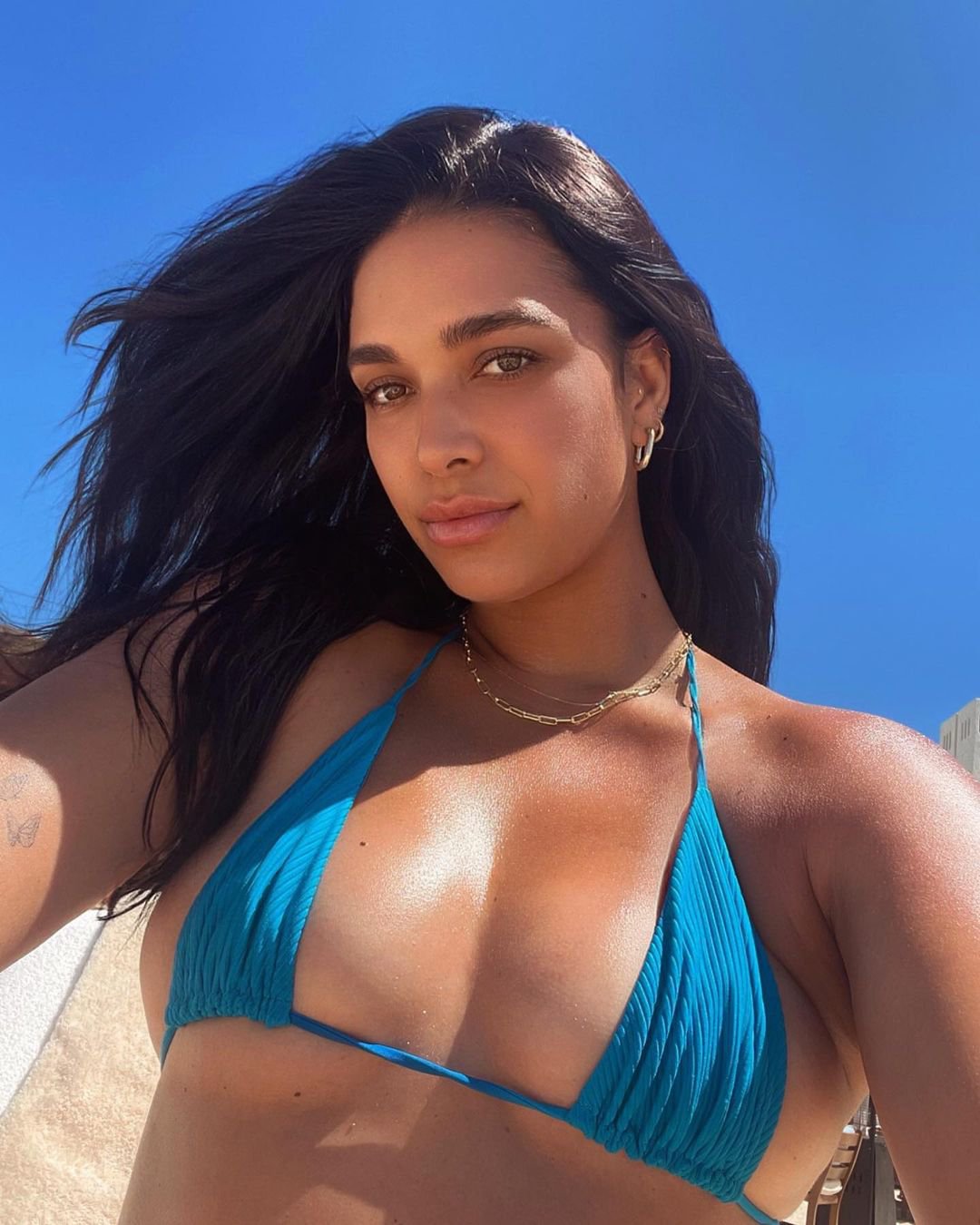 'This is the content we've all been waiting for!!!!!' enthused one fan, while another quipped: 'I live for the aggressively sexy posts.'
She shared another photo of them sharing a smooch as they sat on the sand, looking out to the ocean, in coordinating bright blue swim wear.
called himself a 'lucky boy' in the comments as April shared: 'Tequila flavoured kisses.'
She then went on to post a sweet reel dedicated to their relationship with clips from their trip, which she set to Fleetwood Mac's song Everywhere.
'I wanna be with you everywhere 🤍,' she wrote in the caption, as the video rolled with snippets of them clinking glasses, Robin emerging from the waves for a kiss with his partner and messing around with the menu on their table.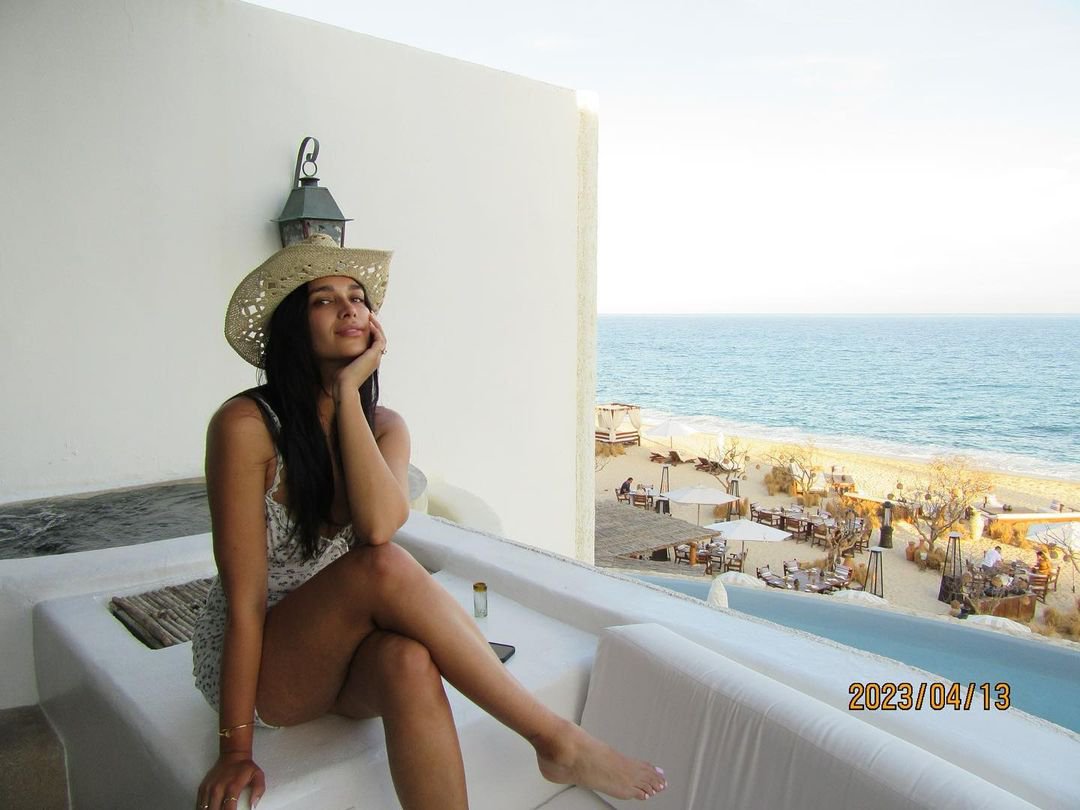 She also showed them holding hands and her catching him off guard with the camera, making him beam when he realised.
also got in on the action, sharing photos of them taking a horse ride together along the shore.
'The Good, The Bad and the Sexy! 😂' he joked, to which April asked: 'Which one am I?'
After welcoming three kids together, Robin – who is also father to Julian, 13, – .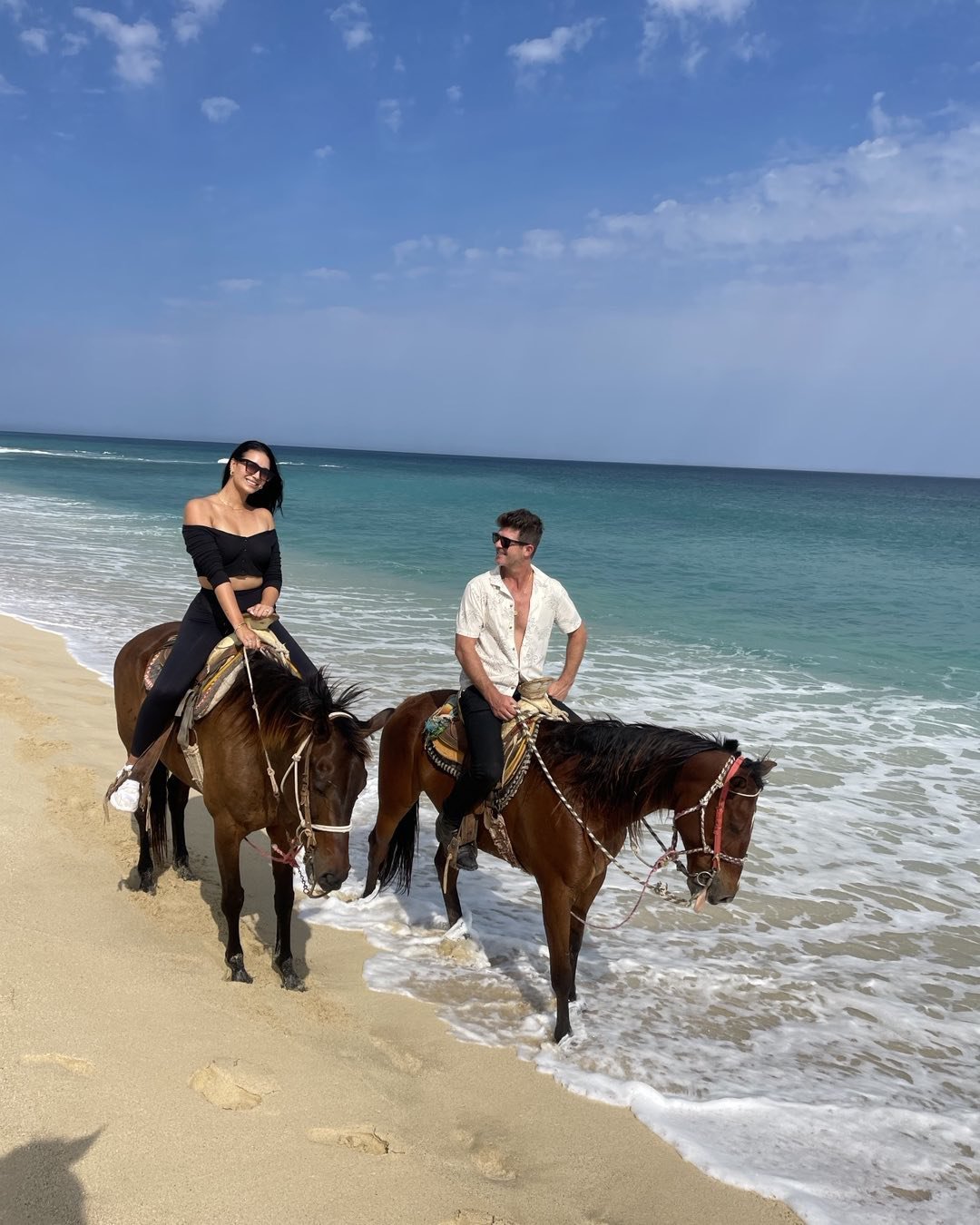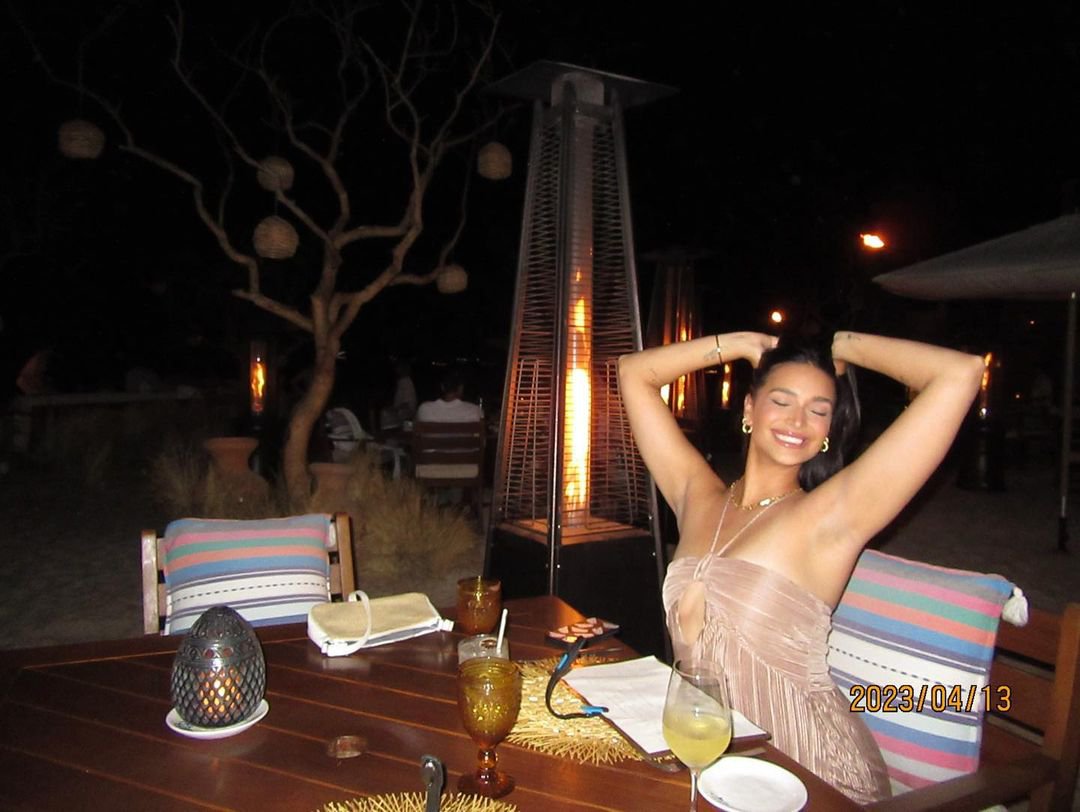 He told Metro.co.uk in 2021: 'We wanted to have a big family, now we're done. We did three in a row, we're outnumbered now so we're going to have a nice wedding someday and we're really excited.'
Opening up on fatherhood, Robin continued: 'When you first have a child it's just fear, fear is 50% of it. You're just scared you're going to make a mistake or do something right. But now that I've caught a rhythm and I know what I'm doing, it's pure joy because you're not only sculpting them, loving them and teaching them but you're also enjoying them.
'They make me laugh more than anyone else can all day long and any day after. They just bring me so much reward that I've never felt that much reward before.'
Who is Robin Thicke's fiancée April Love Geary? Relationship timeline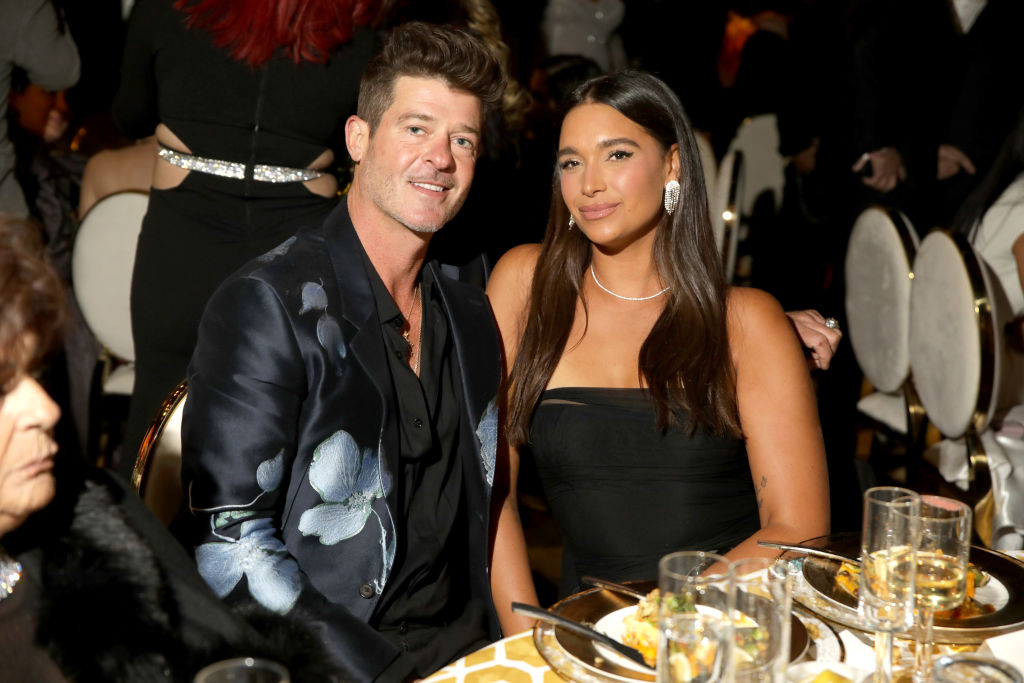 April and Robin first started dating in 2014, making their public debut the following year at the Cannes Film Festival.
They got matching initial tattoos together in 2016 to mark their two-year anniversary.
In August 2017, they announced they were expecting their first child together, and they welcomed daughter Mia Love together in February.
Just six months later and they were expecting again, and Robin later proposed on Christmas Eve 2018.
Lola Alain was born on February 26, 2019, just days after her older sister turned one.
Son Luca Patrick then .
Over the years, the couple has defended their 18-year age gap.
Have you ever been in an age-gap relationship?
Comment Now
'We're out here LIVING while most of y'all are still bothered by an age gap,' April wrote in a caption for a slew of photos she shared of their Maldives vacation together in April 2017.
On Tuesday, the model also returned to the subject of how they met as a follower responded to her AMA request on Instagram, questioning if she was 'actually attracted to him or his $$$'.
April recalled how she 'wasn't looking for anything' when they first met as she had been going through a bad break-up.
Their first interaction was a short chat a party where she admitted: 'I said hi, we talked for two minutes then I was off. I was quite rude to him and did not care to be talking to a man haha. (He was wearing white linen pants with black sandals, and I was like absolutely not haha.)'
She then shared that when they met again a few months later there was 'an instant connection'.
'I think we both needed a friend to lean on. We laughed so much together since we had the same sense of humour,' she added.
'It was magnetic and it felt right. His celebrity status didn't mean anything to me. He was just a normal guy who would make me laugh, dance with me and make me feel really good. And that's when I fell for him.'