has hit back at a comment about her dance skills on after
The 26-year-old's Charleston moves were called into question by one Strictly fan when it was announced she'd be dancing the genre to Jeepers Creepers by Al Donahue and his Orchestra for the special.
On the official Instagram for the series, a short clip was shown of Zara having a go at some of the steps under the guidance of her professional partner .
One person embraced their inner Craig Revel Horwood and commented: 'Oh, Zara. I love watching you. But you'll have to have more swivel than that.
'I hope that was long before the 1st show and you've got better since.'
They didn't go full Craig though, and offered a bit of motivation ahead of Saturday night's show.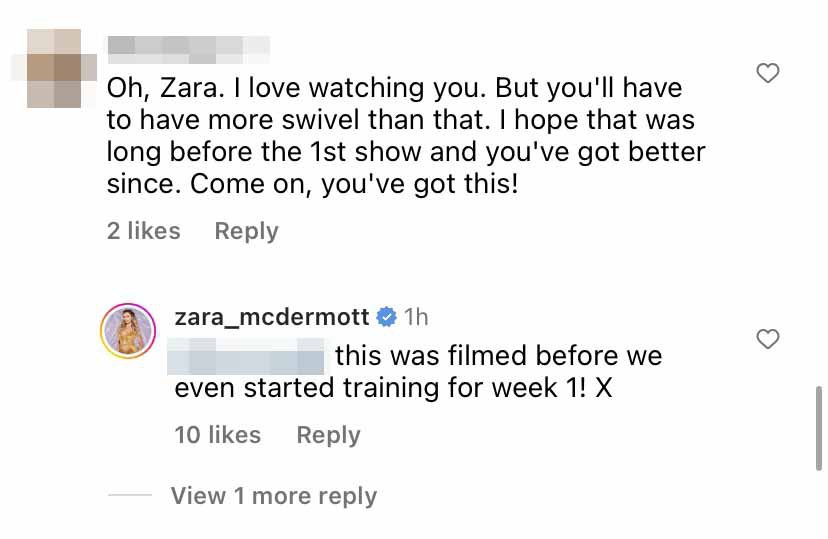 'Come on, you've got this!' they added.
Zara spotted the remark among the 274 comments and decided to respond with a fact to shut it down.
'This was filmed before we even started training for week 1! X'
Zara has vowed to change her ways on Strictly after landing in the bottom two twice.
The pair have beaten Nikita Kanda and Gorka Marquez in week two, and then Eddie Kadi and partner Karen Hauer on Sunday in order to remain in the competition.
Now, she has made a promise to 'work on controlling those nerves' so they don't land in the dreaded dance-off again.
Boyfriend Sam Thompson has also vowed to do more in order to support Zara and increase her chances of staying in the competition.
On his Hits UK radio show Sam, 31, admitted it is difficult when the results don't pan out in Zara's favour.
'Zara was in the dance-off again! It's happening all too often and it's very hard to take as a boyfriend because she comes back all deflated and she's worked so hard,' he shared.
'I've got to be honest with you though I could have done a bit more!'
Sam has previously used his Instagram, which has 1.8 million followers, to encourage people to vote for Zara.
'I was a bit distracted by the rugby, by the World Cup and I didn't go as big with my usual efforts on Instagram but I'm going to come back stronger this week though!
'We're not going to go down without a fight baby,' he insisted.