Rey Mysterio added to his already legendary career on Smackdown this week as he became the new Champion.
The Hall of Famer, who wasn't actually scheduled to compete aftera couple of weeks ago, captured the gold from Austin Theory in a dramatic series of events.
The champ was set to face Mysterio's fellow Latino World Order (LWO) member Santos Escobar for the title , but things didn't go to plan.
First, Theory attacked Escobar – who earned his shot after his masked mentor suffered a head injury and couldn't finish their number one contender's match – backstage, before doing the same as he made his entrance.
It meant the Mexican star was unable to compete as scheduled, but Adam Pearce announced Mysterio as his replacement.
What followed was a brief but entertaining bout as Theory was caught unawares, and couldn't do enough to put the legendary luchador away.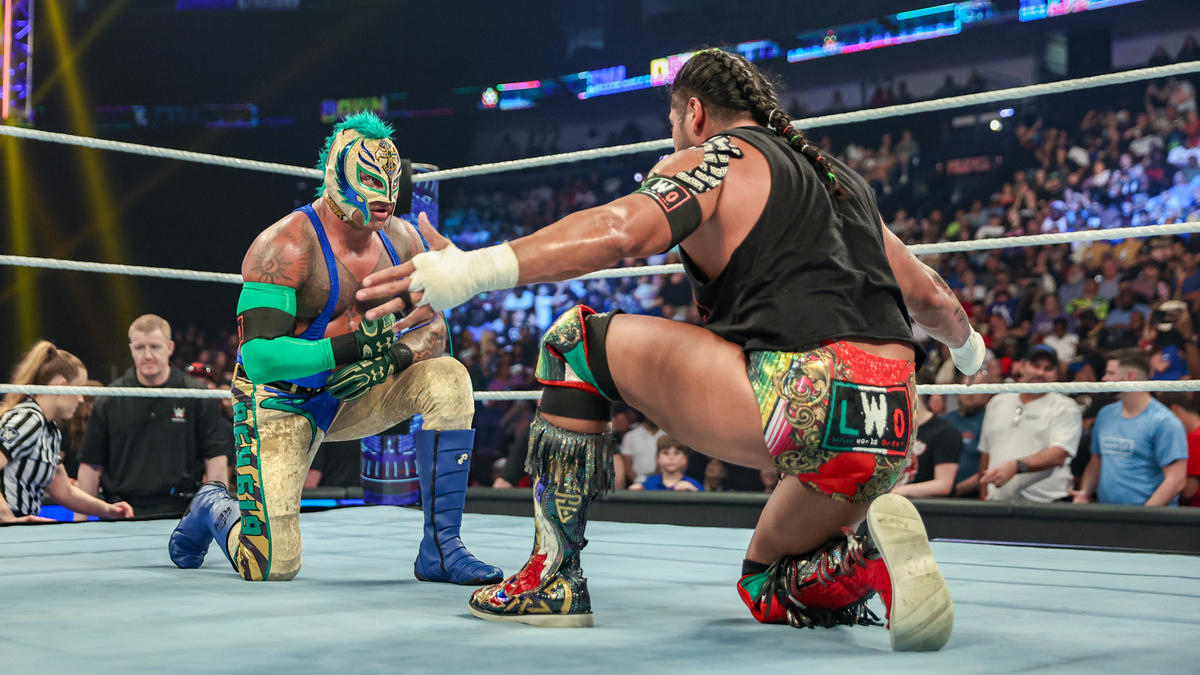 After around three minutes, Mysterio caught him with the 619 and a top rope splash, bringing his long reign to an end and giving the veteran his third run with the prestigious title.
It's been almost four years since he last held that championship, having won the gold twice in 2019.
There is definitely an added wrinkle here after Mysterio celebrated with his LWO teammates, and fans are already anticipating a turn from Santos out of jealousy for his friend taking his opportunity.
One viewer pondered: '…Santos are you really happy for Rey? Be honest.'
'Finally no more Theory! Santos vs Rey is gonna Sting because I definitely see Santos turning', someone else wrote on X (formerly known as Twitter), while a third person predicted: 'Damn is this gonna be a catalyst on Santos turning on Rey…is it?'
WWE SmackDown airs Friday nights at 1am on TNT Sports 1.