has been sent messages of support from teammates and following his heroics for against FC Copenhagen.
The much-maligned defender enjoyed one of his best moments in a United shirt in recent months when he , keeping his cool as he directed 's cross into the back of the net to break the stubborn resistance from the Danes.
The win – secured after in what was the last kick of the game – has kept United's Champions League hopes alive with the Red Devils moving up to third in the group.
And Maguire's role in the crucial victory at Old Trafford has not gone unnoticed by his Three Lions colleagues, who have stood steadfast alongside Maguire in the face of a barrage of criticism.
Maguire took to Instagram after the full-time whistle and captioned a picture of him wheeling away in celebration with the words: 'A Knight to remember', seemingly in .
Declan Rice, who had been playing in Spain for , responded to Maguire's post with the words, 'Buzzing for you H'.
Jude Bellingham, who was involved in his own Champions League heroics having scored Real Madrid's second against Braga, simply added: 'Love to see it H.'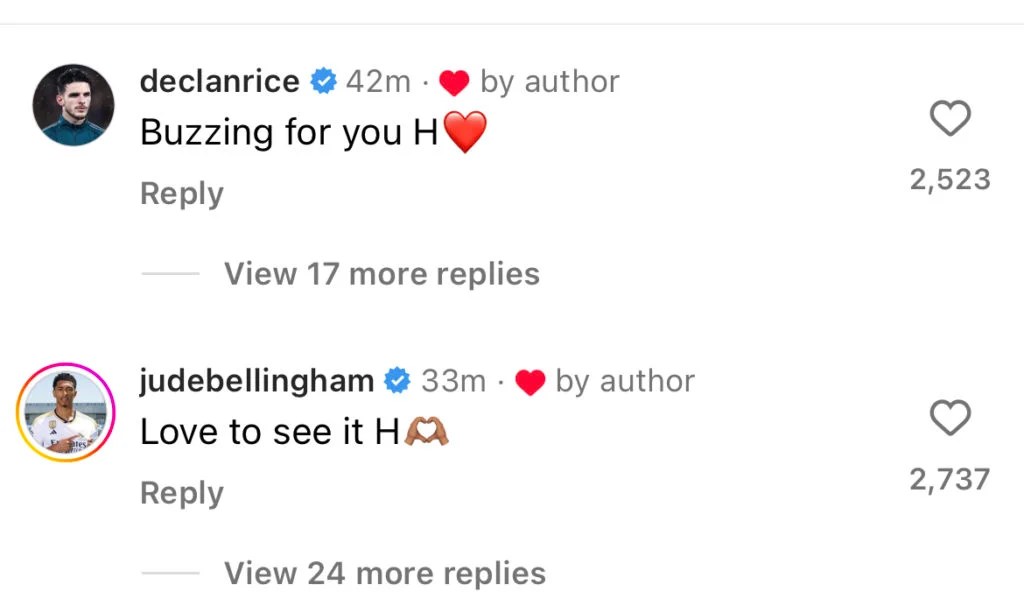 Maguire, meanwhile, was delighted with the Old Trafford faithful singing his name from the top of their voices in the stands.
Maguire told TNT Sports: 'It is amazing. When you are not on your game it gets picked up, but I am really proud and pleased how I have acted over this six to 12 months.
'I have been given an opportunity and I want to help the team and get the club back to where it should be.
'Incredible. We have got to be more clinical, we had numerous counter-attacks and we didn't give them a chance in the second-half.
'The first-half was really poor, it was not perfect but an important win. This man [Onana] stepped up and it was a massive save.'
The centre back was also quick to dedicate the victory to Charlton, believing it was written in the stars for his beloved club to walk away with the three points.
Maguire added: 'Definitely, it was meant to be. We were meant to win the game, a magnificent save and a win dedicated to Sir Bobby and his family.
'It has been a tough week for us away at Sheffield United and losing someone like Sir Bobby, it affects the cub and the dressing room. But really pleased we could get the win tonight.'
, . ,  and .