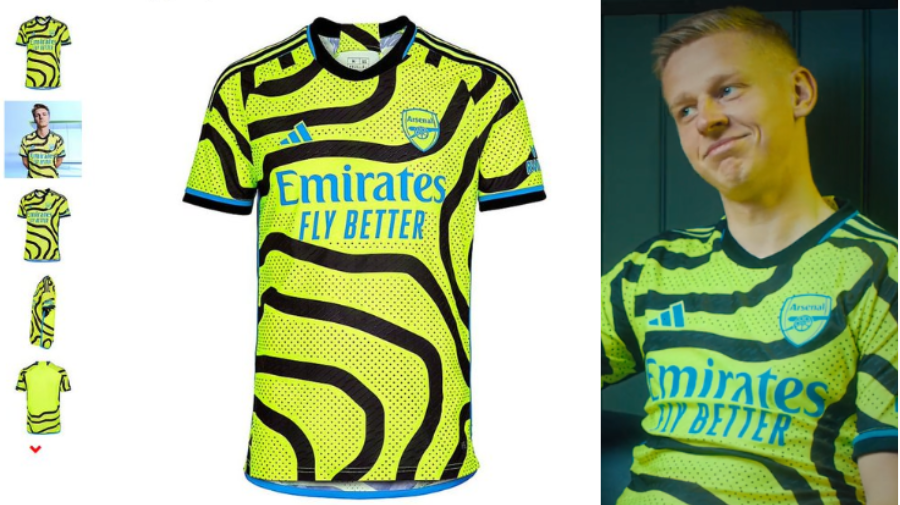 have launched their bold new away kit for the 2023/24 season to less than universal approval.
The north club renewed their association with adidas four years ago and the apparel giant has delivered a series of outstanding, popular kits.
Last season, Arsenal wore black and gold for the majority of their away games and used their pink third kit sparingly.
The design for the upcoming campaign features a return, of sorts, to yellow as the predominant colour with a series of black squiggly lines causing consternation and headaches in equal measure.
Explaining the inspiration behind the garish design, Arsenal said in a statement that coincided with the launch: 'The eye-catching shirt features fluid black lines inspired by the map of Islington.
'The design represents the journeys supporters make out of the club's home borough for away days on the road. A fresh, shock-yellow base colour is complemented by light blue accents that feature on the collars and sleeves.'
Arsenal will wear the new strip for the first time on their pre-season tour of America which begins with a fixture against MLS All-Stars on Saturday.
'I love it!' said star forward .
'It's a fresh look and it really brings to life the style of Arsenal. Our supporters are incredible and it's great that adidas and the club have created this design to celebrate them and our roots in north London. I can't wait to get back on the pitch in our new away shirt.'
Manager Mikel Arteta, meanwhile, could hand his non-competitive debut and the Arsenal boss cannot wait to integrate the former West Ham skipper into his side.
'A while ago we spoke about players that could complement each other, give us more flexibility, more depth and more quality, and take a winning hunger into the team with players who really want to push themselves to a different level,' he said.
'I see him like a lighthouse, he will light (up) the others and improve the others, and make the team better. The way he talks, the ambition he has and the passion for the game is exactly what we need.'
, . ,  and .