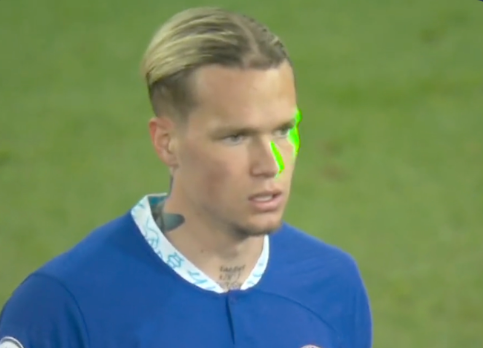 Arsenal fans took out their angst at Mykhailo's Mudryk decision to snub a January move to their club by shining a laser in the winger's face.
The international appeared destined to sign for the Gunners earlier this year, only for Chelsea hijack his move and bring him to west instead.
Mudryk has made a disappointing start to his Stamford Bridge career and shown only fleeting glimpses of the ability that persuaded Chelsea to pay nearly £90million for his services.
The 22-year-old started on the bench again on Tuesday evening and entered the fray with his side in a pretty hapless situation, trailing 3-1 after a wretched first 45 minutes.
Noni Madueke had hauled his side back into the contest and Mudryk looked the player most likely to spark a real comeback with a couple of exciting bursts.
Thankfully, Mudryk showed no ill-effects after the Sky Sports cameras picked up on Arsenal fans shining a laser pen in the winger's face on two separate occasions.
How different it could have been for Mudryk had he signed for an Arsenal team that still harbours remote hopes of pipping Manchester City to the title, according to Martin Odegaard who scored twice in the opening 31 minutes to underline the gap between the two London rivals.
'Especially the first half was brilliant,' said the Arsenal captain. 'We came out and showed a different spirit to last time [the 4-1 loss to Manchester City].
'I'm very happy with the first half, the second was a bit messy but three points and a good win and we needed this one.
'Everyone was so hurt after the game [against City]. We used the anger and the disappointment to get back into this game. You can lose games but the way we lost, we didn't play our game and weren't ourselves, that was the most painful thing, and we wanted to show a different side and we definitely did.
'I just try to help the team. This year I've scored more goals, Granit with two good passes and that made it easier. I just tried to be in the right area and as soon as I see him attacking the space I just have to be in the right place.
'In the second half we didn't keep the ball enough. They went a bit more direct and after the duels we didn't keep the ball. We have to fight and keep going. We believe and will fight until the end.'
, .
, 
 and .