boss is still keen to add a new attacker to his squad despite the excellent performances of and in pre-season.
The Blues to win the Premier League Summer Series, with Thiago Silva opening the scoring before Nkunku doubled the lead just before half-time.
Teenager Mason Burstow actually started up top for Chelsea with Nkunku on the flank, though Jackson led the line in the second half.
So far this summer, Jackson has racked up two goals and three assists while Nkunku has netted in three different matches, though that has not stopped the west Londoners from being .
While Chelsea would appear to have transfer priorities elsewhere – namely in central midfield and centre-back – Pochettino would still like to add another, potentially more orthodox forward to his attacking options.
Asked about Jackson and Nkunku's performances in pre-season, and whether he wants to add another attacker still, Pochettino replied: 'Today I think we are happy with their performance and I think they can compliment [each other] really well.
'Yes of course [we could sign another attacker], or maybe we can – like I was talking before – we are able, the club, to add some different profiles, or different players, that can help us then of course we are open.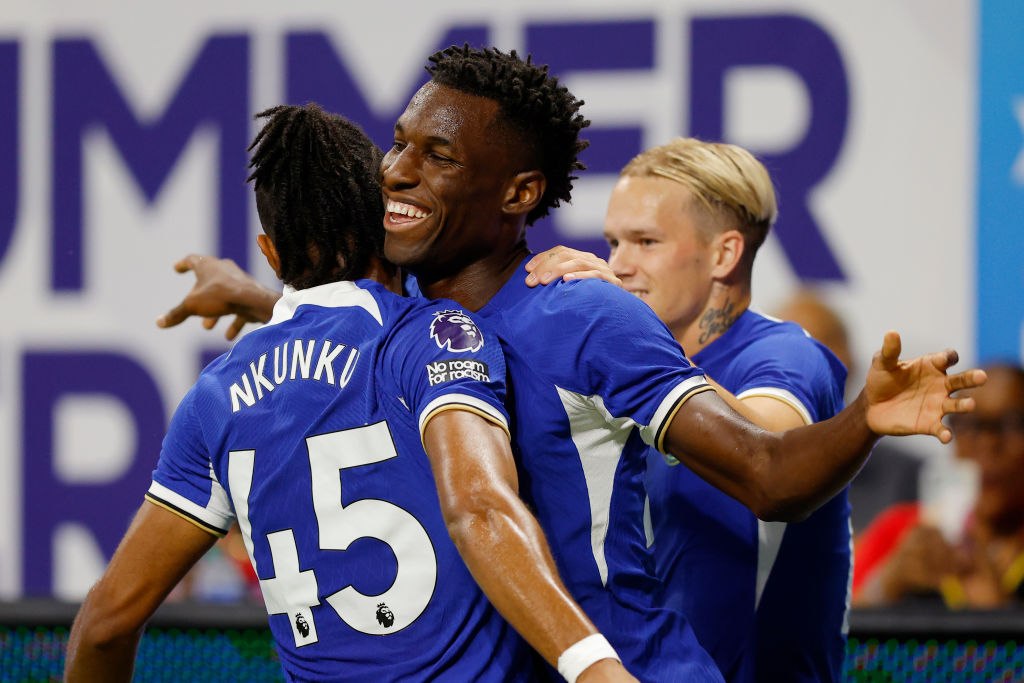 'But I am so happy with both at the moment. And then we have younger [options] like Mason [Burstow] and [Armando] Broja is in the UK still recovering from his injury.
'We need to analyse now in the next few weeks until the end of the transfer window and we will take the best decision for the team.'
Asked how many players he still needs to add to create a more balanced squad, Pochettino continued: 'I don't know, because if I say some numbers after I can create a problem!
'I remember some problems in the past, in the Premier League.
'I think for me it's important that the club is working really hard to improve all the areas. If we can get the players that we want, with the right profile to add to the squad to make us stronger, I think we are going to do that.
'In that way I think the club is working really hard to try to find that profile.'
France Under-21 international Wahi, who is also wanted by Tottenham, netted 19 goals in 33 Ligue 1 matches last season for Montpellier and was awarded the Goal of the Year for his strike against Lyon.
, . ,  and .