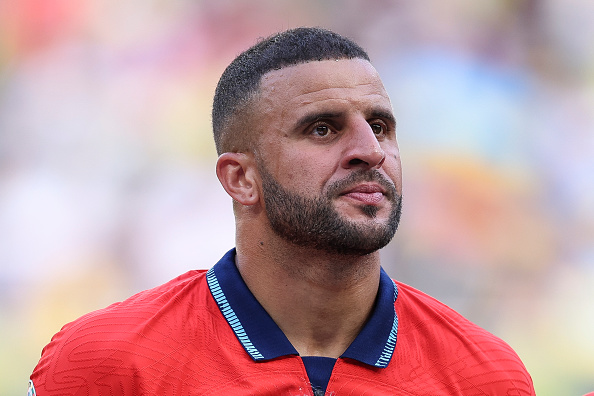 has revealed that he has twice talked and star Kyle Walker out of retiring from international duty.
Having amassed 77 caps and counting since making his Three Lions debut in 2011, Walker can be considered one of the best defenders in his country's history.
The right-back has represented his country at four international tournaments, playing a key role in their run to the semi-finals at the 2018 and the final of Euro 2020.
At the age of 33, he is still as important as ever and finally scored his first England goal in the .
However, Southgate has now revealed that the City legend was prepared to hang up his international boots at two points in the last few years and had to be persuaded to continue.
'I've talked him out of retirement from international football twice. After the Euros [in 2020] and after the World Cup [in 2022],' the England manager said as his side prepare for the friendly against Scotland on Tuesday.
'I think he loves being here and he's wanted to keep going and now he's thinking about how many caps can he get. If we're talking about world class players in their position in our team then he's probably one of them.
'He's critical to us. He didn't realise how much value we have for him and how important he is for us.
'He has [got better with age]. It doesn't always happen. It's not only playing but also around training, the way I hear him speak when he's interviewed, his influence on the group, he's become a really mature leader for us.
'His all-round game — he has great composure in a position where you don't always find it. Our senior players were important and he was the pick against Ukraine.
'He's got huge experience of winning big matches. I pulled him aside two or three days into the training this week because his focus was really clear, the way he was organising on the pitch. He's enjoying the extra responsibility he's had at his club and I know he's ready to embrace that with us as well.'
It is a testament to his ability that Walker is still first-choice given England's incredible depth at right-back, with Newcastle's Kieran Trippier, Liverpool's Trent Alexander-Arnold and Chelsea's Reece James all trying to usurp him.
Walker has now admitted that that competition has weighed on his mind a lot and was a key factor as he contemplated retiring.
He said: 'Obviously, at the time that me and Gareth spoke, the likes of Trent, Tripps, Reece James were coming through — you do think your days are numbered.
'And to sacrifice how many holidays and summers that I've sacrificed… I've been doing this since I was 19 when I joined the senior team. I'm 33 now.
'Me and Gareth have a good relationship off the field. We do speak and I feel that I can still bring something to the team. So why stop?'
, . ,  and .