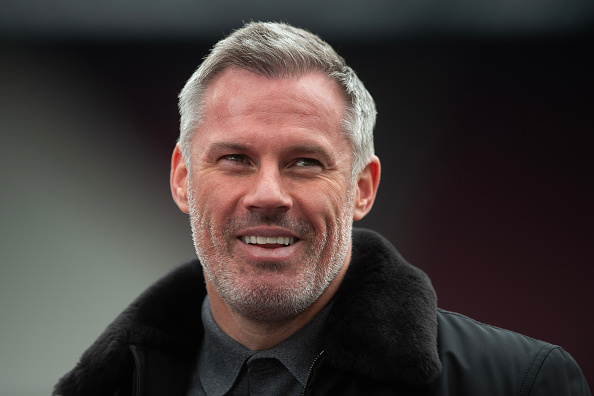 Jamie Carragher ruffled the feathers of Manchester United fans by putting six Manchester City players in a combined XI with the Red Devils' treble-winners from 1999.
With Pep Guardiola's side still in with a chance of repeating the famous United treble from 24 years ago, there is much debate over the merits of both teams.
Carragher revealed his combined XI, which read: Peter Schmeichel, Kyle Walker, Jaap Stam, , Dennis Irwin, , Roy Keane, Ilkay Gundogan, , Kevin De Bruyne, .
This left out United stars Gary Neville, Ronny Johnsen, Paul Scholes, Ryan Giggs, Andy Cole and Dwight Yorke.
Explaining his choices, Carragher said on Sky Sports: 'This wasn't on who was the best player over their whole career, it was just on that season, that's how I judged it, just on that season.
'I went for Kyle Walker, I thought he had the edge on Gary Neville for performance in the 98/99 season, and the other one is obviously Grealish.
'Ryan Giggs obviously had that famous goal but I just think Grealish has got better numbers. Five goals, seven assists, Giggs had three goals, one assist in that season, in the league, that's why I've gone for him.
'And you can't not pick De Bruyne and Haaland.'
Asked by Gary Neville why he had chosen Gundogan over Scholes, the Liverpool hero said: 'I didn't think Scholes was a regular in that team at that time.'
Neville was not impressed, alright with debate over some positions, but not over Scholes and Giggs.
'I love Jack Grealish, I love Gundogan, but I'm not going to entertain the conversation of not having Ryan Giggs over Jack Grealish or Paul Scholes over Gundogan,' he said. 'I'm not entertaining the conversation.'
Neville had initially picked an entirely United combined XI, but did concede that Dias, De Bruyne and Haaland could deserve to be in there.
, .
, 
 and .