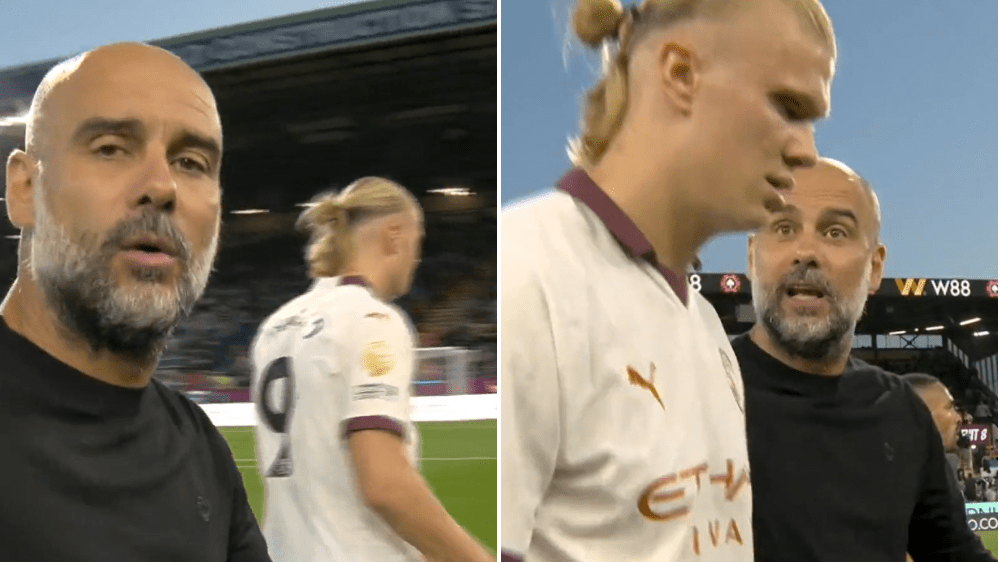 pushed a cameraman away as he berated at half-time during 's clash with Burnley.
The Premier League champions made a rapid start to the new season as last season's top goalscorer Haaland poked home inside four minutes.
Haaland, who scored 52 goals in 53 games last season for , doubled the visitors' lead at Turf Moor before half-time with a sublime finish.
Despite boasting a commanding lead at the interval, Man City survived a few scares in the opening 45 minutes as Vincent Kompany's Burnley came close to scoring their first goal back in the English top-flight.
Guardiola was his usual animated self at half-time and rushed up to Haaland before appearing to berate the Manchester City striker.
Noticing a cameraman was in their proximity, Guardiola then pushed it away and gestured his unhappiness before returning to talk to Haaland.
'There will be some people who love the intensity of that and say that's why he's a genius and wins like he does,' Manchester United legend Gary Neville said.
'And there will be others who question why Pep's doing that in a public forum, grabbing his arm in front of the cameras?
'I played with one of the most intense managers in history [Sir Alex Ferguson] but he would always have done that in the dressing room and not in a public way.'
Former Liverpool defender Jamie Carragher added: 'We've seen Pep do that with players before.
'I'm thinking if City can get the ball into Haaland earlier. He's found himself one-v-one, and maybe the demand is to get him more involved.'
Manchester City are going for a fourth successive Premier League title after reeling in long-time leaders Arsenal last season.
Burnley, meanwhile, will look to secure their Premier League status after winning the Championship in Kompany's first season at the club.
, . ,  and .