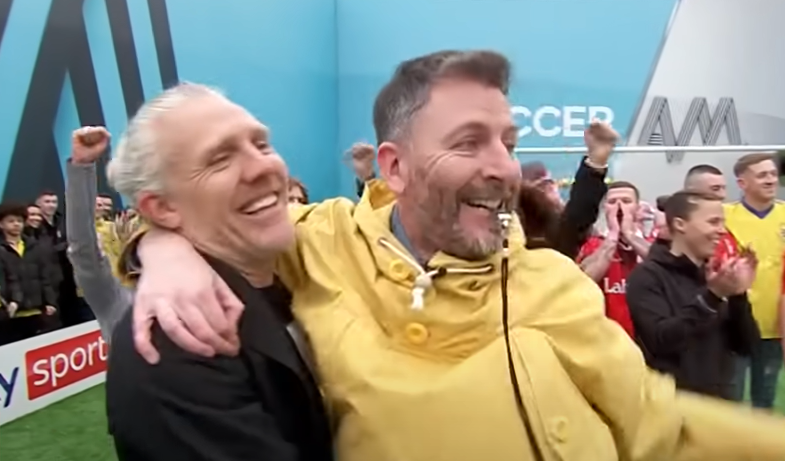 Jimmy Bullard is believed to be 'fuming' after reports that Soccer AM is set to be axed by after nearly 30 years on air.
The Saturday morning TV show will finish at the end of the season and there are just 10 episodes left to go.
It is thought that staff were only told on Tuesday morning that the show – which features football highlights, celebrity interviews and sketch comedy, will be cut.
Soccer AM first aired in 1995 and has had a number of different hosts since its inception with the show currently hosted by Bullard and John 'Fenners' Fendley.
It will be replaced by Saturday Social – a newer football-based show on Sky which features YouTube and internet personalities – intended to appeal to a younger audience.
Saturday Social initially aired at 9.30am but will now take Soccer AM's 10.30am slot, with former footballer Bullard allegedly furious at the show's axing.
Soccer AM was formerly hosted by Helen Chamberlain and Tim Lovejoy among others and has regularly featured Peter Dale, known by his nickname 'Tubes'.
claims that the news of Soccer AM's cancellation was a 'complete bombshell' to staff.
'Morale is at an all-time low, they are raging,' a source told the newspaper. 'It's going to be an interesting watch over the next few weeks.'
Meanwhile, a Sky Spokesperson said: 'Soccer AM has played an important role in our coverage of football for the past three decades, and we continually adapt to the evolving needs of our customers.
'We now go into a period of consultation to discuss the proposed changes with our people. We are unable to provide more detail while these consultations are underway.'
Popular segments on Soccer AM include You Know The Drill as well as former fan-favourites such as The Soccerette, which was dropped in 2015 amid criticism.