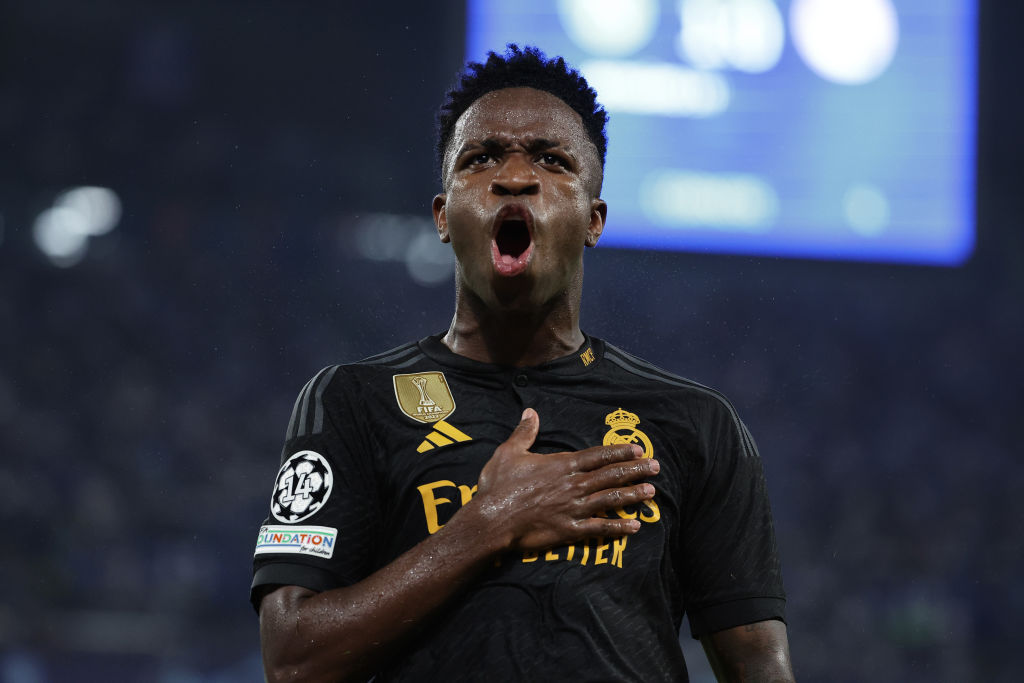 Vinicius Jr has signed a contract extension at until 2027 which reportedly has an astronomical release clause of €1 billion.
The 23-year-old Brazil international winger has registered 62 goals and 67 assists across 235 games for the La Liga side since he moved to in 2018.
Real Madrid officially confirmed his new deal on Tuesday and it is that his €1 billion release clause will also be included in fresh contracts for his team-mates Federico Valverde, Eduardo Camavinga and Rodrygo.
The news of Vinicius Jr's new deal , according to reports in Spain.
Barcelona fans were heard shouting 'monkey' as an object, which appeared to be a banana, was thrown at him from the stands, according to Spanish outlet .
It was the second La Liga game in a row that Vinicius Jr had been targeted by racists after he was the subject of vile abuse from Sevilla fans during Real Madrid's 1-1 draw there on October 21.
In May, after he was abused during a match against Valencia at the Mestalla.
Meanwhile, and said he 'deserves a slap'.
'It's not racism, he deserves a slap for being a clown and a joker, what do those unnecessary and pointless stepovers in the middle of the pitch mean?' Barcelona board member Miquel Camps posted on Twitter, before it was quickly deleted.
Barcelona boss Xavi attempted to cool tensions ahead of El Clasico, saying: 'If he [Camps] deleted it, there is no need for me to say anything. I don't like anything that generates tension, whether it's trying to condition referees or this tweet. We need a Clasico with fair play and with mutual admiration.'