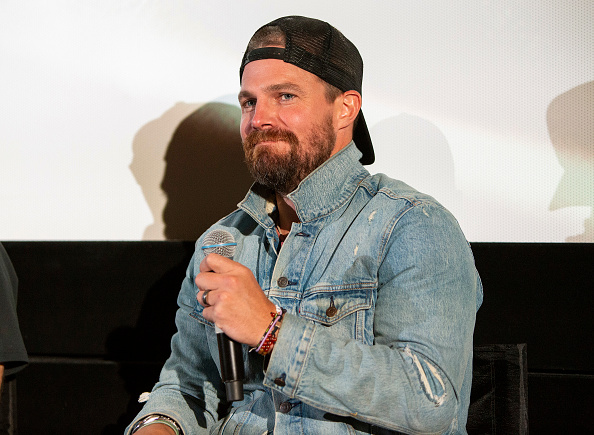 Arrow star addressed the comments he made over theafter he deemed the
The union is due to multiple reasons, including a lack of fair pay for actors as well as the need for assurance about the rise of AI and the potential for it to use an actors' likeness.
The decision to strike was supported by an overwhelming majority of 98% during a vote within the union, and we've seen many famous faces on the picket line including , and
It comes in the middle of the which began in May after failure to reach an agreement with the trade association Alliance of Motion Picture and Television Producers (AMPTP) over pay.
When asked how he felt about the strike, the Oliver Queen actor, 42, said: 'I think it is a reductive negotiating tactic and I find the entire thing incredibly frustrating.'
Stephen's comments didn't sit well with fellow celebrities and fans, with one person tweeting: 'A guy who was the lead of a tv series for years can now say he doesn't support strikes so everyone around making the shows and movies get fair pay…ugh. Your privilege is showing.'
In his latest Instagram post, the actor attempted to clarify his comments with a lengthy Instagram post , breaking down his controversial statements in detail.
'Understandably, there has been a lot of reaction to the comments I made this weekend about our strike,' he penned.
'To ensure there is no misunderstanding about my thoughts and intentions I'm providing what I actually said and clarity/context to ensure my feelings aren't unintentionally misinterpreted. We all know soundbites can be taken out of context and I have too much respect for my fellow union members to not clarify the record.
He started with his statement that he 'support[s] my union,' saying that that doesn't need much clarity and that his support for them is 'unconditional.'
He then shed light on his comment about finding striking 'a reductive negotiating tactic.'
'In full context: I'm an actor and I was speaking extemporaneously for over an hour,' he added.
'I emote, but I certainly don't think these issues are simple. Our leadership has an incredibly complicated job and I am grateful for all that they do. Despite some of my terrible early acting work, I assure you, I'm not a robot. From an intellectual perspective, I understand why we are striking, but that doesn't mean it isn't emotionally frustrating on many levels for all involved.'
He concluded: 'This situation reminds of the proverb, 'the road to hell is paved with good intentions,' which apparently, after reading a limited amount of the commentary, is a place many of you would like me to visit. However, at least for the foreseeable future, I choose to stand with my union. When you see me on a picket line please don't whip any hard fruit.'
Metro.co.uk have reached out to Stephen Amell's representatives for comment.