is still feeling the negative effects after recreating her famous puddle scene for the Show in 2009.
The British actress and comedian, 65, is best known for playing iconic character Geraldine Granger in the sitcom, which ran from 1994 to 2007.
In one episode, Geraldine goes on a walk in the countryside with a new boyfriend, and the pair decide to pass the time on their date by jumping into puddles.
Unfortunately, one of the puddles Geraldine jumps into is much deeper than it first appears, leaving her almost completely covered in cold water.
The scene became so famous with viewers that, years later, Dawn was asked to recreate the moment while she guest-hosted the Paul O'Grady Show.
However, as she's now revealed, a mishap during the recreation left her knee very badly injured.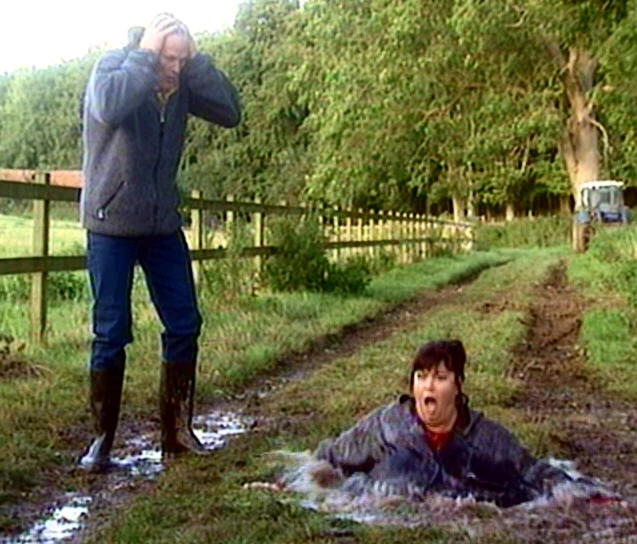 'They constructed a 10 foot high hill out of scaffolding covered in astro-turf. The idea was that there was a long enough drop for me to disappear into.'
During a one-woman show in Exeter, reported that she then went into further details about how the stunt left her potentially needing surgery.
'But what was I falling onto? The answer is nothing. Except for 10ft below there were two very thin crash mats in a film studio with a flat concrete floor.'
She told the audience: 'Any fool would know this was a disaster in the making. Any fool but me. [That was] the last time I had two functioning legs.'
The French and Saunders star then revealed how she heard a 'twanging noise' before a consultant said she would need a knee replacement.
Injections kept the pain at bay for a while but she eventually relented and had the surgery last year after struggling through filming scenes for Death On the Nile.
Dawn earlier this year to celebrate the life of Kris Hallenga, a cancer charity organiser who wanted to have a 'living funeral'.
The Vicar of Dibley is available to stream on ITVX with Premium.