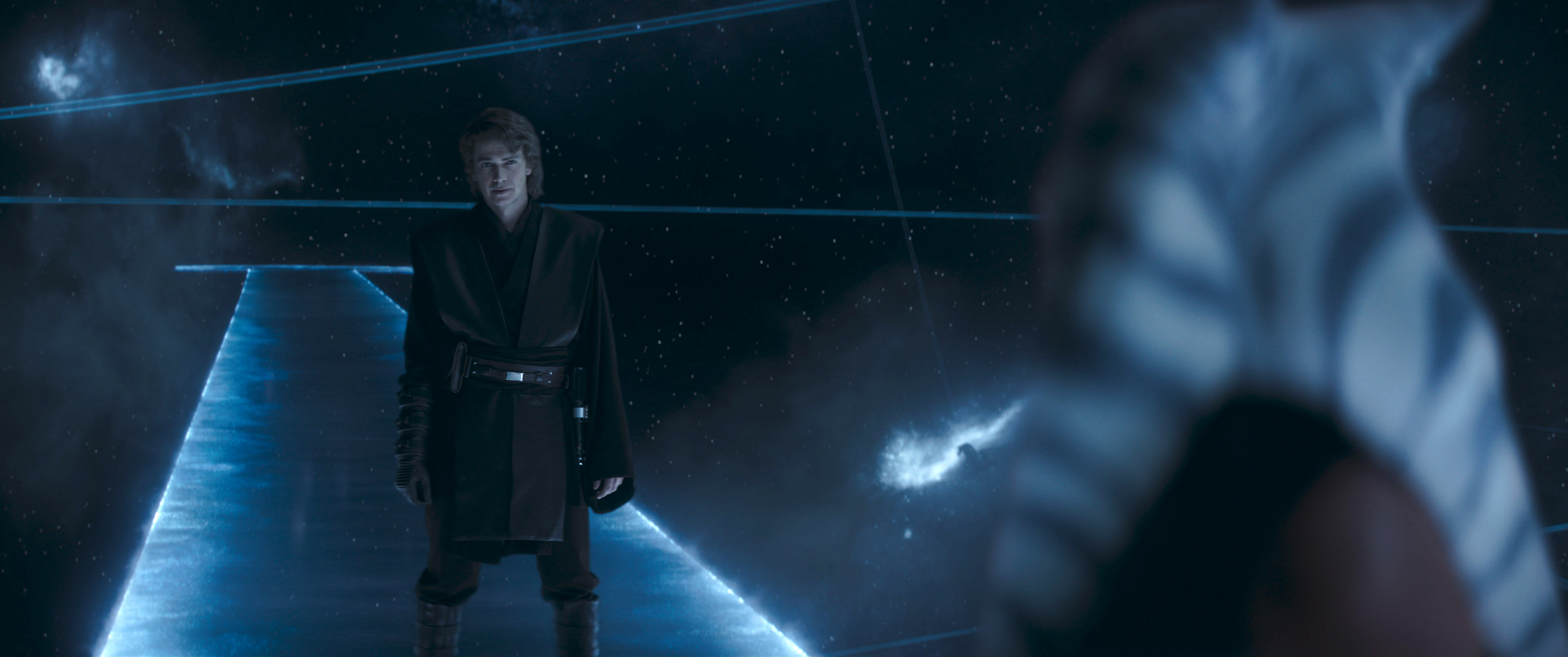 Warning: spoilers ahead for episode 5.
There's no way we or any fans could have ever been ready for the mastery of the latest instalment of Ahsoka… which, to put it simply, is utterly breathtaking.
Written and directed by Dave Filoni – who created the titular character, now played by Rosario Dawson in live-action – episode 5 sees Ahsoka come while caught in the World Between Worlds, after her duel with Baylan Skoll () left her on the brink of death.
Their meeting brings up a whole host of memories, with viewers being transported back to Ahsoka's younger years (where she is played by ) as Anakin's Padawan during the Clone Wars in explosive flashback sequences.
But even in those memories, which take place before Anakin makes his full transformation into Darth Vader, Ahsoka catches glimpses of the villainous, deadly cloaked figure that he is to become.
To describe this episode as a rollercoaster simply wouldn't be doing it enough justice, whether your only knowledge of Anakin comes from the prequel film trilogy, or you watched how his character's arc unfolded in the .
Ahsoka is understandably taken aback when she hears Anakin call her 'Snips' once again after all this time, before he offers her a choice as part of his final lesson for her – to live or to die.
The protagonist is reluctant to fight her old Master, and through her conflict must relive painful memories from her past, including storming into battle with Anakin in the Clone Wars, and witnessing the siege of Mandalore after they had parted ways.
In transitions that have been described by fans as 'executed to perfection', Anakin is shown flitting between his identity as Anakin Skywalker and his future as Darth Vader, as he walks both away and towards Ahsoka while holding his lightsaber.
In addition to seeing Anakin and Ahsoka together in live-action at last – with the pair standing beside one another with their arms crossed as they did in the animated Clone Wars show – fans were also left sobbing by mentions and appearances of other characters.
Not only did Senator Organa, aka Princess Leia, get a mention, but The Clone Wars fan-favourite character Captain Rex – a clone trooper who served under Anakin and Ahsoka – also appeared in live-action for the first time.
After Ahsoka is saved from the World Between Worlds in episode five thanks to Jacen Syndulla (Evan Whitten) using his abilities with the Force, she embarks on an unpredictable adventure to try and find her apprentice Sabine Wren (Natasha Liu Bordizzo) in a different galaxy.
Travelling with the help of space whales, or purrgils, Ahsoka sets off with her trusted droid Huyang (David Tennant), while her close ally Hera Syndulla () stays behind with her Force-sensitive son.
Just like all of the other Star Wars fans who were blown away by this episode, we have a feeling we're going to be processing what we've just watched for quite some time.
One ecstatic fan shared their gratitude to the show's creator Dave, writing on X (formerly Twitter): 'THIS WILL FOREVER BE A MOMENT FOR THE HISTORY BOOKS!! Dave Filoni, you are incredible. Thank you!'
'My mood after watching that masterpiece of an episode,' another person wrote, while someone else added: 'Dave Filoni needs to be kept on by Disney for life.'
Ahsoka is available to watch on Disney Plus with new episodes released on Wednesdays.