Tony D'Angelo has a 'rat' in the family after he was arrested on this week's episode of NXT.
The star, whose on screen persona is an Italian New Yorker mafia boss, was put in cuffs as his storyline took a dramatic turn on Tuesday night's edition of .
After his dinner was interrupted last week to detain him over alleged 'criminal activities', this time round he was sat in an interrogation room with Officer Stewart, who was quizzing him on recent activities.
The officer asked: 'Why does your name keep coming up in ongoing investigations sir?'
'I dunno! My nose is clean, I'm an upstanding pillar of society, I wouldn't hurt a fly,' before asking who the 'tips' were from and insisting he was joking about the suggestion of a bribe.
'Well, what's not funny is this situation sir, because we received a video from one of our informants,' Officer Stewart continued, with Tony interrupting to ask if there was a 'rat'.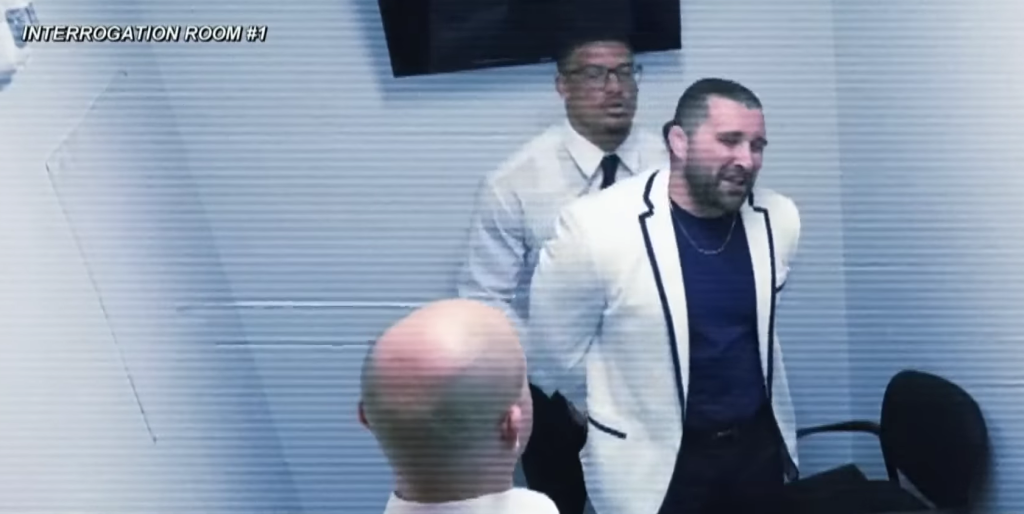 He was shown a video and asked to identify himself, but made excuses that the footage was shot at night and difficult to see, insisting: 'I tell ya this. There is no way that that's me!'
However, there was a knock at the door as another man came in and total Officer Stewart that they had received some new information about Tony that he'd want to see.
They later returned to the room, and immediately dismissed Tony asking if he was free to go, with the officer telling him to get to his feet, saying: 'I need you to stand up right now and put your hands behind your back. Stand up.'
'You have the right to remain silent, anything you do say can and will be used against you in a court of law,' the other man said, while Tony ranted: 'This is ridiculous! DO you know who I am?!'
WWE uploaded the video referencing a 'rat in the family', with viewers now left wondering if Tony's tag team partner Stacks is behind all this, or if there is someone new waiting to emerge.
WWE NXT airs Tuesday nights at 1am on BT Sport 1.