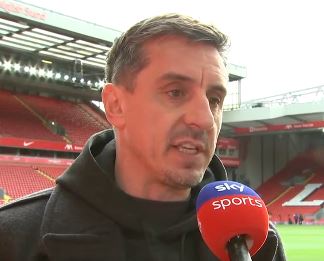 Gary Neville believes Manchester United fans' 'greatest fear' is that the Glazers will ultimately not sell the club and will instead remain in power.
The Americans put the club on the market in November, though they've maintained from the start of the process that it will not necessarily result in a full sale of the club.
The Raine Group, who are overseeing the process, have received three bids from an unknown bidder, Sir Jim Ratcliffe and Sheikh Jassim.
Those offers have made it through to the next stage of the process, where bidders will be given access to United's accounts in order to form their formal bid.
However, early indications are that the bids fall well short of the Glazers' £6bn valuation of the club.
And, speaking before United's humiliating 7-0 defeat to Liverpool, Neville says it's the 'greatest fear' of supporters that the Americans will end up staying in charge.
'We could try and ask for transparency and better communication but we're not going to get that from the Glazers,' said Neville.
'They've not communicated to United fans for 20 years so they're not going to do it when they're selling the club, so there is that element of unknown.
'I'd like to think decent owners of a football club would update the fans on what's going on, but they're not.
'The biggest fear for fans at this moment in time is the fact that the Glazers could be using this process to stay, or bring some sort of minority investment in."
'It's absolutely unequivocal and definite that the fans want rid of the Glazer family, and they do know that.
'But they need to understand if they weren't to sell this would not be a great situation at  and in Manchester at all, it wouldn't be taken well
'So I think at this moment in time there's still that fear it's not going to happen. But, hopefully [it will], it's moving through the process as it ordinarily would do with a sale process.
'Hopefully they're going to accept the best bid, and not some sort of fantasy number that they've got in their head.
'But I don't think they'll make it easy. They're the owners, we have rules and regulations and laws in our country which are right that you can't just get people out of a company that they own shares in.
'And they're going to need to accept that bid, and hopefully they will.'
, .
, 
 and .