's wife, Faryal Makhdoom, has issued stern words for fellow influencers amid the.
 launched attacks on Israel last week, with as the Israeli government responded with a narrow piece of Palestinian land bordering Israel.
Thousands of on both sides and more injured, while in Gaza.
Hamas has called for the 'annihilation' of Israel and over the years has carried out numerous bombings on the country, with the group 
As celebrities weigh in on the ongoing conflict, Pakistani YouTuber Faryal, 32, took to social media to urge her one million followers to show support for Palestine.
She shared a number of pro-Palestine posts on Instagram, beginning by writing: 'Can we all just ask ourselves who started all this???'.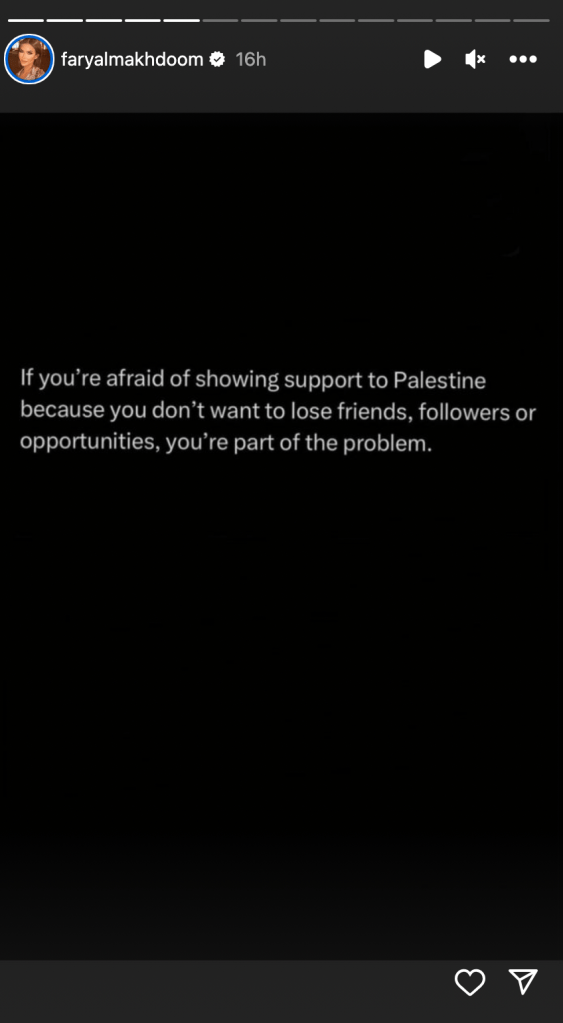 'For years and years and years', she added of the oppression of Palestinians by Israeli people.
Faryal then reposted a quote from another account, declaring: 'Apparently All Lives Matter except those in Gaza'.
In a later post, Faryal said: 'If you're afraid of showing support to Palestine because you don't want to lose friends, followers or opportunities, you're part of the problem.'
She added that her 'heart bleeds' for her 'people', alongside a devastating video of a woman grieving over a dead relative's body.
Ripping into Palestinian influencers, Faryal branded them a 'disgrace' for not addressing the conflict.
'Why am I seeing Palestinian influencers on my feed not talking about their own country?', she asked. 'F***ing disgrace.'
Faryal also mocked: 'You'll lose a few brand deals. Boo f***ing hoo.'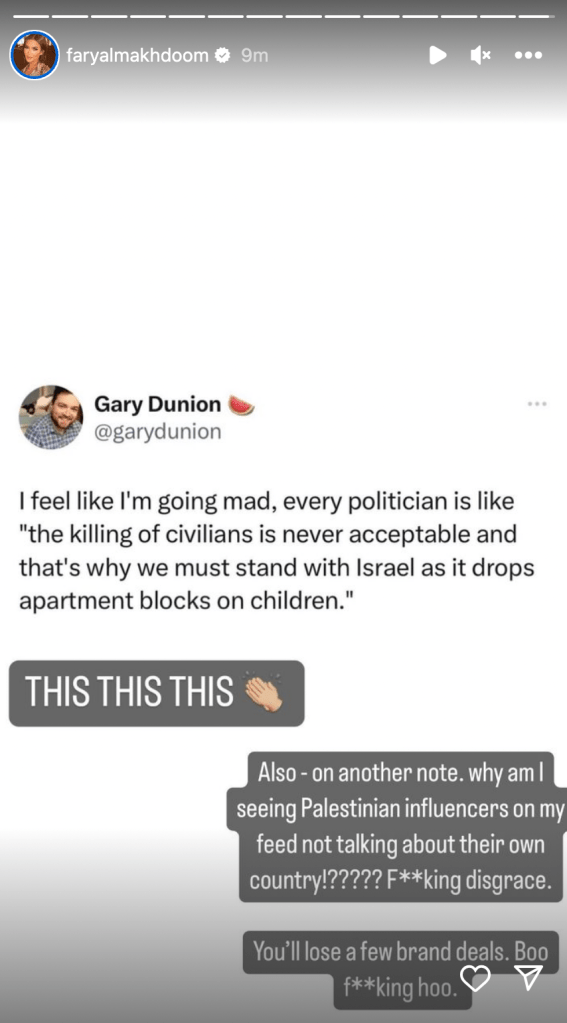 Taking her thoughts to her main feed, the champion boxer's wife shared a glamorous photo of herself and a caption with a clear message.
'Always stand for what's right. No matter what the consequences are 🖤', she penned.
Faryal was praised by many in the comments for 'using her platform'.
'Massive respect to you Faryal, keep speaking up! 👏', one person wrote.
'Thank YOU for using your platform to shed light on our brothers and sisters in Palestine 👏👏👏❤️', said another.
Faryal's words come after Amir also voiced his support for Palestine.
In a lengthy tweet, the athlete insinuated people were fearful of 'speaking [their] mind' and supporting Palestine.
'My entire career, my aim was to become a champion and use my fame and influence to make a positive change in the world,' he began.
'I've never been scared to speak my mind and stand up for the downtrodden.'
'Recently when Ukraine was attacked by Russia, I personally flew to Poland to support the Ukrainian refugees who had been displaced by the effects of war,' Amir explaind.
'So many people spoke up about these atrocities but as the world watches what is unfolding in Palestine, I see so many of my peers, friends and colleagues who are remaining silent. Why?
'It's become apparent that people are scared to show their support for Palestine. Palestinian lives matter.'
'The world will remember who spoke up and who didn't,' he declared. 'And God will remember who stayed silent while innocent Muslims' blood was spilled.'
Amir and Faryal are the latest stars to show support for Palestine in the wake of the attacks.
However, some stars have been criticised for their use of social media at this time.
for a statement she issued and was accused of making the war 'about herself.'
The reality star, 42, sent a message to her 'Jewish friends' to remind them that they 'are not alone'.
Kim then said she is 'particularly sensitive to these issues' as an American because she has been 'talking about the Armenian Genocide for years'.
'Armenians are the victims of an ethnic cleansing themselves in Artsakh. They are in this moment also suffering from an extreme humanitarian crisis, and there are still prisoners of war being held captive or missing.'
The Skims founder went on to urge her 364million followers to remember to 'have room for compassion towards innocent victims'.
Her post soon sparked backlash, however, with people pointing out the complex and murky relationship between Israel and the systemic massacres and deportations of Armenians committed by the Ottoman Empire during and after the First World War.
Justin Bieber also deleted a post for urging people to 'pray for Israel' alongside a picture of an obliterated Gaza.
The 29-year-old Baby hitmaker later replaced his message with a plain background, writing: 'Truly hurting for both my Israeli and Palestinian friends. Im pretty sure we all instinctively know evil when we see it. To vilianize all Palestinians or all Israeli people to me seems wrong. I'm not interested in choosing sides, but i am interested in standing with the families who have been brutally taken from us.'